Experienced back-end PHP developer for a start-up in Amsterdam
Students and editors generate 50,000 page views a day on the back-end. You will work with the development team to make the entire back-end process more efficient and release new features every two weeks.
The vacancy
Scribbr is an online thesis editing platform with 350 affiliated freelance editors.
We help thousands of students every year and our server processes thousands of page views each day.
The best ideas come from the problems that students and our own editors encounter. The Scribbr philosophy is to solve problems together, and you'll be involved in every process – from the design and concept phase straight through to the realization of a solution. No two weeks are ever the same!
What we are looking for
Ideally you are a PHP back-end developer with at least four years of experience. Experience working with Symfony is a plus.
You will be working with tools and techniques like: Git, Symfony3, Composer, Vagrant, Heineken, PHPUnit, Doctrine, PHP7.1, Continuous Delivery, TDD, DDD.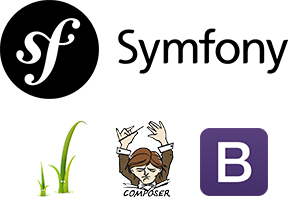 Who will you be working with?
The Scribbr team is young, international, and dynamic. We all work together to ensure that students are fully satisfied with our services.
You'll be part of a three-person development team.
What does a typical day look like?
09:00 – Before your dev-machine even boots, you stepped into the elevator and send a packet from your phone so the coffee maker starts brewing your chai latte. Once you settle in, you start reading the Slack Git history and begin checking out things that are still challenging your colleagues from the night before.
11:00 – Our Spanish growth hacker is at your desk, because her experiment has led to a critical bug. One of the co-founders chimes in that a hotfix release will need to be issued.
12:30 – The bug has been solved with the unrolling of a live update, so you head out for lunch with friends from other start-ups at the TQ tech space.
13:15 – Time to develop a use-case for optimizing the company's financial processes in relation to an upcoming milestone. A change in priorities means this feature needs to tackled now.
16:00 – Implementation is complete, so you meet with co-founder Bas to discuss the functional operation and get some feedback. The feature's translation-release cycle needs some attention to ensure it can be rolled out in 11 languages.
Around 18:00 – It's time to get on your bike to go home… or perhaps you decide to join your colleagues for dinner at the office?!
Your profile and "must-haves"
Have at least four years of experience with OOP PHP
Have knowledge of Symfony and Twig, as well as experience with tools such as Composer and Bower and the front-end Bootstrap framework
Are not afraid of the CentOS command line
Live in (or near) Amsterdam
Are eager to learn
What we offer
A great office in the heart of Amsterdam (at the TQ tech space).
A competitive salary.
A fun work environment that embraces the latest technologies.
A fast-paced, young, ambitious, and informal atmosphere.
An open environment that will foster your own development.
A chance to work for one of the fastest growing tech companies in the Netherlands.
Recognized visa sponsor.
Some of the things we have achieved in the last three months alone
We won the Best Entrepreneurial Student Initiative and were nominated for the Deloitte Rising Star 2016.
We went online in Sweden, Norway, Denmark, and Finland. Even more students now know where to find us!
We began collaborating with French, Italian, and Spanish editors and now offer editing in these languages, too.
We set a new company record of 20,000 unique website visitors per day.
We moved from Tilburg to Amsterdam in order to grow faster. We are now located on the Singel canal (at TQ).
The team has expanded quite significantly, and our new office has already proven to be too small. Starting 17 October, we'll have 18 workstations. :-)
Interested?
Send an email with a motivation statement and CV to
{{ ['koen', 'scribbr.com']|join('@') }}