How to work with the results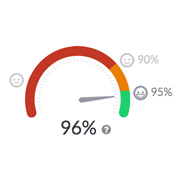 1. The Originality Score
The Originality Score indicates what percentage of your document is original. The higher the score, the more original your text is.
However, a low score does not automatically mean that you have committed plagiarism. It depends on how you have cited your sources and whether you have used a correct referencing style in relation to the text in question.
2. List of matching sources
This list identifies the sources found by the Scribbr Plagiarism Check. Clicking on the links will take you to each source. The number of words found in each source text is also indicated — the higher the count, the more of your text is similar to the source text.
3. Highlighted Matches
Every similarity that is found is highlighted in your document. A similarity is a sign that you've copied text. Your options here are either to paraphrase the text or to present it as a direct quotation. In either case, it's critical that you cite the source following the correct referencing style.
No guarantee
A high Originality Score is no guarantee that your thesis does not contain plagiarized content. It is merely an indicator that you can use to prevent unintentional plagiarism. It can always happen that certain sources were not found during the Scribbr Plagiarism Check. You are always the only person responsible for preventing plagiarism in your work.