12 Best Free Plagiarism Checkers in 2022 | Tested & Reviewed
To find the best free plagiarism checker in 2022, we extensively tested and reviewed all popular tools to answer questions like, "How much plagiarism can they detect?" and "Are they actually free?"
Research methodology
The plagiarism tools in this research are tested using 4 test documents, ranging from unedited to heavily edited.
Each test document consisted of plagiarized sections from 180 sources like Wikipedia articles, news articles, open-access journal articles, small and big websites, theses and dissertations, and PDFs.
This setup allowed us to analyze:
The reliability of plagiarism software, even when texts are edited to varying degrees
The depth and breadth of the content databases (whether it only covered big websites or also journal articles)
Read more about the research methodology
General conclusions: Free vs. paid checkers
We found that free tools were frequently misleading in their advertising and that they were lacking in many ways compared to paid ones. Our research led to these conclusions:
| | | | |
| --- | --- | --- | --- |
| | Free tools | Paid tools | Scribbr |
| Average plagiarism percentage | 21% | 41% | 95% |
| Detects paraphrasing plagiarism? | | | |
| Able to find full matches? | | | |
| Pricing | Often misleading: only a trial, or not free at all | Confusing subscription plans | Transparent one-time payment per check |
| Word limits | Usually <1,000 | Varies with subscription plan | No limit |
| Trustworthy? | Hard to know your documents are safe | Usually more accountable | Data not sold, stored, or shared; documents automatically deleted |
| User experience | Buggy sites, no live support | Fewer bugs, some live support | Live support, happiness guarantee, smooth interface |
| Reports | Sometimes not downloadable, not very readable | Downloadable, somewhat clearer | Clear report with different sources color-coded, clickable text, downloadable |
1. Scribbr review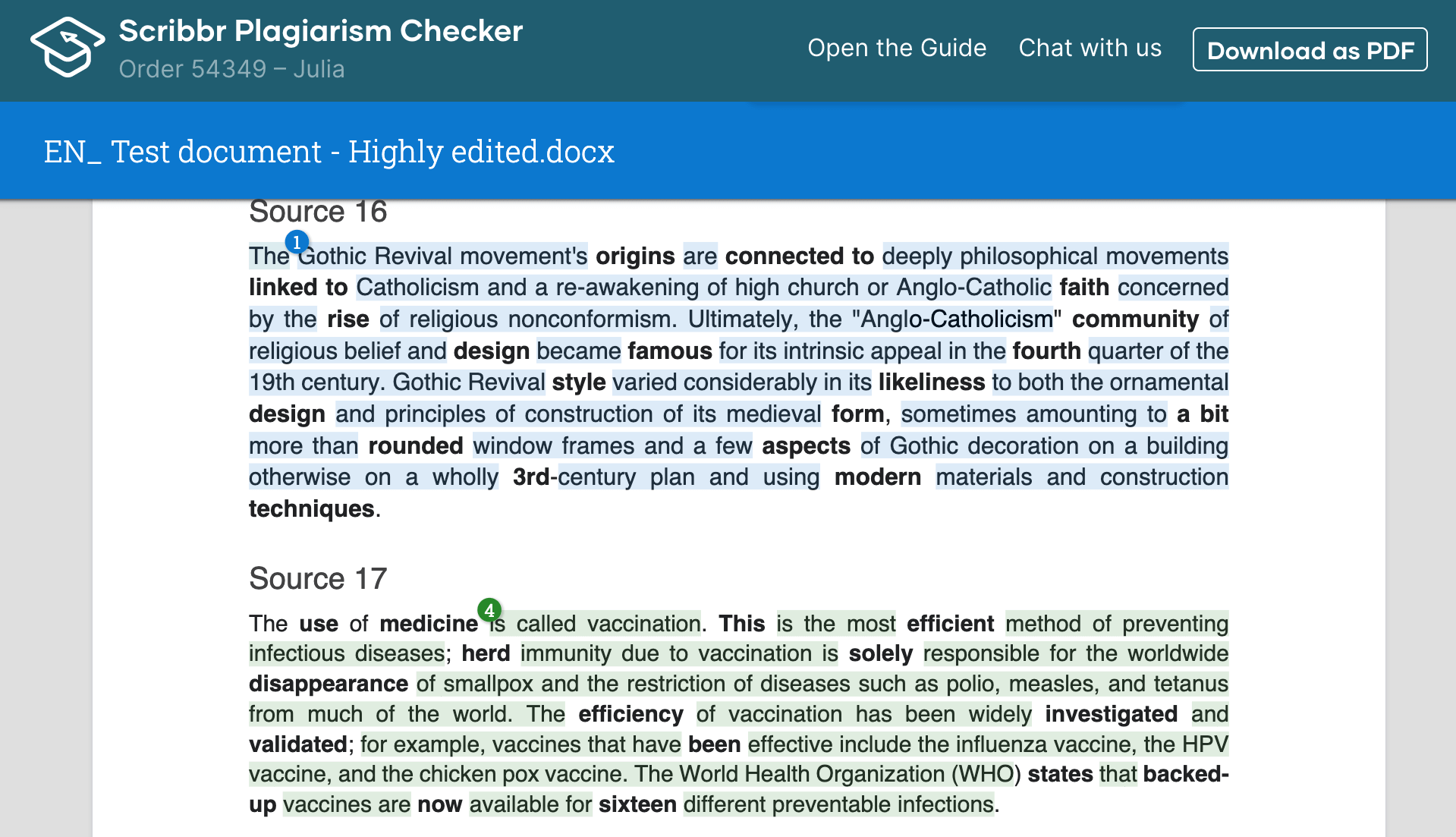 Pros
Offers a limited free version
Finds far more plagiarism than other tools
Detects plagiarism even in edited texts
Won't store or sell your documents
Money-back happiness guarantee, with live support available
Self-Plagiarism Checker feature allows you to check for self-plagiarism
Cons
You need to go premium to find out your precise similarity score and view the entire report.
Free?
Scribbr offers a limited free version that's perfect for checking if your paper contains potential plagiarism. To view the full report, you need to buy the premium version, which costs between $19.95 and $39.95 depending on the word count. There's no word limit, so you can upload as big a document as you want.
Quality of matches
Scribbr's checker, developed in partnership with Turnitin, heavily outperformed all free and paid tools in terms of the amount of plagiarism detected: 95% vs. an average of 21% across free tools.
It performed particularly well with source types relevant to students, such as journal articles and dissertations. Importantly, Scribbr was far more successful than other tools at detecting plagiarism in heavily edited texts, showing it has no trouble with paraphrasing plagiarism.
Scribbr could also consistently provide full matches instead of partial ones, matching the whole plagiarized passage to the correct source.
Usability
You see your results in a straightforward downloadable report. Different sources are highlighted in different colors, making it more readable.
The issues identified can be fixed with Scribbr's Citation Generator, generating correctly formatted citations wherever they are needed.
In addition, Scribbr offers a Self-Plagiarism Checker. This unique tool allows users to upload their own unpublished documents in addition to the public database, to detect any possible self-plagiarism.
However, you can't edit your text directly in the tool, and it's not possible to re-check your document for free.
Trustworthiness
Scribbr will not store, sell, or share your uploaded documents. Data is automatically deleted after 30 days, or students can opt to manually delete their document after the check.
Live customer support is offered in multiple languages to assist users. A guide and other resources explaining plagiarism issues are easily accessible.
Scribbr also has a happiness guarantee: if you're not satisfied with the tool for any reason, you can ask for a new check or a refund.
2. Quetext review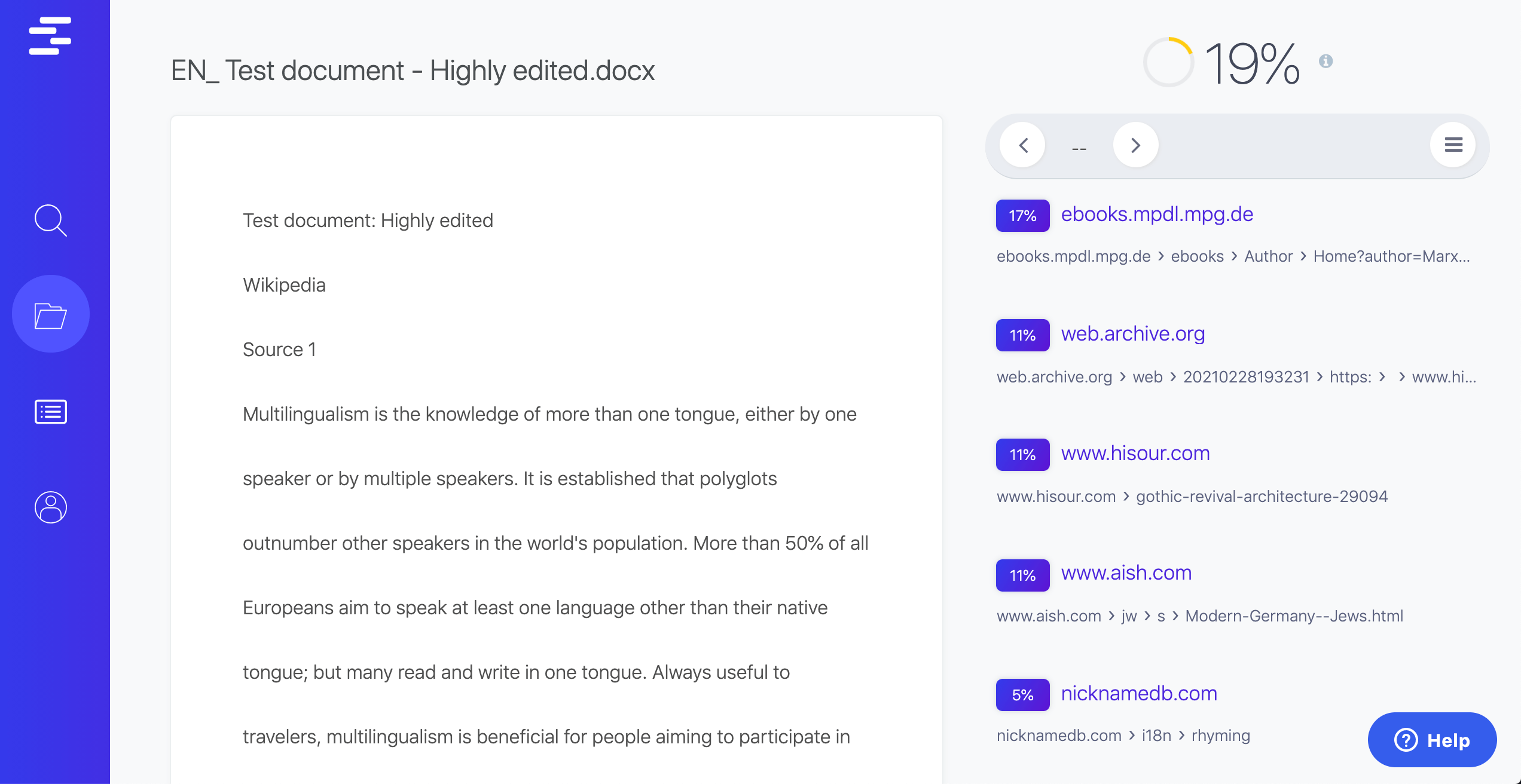 Pros
Clear and detailed report
Built-in citation assistant helps to add missing citations
Documents not stored in database
Support options available (but no live support)
Cons
Partial matches and false positives
Not clear how the free trial works
Monthly subscription of at least $9.99 after free trial
Not effective for scholarly sources
Doesn't detect all plagiarism
Free?
In theory, Quetext offers a free trial of five "pages"—with a page being counted as 500 words. However, we found that after scanning one document of 800 words, the site already said our free trial was over and wouldn't accept any more documents, however short.
Additionally, uploading files to Quetext is a Pro feature. If you don't pay, you'll have to copy-paste the text from your document instead.
The paid version costs at least $9.99 per month (more expensive plans are available), which allows you to check up to 100,000 words.
Quality of matches
Quetext detects more plagiarism (57% on average) than any free tool, but it's unable to match each source text fully to a single source. Different sentences are attributed to different sources, resulting in a lot of false positives.
Quetext claims to check against webpages and academic sources, but in practice, we found it didn't perform well at identifying plagiarism from academic sources.
Usability
The scanning process on Quetext is quite slow. Once it's over, the plagiarism report is straightforward to understand and provides a useful overview. A precise percentage is shown, with similarities in the text highlighted.
Different sources are not highlighted in different colors. Instead, orange highlighting is used for partial matches, red for full matches. Clicking on a highlighted sentence shows you the matching source text, with another percentage indicating how similar your sentence was to the source.
There's also a built-in citation assistant that can help you fix plagiarism by adding citations. Unfortunately, it's not very robust. Citations generated this way may not be accurate, and you have to add a lot of information manually.
Trustworthiness
Quetext states that it doesn't save your text to a database and that all text submitted remains private and encrypted.
Information about the service is available in the form of FAQs on the website, and it's also possible to contact the company by phone or email.
3. Grammarly review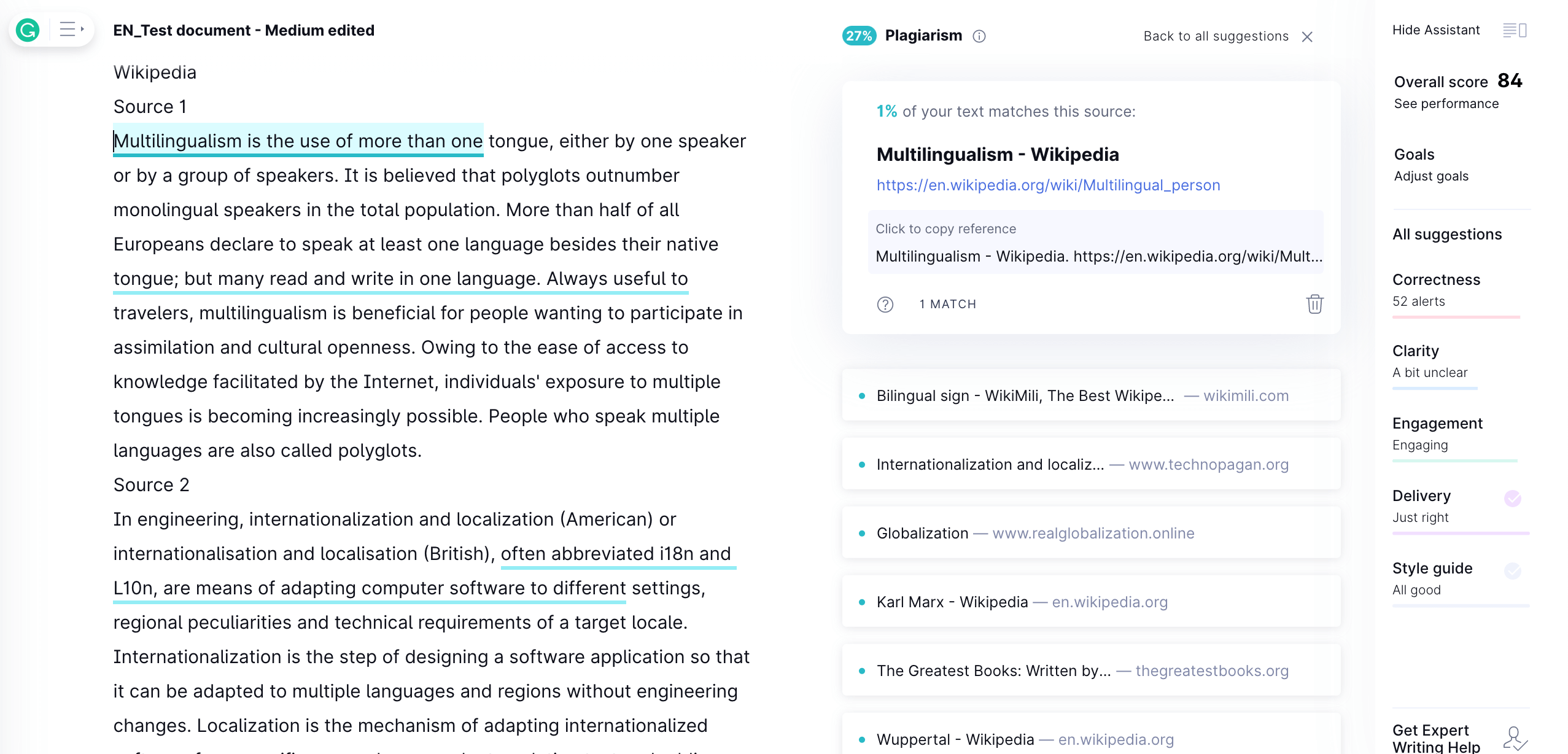 Pros
Typically finds the original source
Language and citation assistant available
Does not sell or share documents with third parties
Cons
Not free!
Not as effective with edited texts
Same colors used for different sources
Free?
Despite the way it's advertised, Grammarly's checker is not free. All you can do is see a screen that tells you there's plagiarism in your text without giving you any details of where it is, how much of it there is, or what the sources are.
After this you'll be directed to download the Grammarly app and subscribe to their premium service ($30 per month). There's a limit of 100,000 characters (about 20,000 words) even after paying.
Quality of matches
Grammarly performed better than most free tools at finding full matches, and it was usually able to find the right source for a piece of plagiarized text. That said, its overall percentage (43%) fell short of Quetext's and was far lower than Scribbr's.
It performed well with unedited texts but relatively poorly with edited ones. With these, it often gave false positives.
Usability
As a premium service, Grammarly has a clearer and more visually appealing style than most free checkers. The tool does still use the same color for all sources, though, making the results hard to parse.
The checker temporarily removes the original formatting while editing the text, but the layout is restored after downloading the document.
The subscription also gets you a language and style tool and a citation assistant.
Trustworthiness
Grammarly does not store, sell, or share documents with third parties.
The site provides a support page with tips, tutorials, and FAQs, and you can submit a question via a form. Live support is not available.
4. Unicheck review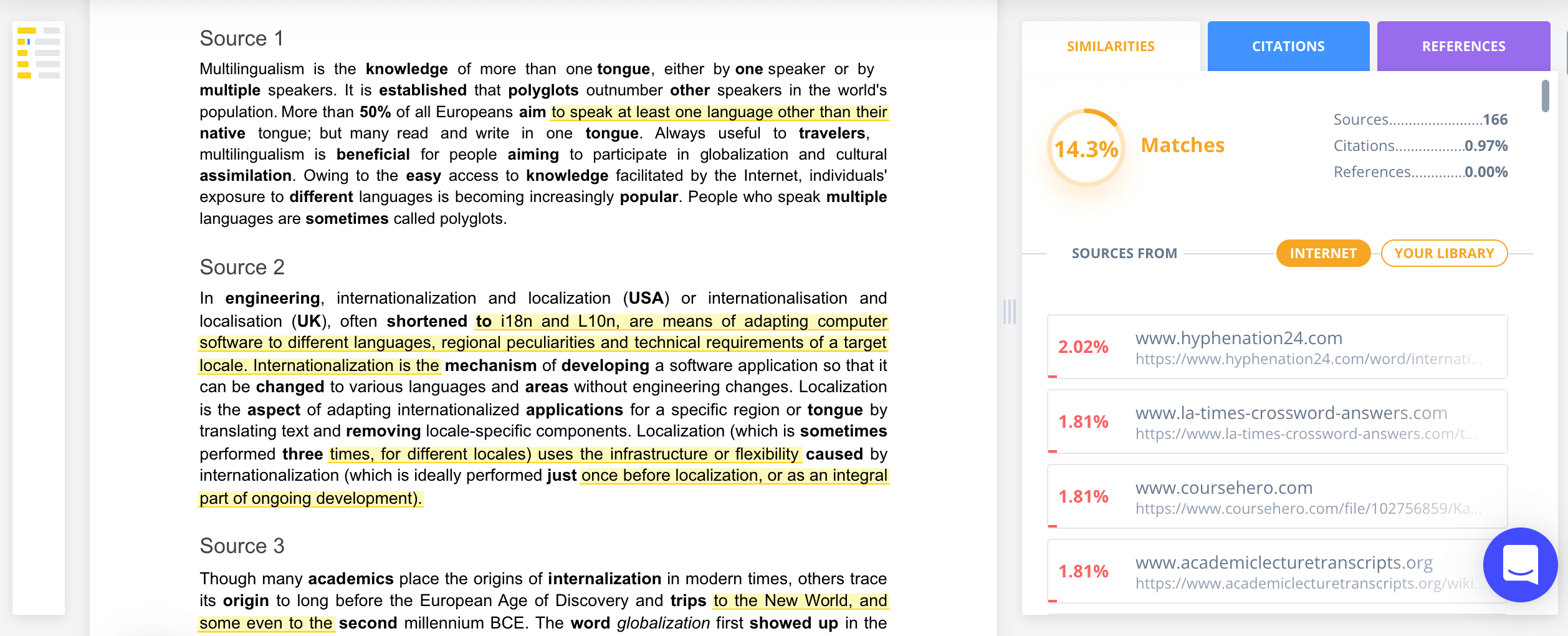 Pros
Tends to identify the correct source
Doesn't sell or share documents without permission
Live support is available
Cons
Have to pay after a very short free trial
Unclear report—hard to identify the source
Same highlight colors for different sources
Several matches for one sentence
Free?
Unicheck offers a free trial, but with a very small word limit of 200 words. It's unlikely that your document will be so short that this trial is useful to you, but at least you can try out the service before paying.
After the trial, the pricing is based on the number of pages: $5 for 20 pages, $10 for 50, $15 for 100.
Quality of matches
Unicheck was able to fully match some plagiarized passages with their source texts, unlike most free tools. However, the percentages it detected overall (44%) were comparable to those of Check Plagiarism.
The report also tends to match a single piece of text with multiple sources, meaning the results are not decisive.
Usability
Plagiarized text is highlighted in the report, but all in the same color, so it can be difficult to match a sentence with the relevant source at a glance.
Additionally, because the reports tend to provide multiple sources for a single sentence, they're not very readable, and it can be hard to tell what to do to fix a particular instance of plagiarism.
Trustworthiness
Unicheck stores uploaded documents securely, and the site states that your document will not be sold or shared.
Live chat support and a help center with tutorials and guides are available.
5. Check-plagiarism.com review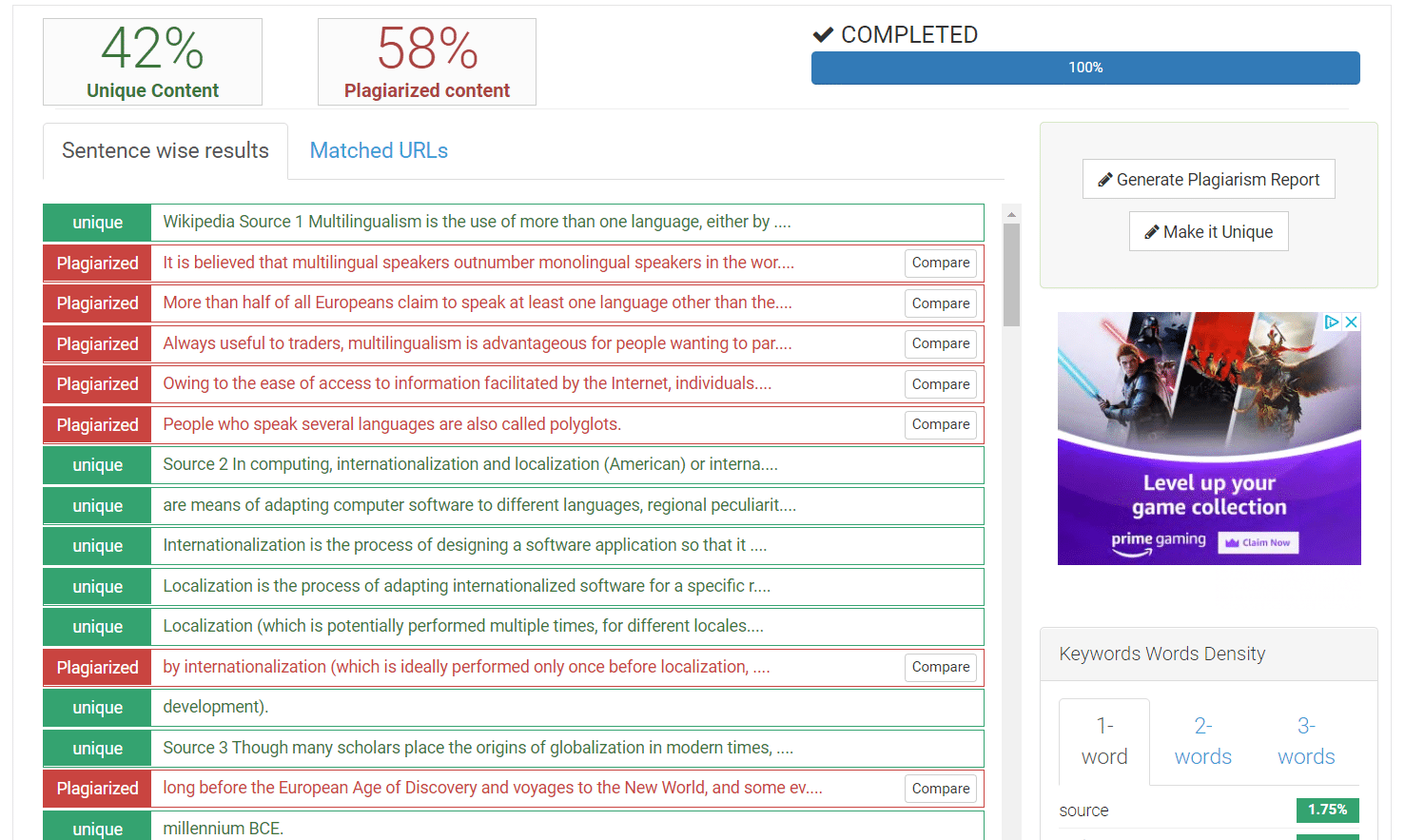 Pros
Genuinely free for most purposes
Detects a high amount of plagiarism relative to other free tools
Documents not stored in database
Generous 5,000-word upload limit
Cons
Confusing and difficult-to-read reports
All text formatting is lost in the report
Scans sentence by sentence—no full matches
Site is very buggy
Free?
For most users' purposes, Check-plagiarism.com seems to be free, though the limits aren't really clear.
The site describes the free upload limit in a confusing way, allowing you a certain number of "queries" (sentences) per month. In practice, though, we found that it was possible to upload all our documents (around 30,000 words in total) without exceeding this limit.
Quality of matches
While Check-plagiarism.com found a relatively low amount of plagiarism in unedited texts, it actually did better with heavily edited texts. Still, its average score (44%) was not that impressive.
The software was not able to identify any sources reliably and in full. Instead it found many partial matches, often showing a large number of different sources for a single piece of text.
There are also many obvious false positives in the results, with common short phrases or even single words being identified as plagiarized, suggesting the checker's methodology is highly unreliable.
Usability
You can check up to 5,000 words at once, which makes it more practical than other free options for checking longer texts. However, the site was quite buggy, and the reports it generates are not very readable or helpful.
In the downloadable report, the whole text appears as a single block with all formatting removed, then again in the form of individual text fragments colored red or green depending on whether plagiarism was detected. In this second section, the same text is repeated over and over again if multiple sources were found for it.
Below this, there's a numbered list of the sources that were identified for each instance of plagiarism, which it's difficult to cross-reference with the text above.
The version of the report shown on the site itself is slightly better. A "Compare" button next to the plagiarized text allows you to see the text identified as the source. It's still messy and repetitive, though.
Trustworthiness
Check-plagiarism.com claims that the reports generated on their site are deleted instantly and that documents are not stored in any internal database.
There are some FAQs listed on the site, but the answers provided are not very clear and some information is contradictory. For instance, the word limit for an upload is claimed to be 10,000–15,000 words in one place, but in fact it is 5,000 words.
Check out Check-plagiarism.com
6. Plagiarism Detector review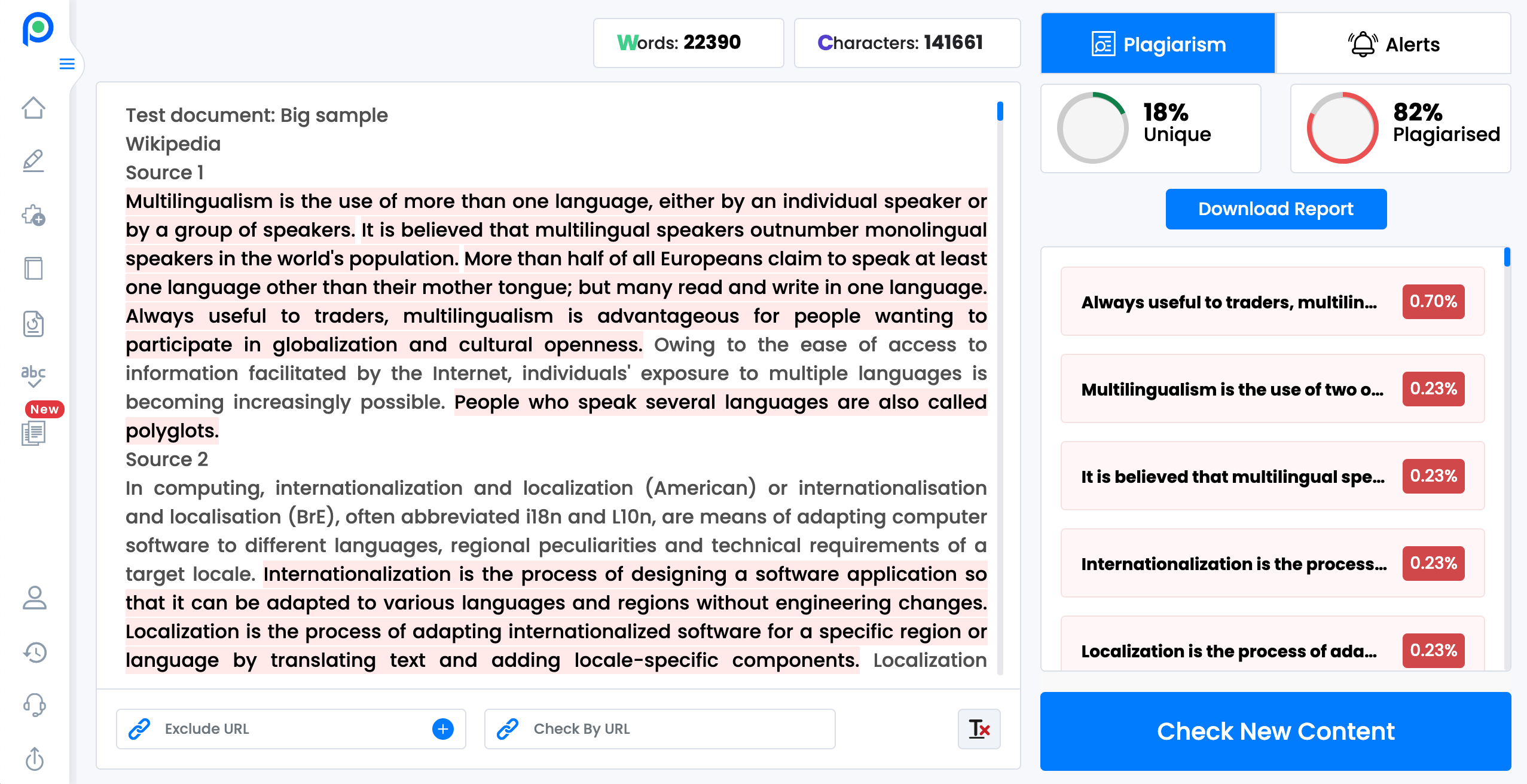 Pros
Free to use (1,000-word limit)
Performed relatively well with edited texts
Cons
Technical issue where only the first part of a long document shows matches
Difficult to match text with sources in the report
Different sources highlighted in the same color
No live support available
Free?
Plagiarism Detector is free to use, with a limit of 1,000 words per document. By paying, you can raise this limit to 25,000 words per document.
Each premium plan offered pays for a certain number of words rather than a certain length of time: for example, $10 for 30,000 words.
Quality of matches
Plagiarism Detector's overall performance was better than average for a 100% free tools (32%), but we did encounter a major technical issue that made some of the results invalid.
With larger documents, this tool stops highlighting plagiarism and showing sources halfway through the text. The plagiarism percentage shown seems to be based on a full scan of the text, but it's not possible to see the details of the plagiarism past a certain point, making the report useless.
Usability
Plagiarism Detector's reports are not very readable. The same colors are used for different sources, and hovering over a plagiarized section doesn't show you the source. Instead, you need to find it in a separate list.
Trustworthiness
Plagiarism Detector states that it will not store or sell your documents. No live support is available, but there is a help request form.
7. Pre Post SEO review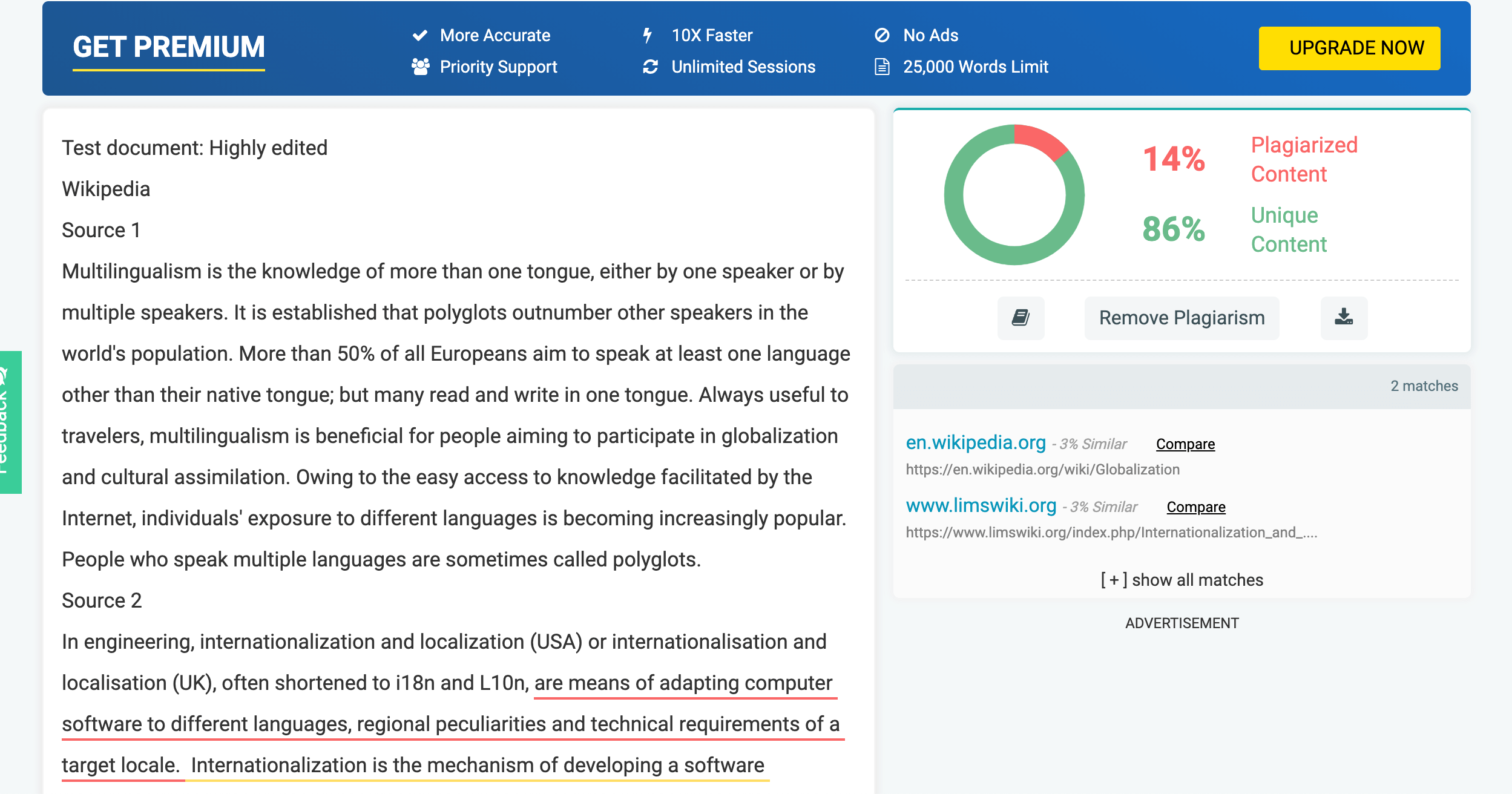 Pros
Free (only 1,000 words per search)
Color-coded highlighting
Some full matches
Cons
Detects a low proportion of plagiarism
Report is hard to read
Messy, ad-heavy page design
Color coding doesn't distinguish between different sources
Free?
Pre Post SEO is a free tool. The only limit is that you can only scan up to 1,000 words in one search. This limit is removed if you sign up for their premium plan, which costs $10 to $45 a month.
Quality of matches
Pre Post SEO did find the occasional full match, but in most cases it was only able to find partial matches, like most free checkers. Even with unedited texts, this checker performed relatively poorly. Its overall average was 29%.
Usability
The page where the checker is hosted is full of distracting and irrelevant ads, making the user experience frustrating. This is the case even if you do pay for the premium plan.
The tool distinguishes between verbatim plagiarism and paraphrasing plagiarism in the report by highlighting them in different colors. This is useful in theory, but in practice the checker can't reliably tell the difference between the two.
Trustworthiness
Pre Post SEO states that it does not store or sell your documents. There's no live support on the site, but there is a form you can use to request support.
Like some other sites, Pre Post SEO offers an automatic text rewriter to resolve plagiarism issues. This tool isn't a reliable or ethical way to paraphrase, and you're much better off resolving any issues manually.
8. Search Engine Reports review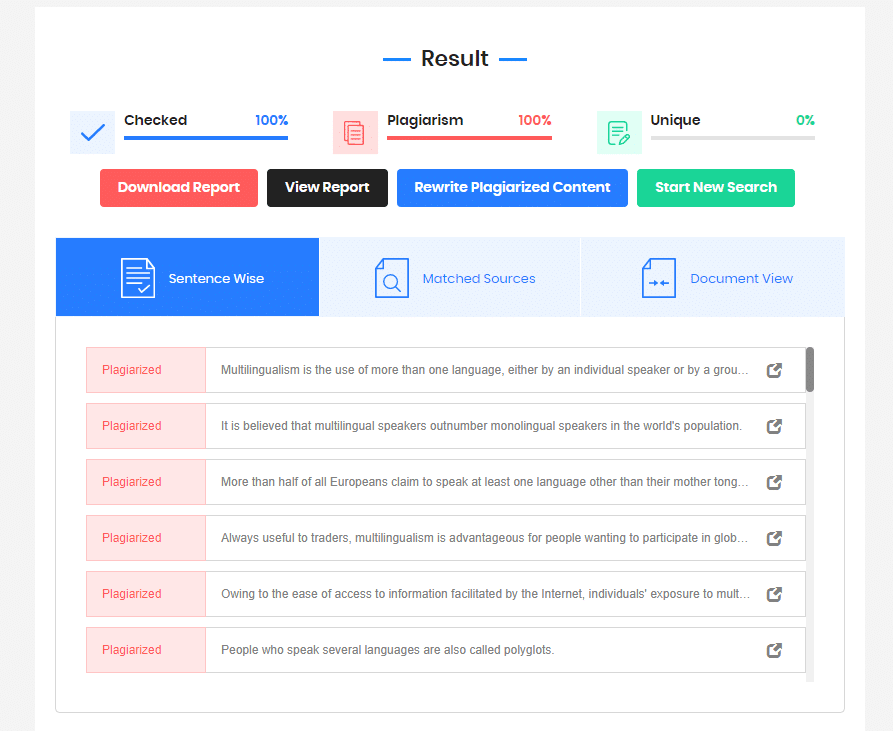 Pros
As many free uploads as you want
Decent 1,500-word upload limit
Documents not stored in database
Cons
Lots of distracting ads
Unreliable methodology using Google
Reports are not very informative
Text containing certain characters causes bugs
Can be very slow
Free?
Search Engine Reports offers a tool that allows you to scan up to 1,500 words at a time. You can upload as many documents as you want, making this a genuinely free service.
Quality of matches
The methodology this tool uses to find matches appears highly unreliable. It seems to simply search Google for each sentence in your document, counting it as plagiarism if it finds a match.
It also sometimes displays 100% plagiarism even while not highlighting all the text in the document, suggesting a lack of precision in the data you're given.
It identified only a low proportion of the plagiarism (23%) in our test documents, and due to its methodology it was unable to find any full matches.
Usability
The scanning process is noticeably slower than on most sites, taking several minutes per document. In the case of one particular document, the scan for some reason took around half an hour.
The report shown on the site gives a list of individual sentences marked as plagiarized or original. You can click a link next to each source, but all it does is google the sentence in question. The downloadable report highlights plagiarism within the text and shows a list of sources, but it doesn't clearly link each sentence with a source.
We also noticed that uploading a document containing the "less than" symbol (<) caused a bug where the report omitted all text following this symbol, making the results useless.
Trustworthiness
Search Engine Reports claims not to store any uploaded content in their database. It's also not required to register to use the site.
Check out Search Engine Reports
9. Small SEO Tools review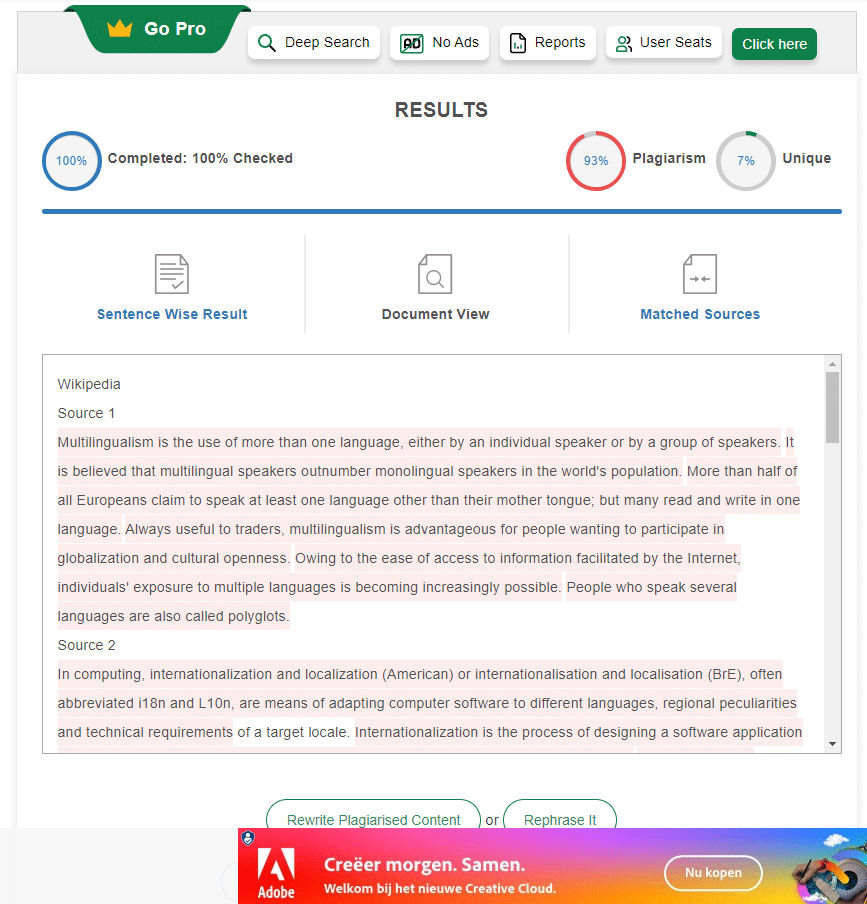 Pros
Free, although with a relatively small word limit per check
Various options for document uploads (although some are faulty)
Documents not stored in database
Cons
Reports not very clear or readable
Low level of plagiarism detected
Text containing certain characters causes bugs
Page is slow, somewhat confusing, and full of ads
Scans individual sentences rather than full texts
Free?
Small SEO Tools is free to use, although you can only check 1,000 words at a time without paying.
You can run multiple checks if you need to scan more than that, although the site requires you to complete Captchas to upload multiple documents. We were able to scan all of our documents without paying.
Quality of matches
Small SEO Tools was unable to identify most plagiarism in our test documents, with an average of only 22%. Since it scans individual sentences separately, it was only ever able to produce partial matches. It performed moderately well with unedited texts, but poorly with edited texts.
It was also difficult to verify how reliable the results were, since the reports generated did not clearly match plagiarized text with sources.
Usability
The page is cluttered with a lot of ads which you can easily confuse with the buttons you need to press. The scanning process is fairly slow. It takes some time for the page to indicate it has started, so you might initially think the upload has failed.
As with some other checkers, uploading a document containing the "less than" symbol (<) caused a bug where the report omitted all text following this symbol, invalidating that report.
The report itself is not very clear. All plagiarized text is highlighted in one color and not clearly matched with the source identified for it, even when the "Matched sources" option is selected.
Trustworthiness
Small SEO Tools claims not to store your content after checking it. You don't have to register to use the tool. If you do register, there's a support email you can contact to deregister and remove your personal data.
10. DupliChecker review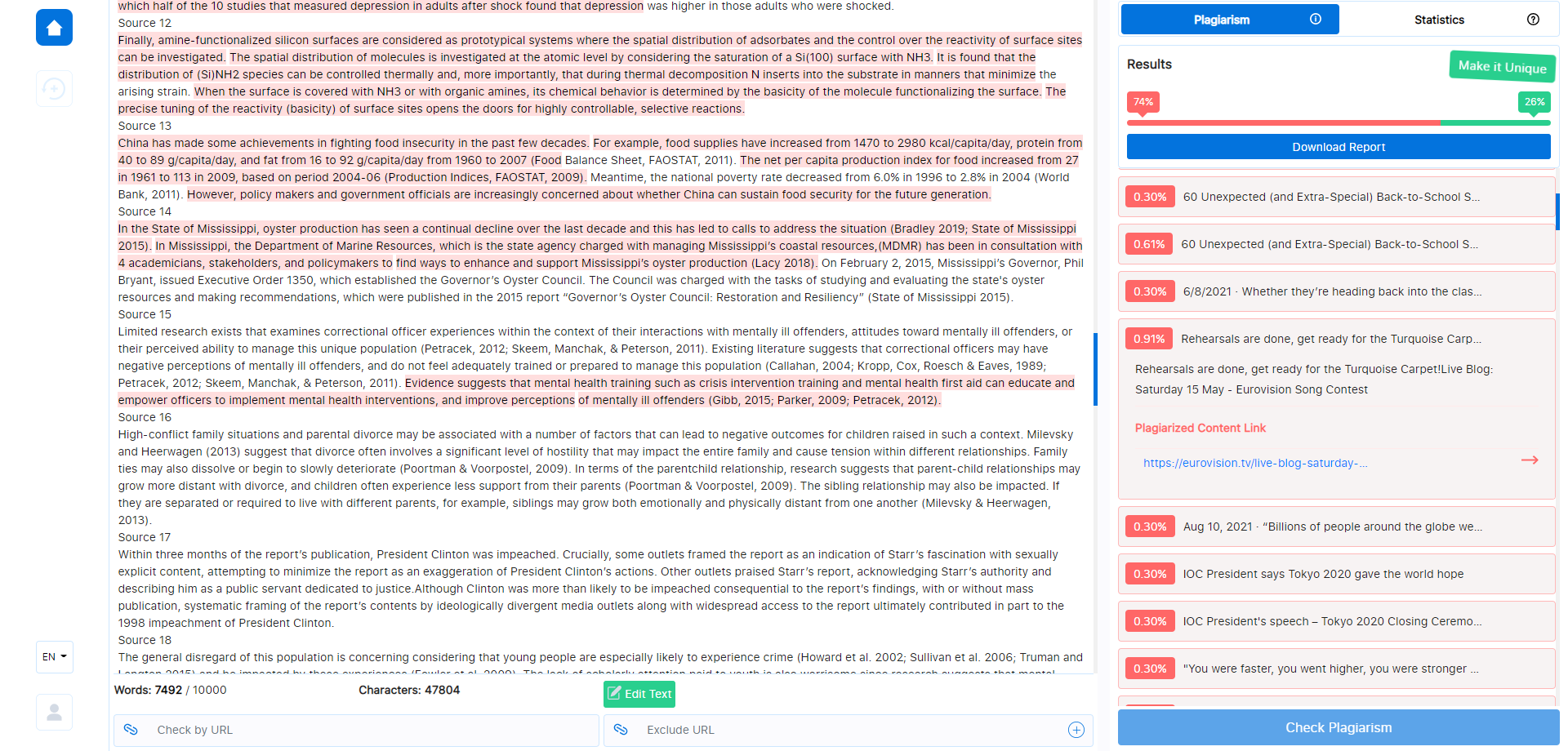 Pros
Free (1,000 words per scan)
Doesn't save uploaded documents
Relatively user-friendly reports
Cons
Distracting ads for other services
Very low level of plagiarism detected
Performs very poorly with edited text
No color coding for different sources
Free?
DupliChecker's service is free, though you can only upload 1,000 words at a time. If you go for one of their premium plans, you can go up to 10,000.
If you do want to upgrade, a large number of different premium plans are offered on the site, which can be somewhat confusing to navigate. The cheapest is $10 a month.
Quality of matches
The level of plagiarism detected by DupliChecker was low (20%). It was able to find some full matches, but rarely, since it scans sentence by sentence.
It performed remarkably badly with edited texts, despite claiming to be able to detect paraphrasing plagiarism. With unedited texts, it performed about as well as other checkers like Small SEO Tools.
Usability
DupliChecker's website is unfortunately full of ads for their other services and for similar sites. A distracting animated "Make it unique" button appears in the report, advertising their rewriting tool.
The formatting of the document mostly remains intact in the report, making it relatively readable. Plagiarized text is highlighted (though all in one color), and you can click on it to be shown the source it was matched with.
Trustworthiness
The site claims not to save uploaded documents, and it deletes content after the check is complete to avoid data leakage. No live support is available, but there is a contact form, as well as a feedback form.
11. Plagiarismchecker.co review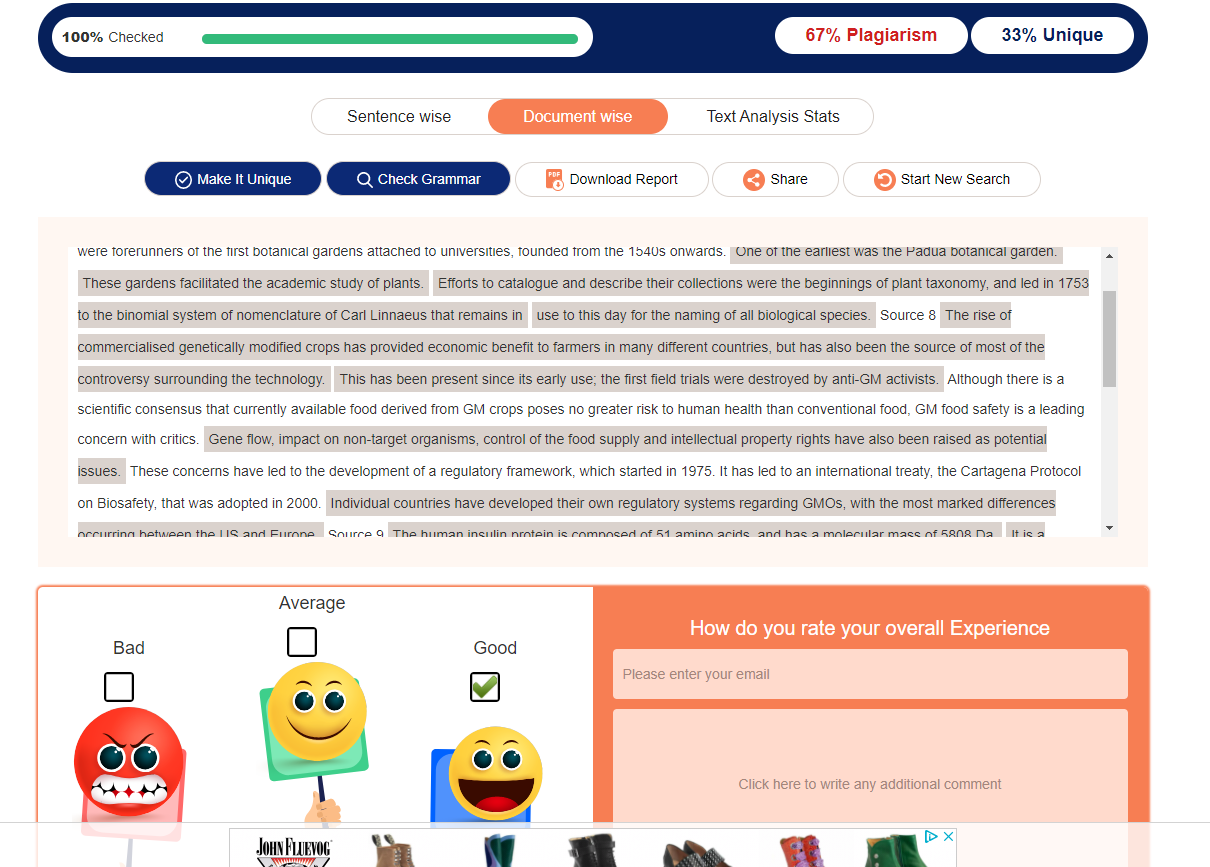 Pros
Uploaded documents not stored/sold
Cons
Detects an extremely low amount of plagiarism
Misleading about costs—only free for five documents
Very low word limit of 800
Lots of ads and pop-ups that interrupt the scan
Option to download the report is broken
Essentially just runs your text through Google
Sometimes fails to generate a report
Free?
The tool claims it's free, but it actually only allows you to upload five documents before requiring you to sign up for one of their many premium plans. These documents have an unusually low word limit of 800.
The premium plans offer options to increase (but not remove) this word limit. The cheapest is $10 per month, which only increases the limit to 1,000 words—not a great deal.
Quality of matches
Plagiarismchecker.co gave some of the worst results out of all the checkers we tested, with an average of 16%. It was never able to provide a full match for a source text, only partial.
Its level of plagiarism detected in unedited texts was lower than most other tools, and in edited texts even worse. Its method of detecting plagiarism seems highly unreliable.
Usability
The tool is frustrating to use due to the high number of ads it displays. This includes pop-ups that appear during the scanning process and interrupt it until you click on them.
The scanning process sometimes gets stuck and fails to generate a report, requiring you to start over. There's supposed to be an option to download your report, but we found that it didn't work, so you can only view the report while you have the page open.
The report contains a "Compare results" button, but all it does is google the phrase in question—not a reliable method. There's no clear overview of sources.
Trustworthiness
The site claims that uploaded content is not stored in a database or shared with others. It also claims that "our advanced AI-powered algorithm ensures that your content must be protected under the copyright laws." It's not really clear what this means.
Check out Plagiarismchecker.co
12. Writer review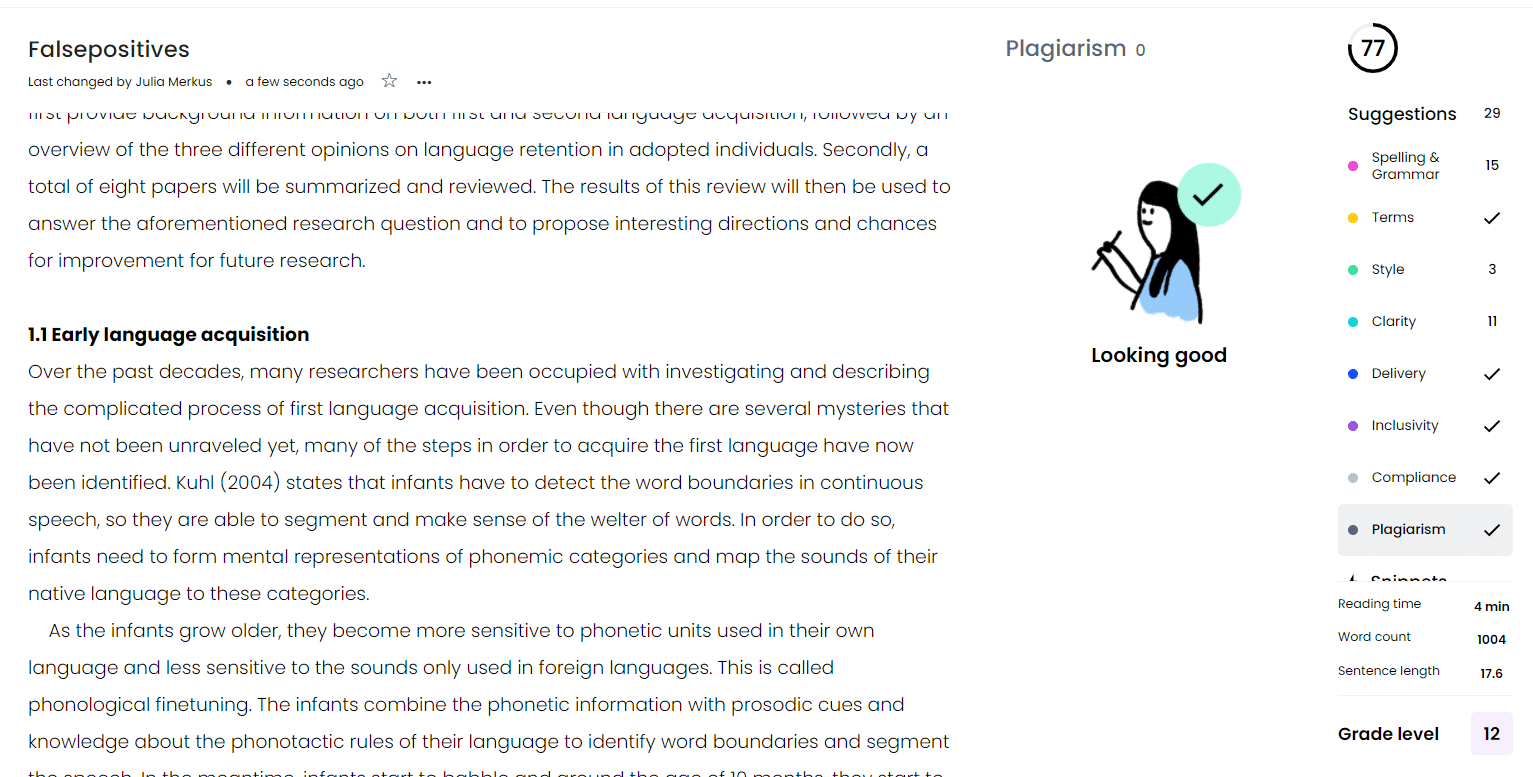 Pros
Clean, straightforward design
Web version is free (up to 2,000 words per check)
Cons
Browser extension version detects no plagiarism at all
Browser extension costs money (after a free trial period)
Web version provides too little information
Long scans with no indication of progress
Can't upload documents, only type or paste in text
Free?
Writer has a version hosted on their website, and a version that functions as a browser extension. The website version is free, allowing you to check up to 2,000 words at a time.
The browser extension requires you to sign up for a premium subscription for $11 per month, although you get a one-month free trial. We don't recommend signing up, though, since this version of the checker doesn't seem to work at all.
Quality of matches
In our testing of the browser extension version of Writer, we found that it detected no plagiarism whatsoever in any of our texts, suggesting that this version is simply broken.
The website version was able to detect plagiarism, but it didn't display an overall plagiarism percentage anywhere, so we couldn't apply our normal testing methodology. You're able to see links to websites with matching text, but these matches seemed quite inaccurate.
Usability
Though the Writer site has a nice, clean design, the checker itself is not very practical to use. In both versions, you can only type or copy-paste text into the checker—there's no way to upload documents directly.
As mentioned above, the website version also doesn't show an overall plagiarism percentage, only individual matches, making it less useful than other checkers. The interface for scrolling through individual matches is quite awkward to use.
The checker can also take a while to scan your text, and you're given no indication of its progress as it does so.
Trustworthiness
Writer claims its tool is secure and safe to use, and that it won't share your information with anybody. A detailed security policy is described on a separate page.
It's possible to contact the company at various email addresses, including one specifically for security issues. There's no live support, though, and the "Help Center" page doesn't offer much information.
Frequently asked questions about plagiarism checkers
Cite this Scribbr article
If you want to cite this source, you can copy and paste the citation or click the "Cite this Scribbr article" button to automatically add the citation to our free Citation Generator.
You have already voted. Thanks :-)
Your vote is saved :-)
Processing your vote...