Your path to academic success
When it comes to academic writing, putting your ideas on paper is only the first step. You also need to strike the right tone, convince your readers of your arguments, and follow the standards and conventions of your field.
Luckily, we are here to help! Our team of academic editors can help you express your ideas and respect the rules of academic writing, so you can hand in your paper with confidence.
We can proofread and edit all your study-related documents, with 100% happiness guaranteed.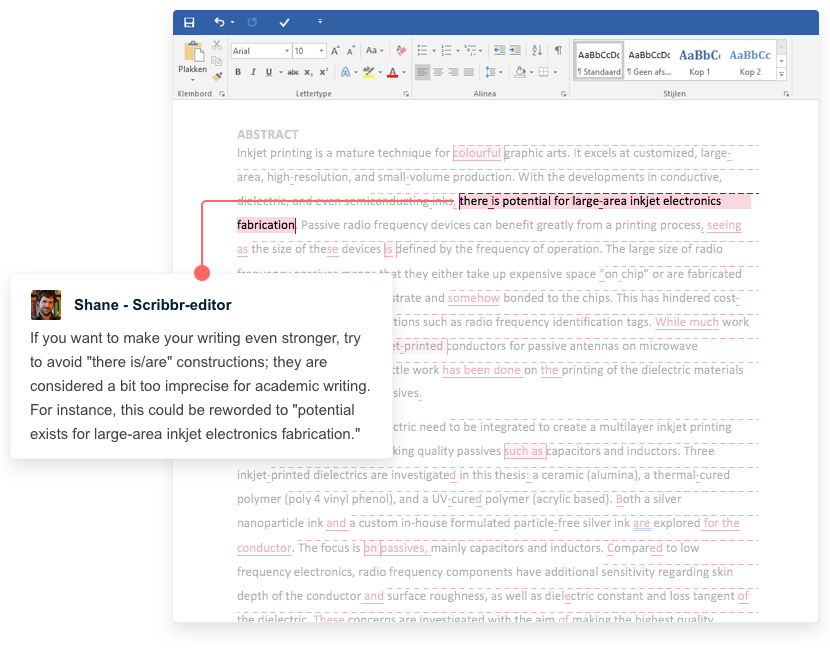 Capstone projects
Research proposals
Journal articles
Academic manuscripts
Are you writing in German, French, Spanish or another language? We can help with that, too!
---
Admissions Essay Editing & Coaching
---
A strong admissions essay can increase your chances of getting accepted – and we can help! Whether you're writing a college admissions essay or a graduate school personal statement, our experienced coaches can look at your essay objectively and help you make the best possible case for your admission.
You'll receive in-depth content feedback and suggestions to improve your grammar, writing style, structure, and narrative. We'll help you write a standout essay that shows admissions officers that you deserve a spot in your chosen program.
How it works
When you upload your admissions essay, we'll match you with an experienced admissions essay coach. Your coach will edit your essay using track changes and provide in-depth content advice to help you strengthen your essay. You can use this advice to guide your final revisions.
You'll receive…
A professionally edited, error-free essay

Advice to help you refine your voice and express your ideas

Guidance and advice from subject-matter experts

Suggestions to help you meet your word count
Put your best foot forward by having an experienced admissions essay coach review your work.
Price
$150 per essay. You'll always receive your feedback within 12 hours.
---
Academic Proofreading & Editing
---
With our award-winning Proofreading & Editing service, you can hand in your paper with confidence. The entire review process is confidential and hassle-free.
Using the Scribbr Improvement Model, our academic editors will correct your language errors and ensure your paper is consistent and academic in style.
Professional academic editors
Native speakers
University graduates
Academic writing experts
Knowledgeable in various fields of study
All our editors complete the Scribbr Academy, our comprehensive training program.
What will your editor do?
When you select our Proofreading & Editing service, your editor will correct mistakes and provide in-text feedback using Word's track changes and comments. Your editor will also provide advice to help you become a better academic writer.
Language
Academic style
Feedback
Spelling

Typos, spelling mistakes, hyphenation errors and other simple mistakes.

Style and tone

Taboo words, subjective language, inflated and redundant phrases, and overuse of the passive voice.

Queries

Editors leave queries when the meaning is unclear and when you have to make a style- or content-related choice.

Grammar and syntax

Word order, sentence structure, verb tenses, agreement, prepositions, articles and more.

Academic writing conventions

Acronyms, abbreviations, numbers, equations and Latin abbreviations.

In-text tips and suggestions

Editors use comments to explain nuanced grammatical rules, suggest improvements and offer general advice.

Punctuation

Periods, commas, colons, semicolons, dashes, quotation marks, etc.

Consistency

Consistency in English dialect and in style choices.

Improvement letter

You receive a personalized improvement letter designed to help you recognize and correct your most common mistakes.
Every Scribbr order includes both proofreading and editing. If you'd like a more comprehensive edit, you can also select additional services for your order.
For example, if you'd like line editing, simply combine our standard service with a Structure Check and Clarity Check. We make it easy for you to customize the feedback you receive.
Price
Starting from $0.017 per word.
Calculate the costView editing example
---
Structure Check
---
In addition to our standard Proofreading & Editing service, we can help improve the structure of your paper. The editor checks your paper to make sure that it is well-organized and contains all the important elements. The feedback is provided in the form of in-text comments and a personalized Structure Check Report.
In-text feedback
The editor will make direct changes if the edit doesn't change the meaning of the text, such as inserting and merging paragraphs and deleting accidental repetition. In addition, the editor will provide in-text feedback about:
Whether or not each individual chapter supports your document's main goal
The organization and focus of individual chapters and sections
Repetitive and redundant information
The content and weight of titles and headings
The numeration of figures and tables
Paragraph structure
Structure Check Report
The Structure Check Report is meant to help you easily identify missing elements in each chapter or section and prioritize improvements. After reviewing this report, you should have a clear idea of where your efforts will have the biggest impact.
Abstract
Add
Consider writing an abstract to give readers a concise summary of your research and to help potential readers to decide whether to read the full paper.
Abstract: Relevance of the research
Add
Make sure the abstract clearly outlines why your research is necessary and/or what gap in the literature you're seeking to address. Since you're an expert on this topic, its relevance might seem obvious to you, but remember that it's important to spell things out explicitly for readers so that they can follow along.
Literature review: Transitions between sections
Revise
Consider introducing transitions to bridge the individual paragraphs of your document. This approach will make it easier for the reader to grasp how each new paragraph fits into your discussion, which will make your writing more cohesive (and therefore more compelling) overall.
Results: Mention of methods
Remove
After a brief introduction to the chapter, it's best to jump right into presenting the results themselves. In most cases, there is no need to re-review the methods or other elements of the research in the results chapter.
Discussion: Interpretation of results
Add
The discussion is the place to interpret the results. In this section, you might consider whether and how the results support the literature, address the implications of the results, and generally explore the contribution of the research in more detail.
Conclusion
Shorten
A conclusion section is usually relatively short and to the point. It seems like you may have included some unnecessary details in this section. I'd therefore recommend revising this section with an eye on making sure you're providing information that is relevant and important.
Price
Starting at $0.0075 per word. The Structure Check is an add-on service to Proofreading & Editing and cannot be purchased separately.
---
Clarity Check
---
When you select the Clarity Check, your editor will help you tell a clear and logical story. This feedback will focus on the presentation of concepts and the logic behind your argumentation.
What will your editor do?
Make sure your text tells a clear and logical story
Check that you've clearly presented concepts and ideas
Comment on the logic behind your argumentation
Highlight contradictions within the text
Your editor will provide this feedback using in-text comments and the Clarity Check checklists.
Clarity Checklists
<!–– skip-in-text-insert ––>
Clarity: Checklist Text Logic
The text has a logical beginning, middle and end.

Feedback editor: Your paper has a clear trajectory with a beginning, middle and end. You've done an excellent job of exploring your thesis that democracy always leads to demagogy. Nice work!

The argumentation makes sense.

Feedback editor: You talk about 50 people who disagree with the current political situation, but you do not specify the sources that substantiate this claim. I also recommend that you look at your statement that democracy is the best form of government. The question here is "According to whom?" If this is your own opinion, you need to make that clearer.

The information is presented in a logical order.

Feedback editor: Remember that your readers haven't studied this topic as much as you have. Be sure to give them the information they need to understand your arguments. For example, at the end of the introduction, explain the terms "macropartisanship" and "deterritorialization" to ensure your readers understand these concepts. In addition, I recommend elaborating on the related studies, so your readers have a proper framework for understanding your research.

The information seems valid and reliable based on the argumentation.

The text does not contain any unintentionally contradictory information or arguments.

Feedback editor: In Section 4.1, you state that no respondents were satisfied with the current situation. However, in your conclusion, you say that three respondents had no opinion. Be sure to reconcile these points or make corrections if necessary.

No information that is relevant for further understanding of the text seems to be missing.

The examples used are relevant.

Feedback editor: Yes, absolutely. However, you have included more than enough examples to make your point. In the comments, I've highlighted examples that you might consider deleting to keep your paper focused and concise.

You take into account that the reader might not know everything about this topic.

Feedback editor: You might consider adding more historical background information in Section 3.2 when you discuss democracy in the Middle East. At present, that discussion implies a high level of background information on the part of readers. It's okay to assume that your readers have some familiarity with the events you're talking about, but adding a few reminders for readers would be helpful. For example, the first time you refer to Mubarak, you might add an aside telling readers that he was Egypt's president from 1981 to 2011.
<!–– skip-in-text-insert ––>
Clarity: Checklist Text Clarity
The subject of the document is clear.

The purpose of the document is clear.

Feedback editor: Your goal is clear in principle, but only after reading the entire text. I recommend making this clearer earlier on. You can do so by explaining the factors that led you to form your your hypothesis that democracy always leads to demagogy in the Introduction chapter.

The most important question to be answered in the document is clear.

Feedback editor: Although I understand what you want to say, you have not specifically stated what the final conclusion of your text is. You should therefore take a careful look at my comment on page 54.

The answer to the above question, namely the conclusion, is clear.

The methods used to arrive at this answer are clear.

Terms are explained in a clear and precise manner.

Feedback editor: Yes. However, note that "macropartisanship" and "deterritorialization" need to be explained earlier, as I mentioned in the text logic checklist.

Further important information, such as the study's limitations and recommendations, is described clearly.
Price
Starting at $0.0075 per word. The Clarity Check is an add-on service to the Proofreading & Editing service and cannot be purchased separately.
---
Layout Check
---
What will your layout expert do?
Generate an automatic table of contents
Generate lists of tables and figures
Ensure consistent paragraph formatting
Insert page numbering
How does it work?
When you upload your document, you can indicate which items you would like us to help you with.
Price
$0.30 per page per item. The Layout Check is an add-on service to the Proofreading & Editing service and cannot be purchased separately.
---
APA Layout Check
---
What will your APA layout expert do?
Your APA layout expert will make sure all elements in your paper are formatted according to the 7th edition APA Style guidelines. Note that we cannot make changes to the content of your paper.
How does it work?
In the order process, you can select the APA editing style. By default, this only includes APA Proofreading & Editing. You can choose to select the Layout Check and Citation Editing as add-on services.
Price
$1.20 per page. The APA Layout Check is an add-on service to the APA Editing Service and cannot be purchased separately.
---
Citation Editing
---
Our citation experts can improve your reference page and in-text citations. We are experts when it comes to APA Style and numerous other reference styles such as MLA Style and Chicago.
What will your citation expert do?
Improve your reference list's overall layout
Ensure that your references meet your style guide requirements
Provide feedback on incomplete reference list entries
Add missing details to in-text citations (based on the reference list)
Crosscheck your in-text citations against your reference list to highlight any missing sources
How does it work?
When you upload your document, you can indicate the number of sources in your reference list and tell us your citation style. We'll take care of the rest.
Price
$2.75 per source. The Citation Editing Service can be purchased separately or as an add-on service to Proofreading & Editing.