Proofreading & Editing
Academic Proofreading & Editing is a discipline in its own right. Your editor will ensure that your thesis is written in an appropriate academic style. This was the specific reason we developed our Scribbr Improvement Model©.
Only professional editors
What will your editor do for you?
Your editor will directly correct spelling and grammar mistakes using Word's Track Changes feature. Your Scribbr editor will also provide you with a personal and constructive improvement letter that discusses your most frequent language errors.
1. Correct language mistakes
Spelling
Grammar
Sentence structure
Punctuation
Academic style
2. Feedback in your text
We help you to improve your own text with:
Questions
Suggestions
Tips and comments
3. Personal improvement letter
You will receive a personal, constructive improvement letter about your most frequently made language errors.
In doing so, we will help you become a better writer.
---
Additional service: Structure Check
Using our checklists, your editor will assess whether all of the elements required in each chapter have been included and are in the right place.
Feedback on structure with checklists
General Structure Checklist
The document is organized in such a way that the central theme is apparent to the reader.

Feedback editor: It is important that the reader gets a sense of what a document is about from the very start. I therefore suggest that you include a clearer, more detailed introduction. I have made some suggestions within the text that may help you present your central theme more effectively.

The text is organized in a logical and appropriate manner (chapters, sections and paragraphs).

Feedback editor: The transitions between your sentences and paragraphs are not always clear. It's important that your reader understands how the ideas and information that you present are linked. For tips about how you can make better transitions and to view some sample linking words and phrases, please see: https://www.scribbr.com/academic-writing/transition-words-phrases-list-misuses/.

The text is without repetition.

The text is without redundancies.

The titles and headings are adequate, correct and consistent.

Feedback editor: It is important that headings and titles are capitalized following a standard style throughout the document. I have suggested changes to make this capitalization more consistent, based on the style you most commonly used in relation to different items (e.g., chapters, sections, tables, and figures). To learn more on this topic, please see: https://www.scribbr.com/academic-writing/capitalization-titles-headings/.
Structure: Checklist Preface
The preface is no longer than four or five paragraphs.

Feedback editor: Great job with this section--you've thanked those people who played an especially important role in your work, and you've kept the tone professional throughout.

Only people who have actually helped have been thanked.

The thanks follow a functional order. Those who have contributed the most are named first.

The use of first and last names is consistent.

The preface is personal but is nevertheless written in a professional style.

The preface ends with my name, place name, and the date at the time of writing.

Feedback editor: Typically, a preface should end with your name and the date and place of writing.
Structure: Checklist Abstract
The abstract is a maximum of one A4 sheet of paper.

Feedback editor: You should be able to cut your abstract down to one page by single-spacing the text and removing the title/author information.

The abstract is placed after the preface and before the table of contents.

The objective is specified in the abstract.

Feedback editor: You simply write that you conducted your study to prove your hypotheses. Be more specific. What was the goal of your study?

The problem statement is given in the abstract.

The research questions or hypotheses are included in the abstract.

Feedback editor: You have hinted at the research questions that you formulate in your literature review, but you have not explicitly presented them. I have suggested a place where it would be helpful to add them.

The methodology and approach of your research are briefly explained.

A summary of the most important results is given.

The conclusion is given (the answer to your research question / problem statement).

Feedback editor: Be sure to clearly answer the research question in the abstract. The abstract should read like a miniature version of the entire paper.

The results have been discussed and explained (discussion).

Suggestions for follow-up research are presented.

Feedback editor: At the end of the abstract you should add a summary of the recommendations that you have included in chapter 7. This summary should include your ideas for future research.

Any recommendations are concisely discussed.

The abstract clarifies what the thesis is about (also for those without prior knowledge).
Structure: Checklist Introduction
The introduction of the research is written with a stimulating topic.

Feedback editor: Opening with the broad significance of the topic will be helpful here.

The scientific relevance is demonstrated (not applicable to all theses).

Feedback editor: Here, it would seem, you should describe the study's relevance to pharmaceutical companies, along with any other practical applications.

The practical relevance is demonstrated.

The most important scientific articles about the topic are summarized (not applicable to all theses).

Feedback editor: You have conducted a literature review, but you have not summarized important articles. Given the nature of your topic, this seems to be an appropriate decision.

The objective is formulated.

The problem statement is formulated.

The conceptual framework is determined.

The research questions or hypotheses are formulated.

Feedback editor: You have not mentioned your research questions in the "study objectives" section of the introduction (where they would normally be included). I have suggested an appropriate place to add them.

The research design is described briefly.

Feedback editor: You have not explained how your research is conducted. I have recommended a place in the "study objectives" section where you could add a brief explanation of your methodology.

The thesis overview is added.
Structure: Checklist Conclusion
The research questions have been answered.

Feedback editor: As noted. More specifically, see my consideration of your "objectives" sections in chapter 5.

The main question or problem statement has been answered.

The hypotheses have been confirmed or refused.

The right verb tense has been used.

No issues are interpreted.

Feedback editor: I'd recommend avoiding any interpretation (including giving your own opinion or making a call for further research) in the early sections of this chapter. Instead, I'd stick to answering the research questions and addressing the hypotheses. I've left in-text comments where the text veered in this direction. Save these elements for a dedicated section later in the chapter.

No new information has been given.

Feedback editor: In one instance on page 181, you mention two cases that you did not reference in a previous chapter (the CBO and Doolittle's Raid). Be sure not to mention new findings in the Conclusion. Either go back to an earlier chapter and make note of these instances, or else delete the reference from the Conclusion.

No extraneous information is provided.

No passages from the results have been cut and pasted.

Feedback editor: Much of this section takes sentences from previous sections, almost verbatim. The conclusion should use varied language and go beyond simply summarizing the main points. I have provided further comments on this in the document.

The first person has not been used.
Structure: Checklist Discussion
The validity of the research is demonstrated.

New insights are explained.

Feedback editor: Rather than comparing, contrasting and synthesising the analyses, this section essentially summarises the reviews. Consider focusing more on the analysis piece here.

The limitations of the research are discussed.

Feedback editor: The research limitations are not discussed. Instead, the limitations of big data analytics are discussed. Consider this difference as you finalize your paper.

It is indicated whether expectations were justified.

Feedback editor: Consider elaborating on this in the discussion section.

Possible causes and consequences of the results are discussed.

Suggestions for possible follow-up research are made.

Feedback editor: Consider adding this aspect.

No issues have been interpreted.

There are no suggestions for follow-up research that are too vague.
In-text feedback about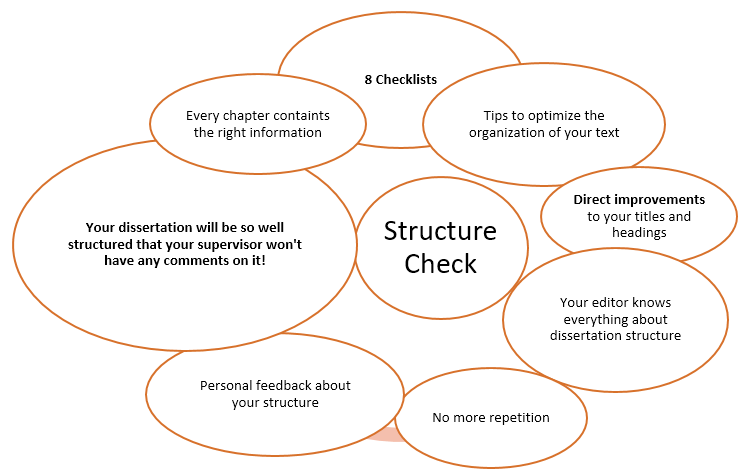 ---
Additional service: Clarity Check
New
When you choose our Clarity Check, your editor will help you write a clear and logical story. We answer your most urgent questions:
Is what I have written logical?
Is my reasoning correct?
Is the information presented in a logical order?
Am I clear and specific enough?
Do I accidentally contradict myself in any way?
Is your text comprehensible?
Your editor will help you make yourself clear with in-text comments and using our two Checklists for the Clarity Check.
Clarity: Checklist Text Logic
The text has a logical beginning, middle and end.

Feedback editor: I understand where you are trying to go with your story, and it has a clear beginning, middle, and end. Great! I have discussed some possible improvements below.

The argumentation makes sense.

Feedback editor: You talk about 50 people who disagree with the current political situation, but you do not specify the sources that substantiate this claim.I also recommend that you look at your statement that democracy is the best form of government. The question here is "According to whom?" If this is your own opinion, you need to make that clearer.

The information is presented in a logical order.

Feedback editor: In your introduction, you assume too much that the reader has the same knowledge as you. For instance, you should explain the term "meritocracy" at the end of the introduction. It's currently not immediately clear what it means. In addition, in your literature review you could better explore the literature that directly discusses your topic (see my remark in Section 2.2) before you move on to secondary issues.

The information seems valid and reliable based on the argumentation.

The text does not contain any unintentionally contradictory information or arguments.

Feedback editor: In Section 4 .1 you report that no one was satisfied with the current situation; however, in your conclusions you say that three respondents had no opinion.

No information that is relevant for further understanding of the text seems to be missing.

The examples used are relevant.

Feedback editor: Absolutely. However, sometimes you might have used too many examples. Please, check my comments to see which examples you could delete.

You take into account that the reader might not know everything about this topic.

Feedback editor: As indicated you assume that your reader knows everything about "meritocracy" already. It's important to explain this a little better.
Clarity: Checklist Text Clarity
The subject of the document is clear.

The purpose of the document is clear.

Feedback editor: Your goal is clear in principle, but only after the entire text is read.It might be helpful to better explain what has led you to making your hypothesis that democracy always leads to demagogy.

The most important question to be answered in the document is clear.

Feedback editor: Although I understand what you want to say, you have not specifically stated what the final conclusion of your text is. You should therefore take a careful look at my comment on p. 54.

The answer to the above question, namely the conclusion, is clear.

The methods used to arrive at this answer are clear.

Terms are explained in a clear and precise manner.

Feedback editor: Note that "meritocracy" needs to be explained earlier, as I mentioned in the text logic checklist.

Further important information, such as the study's limitations and recommendations, is described clearly.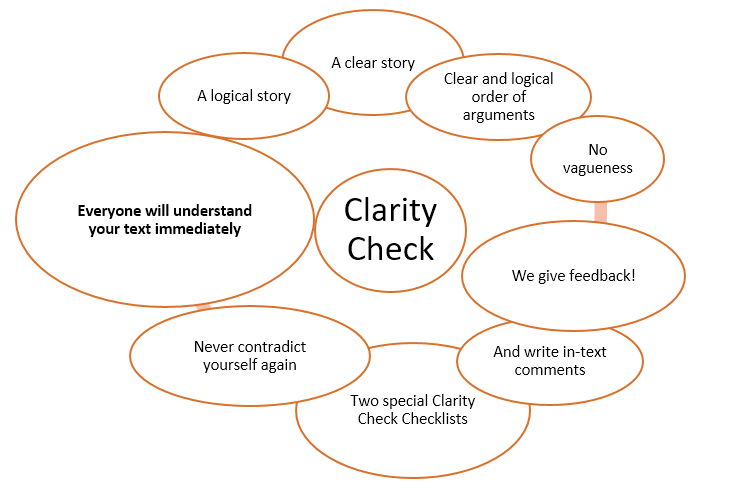 ---
Additional service: Reference Check
A reference specialist improves your reference list and in-text citations for $2.50 per source. We are specialists in APA Style, but we can also help you with other reference styles.
We check your reference list for consistency and fix small mistakes.
We improve the reference list's overall layout.
We provide feedback about list entries that we believe are incomplete.
We improve your in-text citations (using the reference list to fill in missing details).
We cross check your in-text citations against your reference list to see if any sources are missing.
How does it work?
While uploading your document, you can indicate the number of sources and the reference style you are using. We take care of the rest.
The Reference Check can only be purchased together with the Proofreading & Editing service.
---
Additional service: Layout Check
We gladly help you with the layout of your document. We can fix:
Automatic table of contents
List of tables and figures
Consistent formatting of paragraphs
Page numbering
Price is $0.25 per page per item. You can only order the Layout Check together with the Proofreading & Editing service.
How does it work?
While uploading your document, you can indicate which items you would like us to help you with.