How to Apply for College | Timeline, Templates & Checklist
Most US college application deadlines for undergraduate programs are between late November and mid-March, and you should start thinking about applying for college the summer before junior year. Your application should typically include the following:
Personal information, extracurriculars, and awards
Essays
Transcripts
Standardized test scores
Recommendation letters
In this comprehensive guide, we show you how to organize deadlines and stay on track throughout your college application process.
We've also created a free Google Sheets template that you can use to organize and track your college applications.
College application timeline
Use our timeline to make sure you're on track with all the different parts of your college application.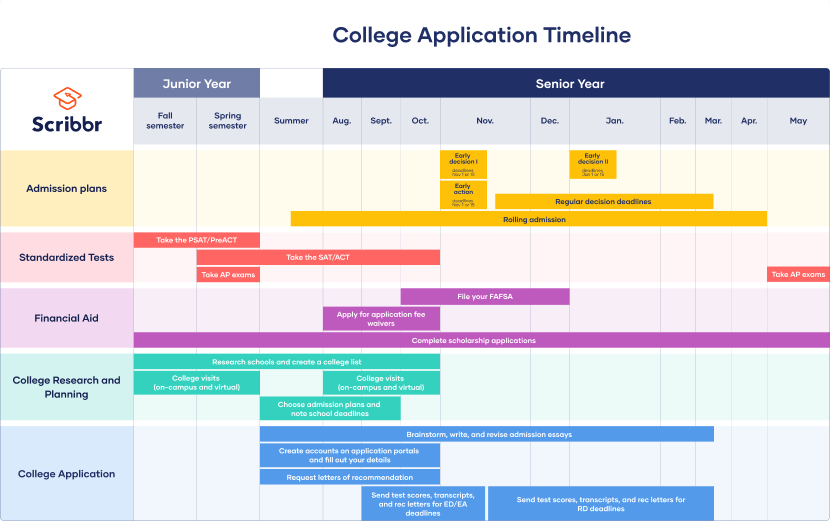 To save the timeline and refer back to it throughout your application process, you can download the PDF below.
College application timeline (.pdf)
Research schools
Most students apply to several different schools. After researching schools and deciding which ones you'll apply to, you should keep track of their deadlines and requirements.
Make your college list
Begin compiling a college list the summer before your junior year. Start researching schools based on their academic programs, financial aid packages, clubs and activities, and geographical location.
You should have a final list of your top schools by the second semester of your junior year, so you can plan for college visits that same semester. To maximize your options, aim to apply for eight schools:
Two reach schools where it might be difficult for you to get accepted
Four match schools where you have a good chance of getting accepted
Two safety schools where you feel confident you'll get accepted
Visit schools
Take time to do on-campus or virtual visits to prospective schools, but avoid visiting in the summer, when less faculty and staff are available to meet on campus. For highly selective schools, you should consider visiting campuses during the second semester of your junior year to meet and demonstrate interest to admissions officers and professors before you apply in the fall.
You can attend in-person or virtual college fairs to talk with current students and alumni. High school visits, where admissions officers from universities visit high schools, are also useful to learn more about a particular university.
Consider where you'd feel most happy learning and living based on the school and class sizes, academic programs, and geographical location.
Note requirements and deadlines for each school
In the summer before your senior year, note all deadlines and requirements for your prospective schools in a college tracker spreadsheet.
Choose early decision, early action, regular decision, or rolling admissions
In August or September, you should choose an admissions plan for each university. Most students choose the regular decision process, with deadlines spanning from late November to mid-March.
Early decision (ED) and early action (EA) plans allow students to apply for and receive admissions decisions earlier than regular decisions. Some schools' early decision and early action rounds are less competitive, admitting a higher percentage of students than in regular decision rounds. However, you should only choose early decision or early action if you have thoroughly researched schools and are committed to attending a particular college.
Early decision is binding: you must attend that college if accepted, unless the financial aid package is insufficient. Some universities offer two rounds of early decision deadlines (ED I and ED II), one in fall and the other in winter. The ED II round in winter gives you more time to prepare a stronger application package, research and visit colleges, and explore financial aid options.
Early action is non-binding: you have until the May 1 deadline to choose which college to attend. It also allows you to explore more financial aid packages from schools you are accepted to. Some highly selective private schools offer restrictive early action, which is also non-binding, but prevents students from applying ED/EA to other private schools.
Students should prepare application materials for other schools' regular decision deadlines if their early decision or early action applications are rejected.
Some schools also offer rolling admission, which offers a flexible six-month application window and a decision response around four to eight weeks after submission. However, rolling admission favors early applicants, since admission stops once the class reaches capacity.
| Admissions type | Due date | Decision date | Binding/non-binding |
| --- | --- | --- | --- |
| Early decision I | November 1 or 15 | Mid-December | Binding (unless financial aid package is insufficient) |
| Early decision II | January 1 or 15 | January–February | Binding (unless financial aid package is insufficient) |
| Early action | November 1 or 15 | Mid-December | Non-binding |
| Regular decision | Late November–mid-March | March–April | Non-binding |
| Rolling admission | July–April | Around four to eight weeks after submission | Non-binding (admission stops once class capacity is reached) |
Apply for financial aid
You can alleviate some, or even all, of the financial burden of college by applying for federal student aid, application waivers, or scholarships from schools, corporations, or charitable foundations.
Apply for the FAFSA
As early as October 1, you can file your Free Application for Federal Student Aid (FAFSA) to determine your eligibility for loans, grants, and work study. Your Student Aid Report (SAR) should be mailed to you about four weeks after you file the application.
International students should check with the US Department of Education for financial aid opportunities.
Apply for application fee waivers
An application fee waiver removes the application fee, typically for students who demonstrate financial hardship. You or your guidance counselor can request an application fee waiver.
Complete scholarship applications
Ask your school counselor, local community groups, and prospective colleges about scholarship opportunities as early as the beginning of your junior year. Throughout your high school career, continue compiling a list of scholarship opportunities in a scholarship application tracker spreadsheet.
Highlight overlapping essay prompts, so you can write one essay that covers multiple prompts. Sometimes you can adapt your main college essay into a scholarship essay. However, remember to tailor each essay to the prompt.
Start filling out scholarship applications, gathering required documents, and writing scholarship essays in the summer before your senior year. Throughout your senior year, apply for as many scholarship applications as possible; many students don't take advantage of scholarship opportunities.
Take standardized tests
Register and take your standardized tests in your junior year to allow sufficient time to prepare for the test and retake it if necessary.
Take the SAT or ACT
To practice for the official test, you should register for and take the Preliminary Scholastic Assessment Test (PSAT) or the Pre-American College Test (PreACT) in either your sophomore year or the fall of your junior year.
Take the Scholastic Assessment Test (SAT) or American College Test (ACT) in the spring of your junior year to allow sufficient time to retake the exam in the fall of your senior year if needed. Register for the SAT or ACT at least a month before your testing date to avoid late registration fees.
Due to the COVID pandemic, some schools no longer require students to submit test scores. However, you should still take the SAT or ACT and aim to get a high score to strengthen your application package.
Take Advanced Placement exams
If applicable, take your Advanced Placement (AP) exams in May of your sophomore, junior, and senior years. Depending on the school's policies, if you score a 4 or 5 on an AP exam, you can earn college credit for certain first-year courses.
Write college application essays
Your college application essays give you the opportunity to personalize your application. Colleges look for an essay that differentiates you from others and demonstrates your positive traits. Start brainstorming topics and drafting your essays the summer before your senior year to give yourself sufficient time for revising and receiving feedback.
If you're struggling for time, check out our tips on writing your college essay fast.
Write your main college admissions essays
It's a good idea to start working on your essays the summer before your senior year. Some essays can be reused or revised for different schools, depending on the prompt—though you might have to adjust its length if different colleges have different word count limits. The process of brainstorming and writing the first draft typically takes one to three weeks.
Write supplemental essays
Start writing any supplemental essays (such "Why this college?" essays and diversity essays) in August or September of your senior year. Be careful when responding to these prompts, which are usually more specific than main college essay prompts. As with your main college essays, revise and get feedback on these essays.
Revise your essays and get feedback
Start revising your essay after you've written your first draft. Most students go through multiple drafts and take about two to four weeks to revise and get feedback. Remember to take breaks between editing stages.
In August or September of your senior year, get feedback from two to three people—ideally people who know you well, have good writing skills, and are familiar with college application essays. You can also get help from an essay coach or editor. Scribbr essay coaches can help.
Explore the essay coaching service
Complete college applications
Begin creating accounts and filling in your personal information on college application portals the summer before your senior year. Start collecting and requesting official documents and recommendation letters at least three to four weeks before the deadline.
Create accounts on college application portals
After creating a prospective college list, create accounts on their respective application portals in the summer before your senior year.
The Common Application, with over 900 member universities, is the most popular. The Coalition Application, with more than 150 member universities, offers resources to help all students gain access to college.
Some schools, such as the University of California system, MIT, and Georgetown University, have their own application portals.
Fill out your personal information, extracurriculars, and awards
It's a good idea to start a list of your extracurriculars, awards, jobs, and leadership experience in your sophomore year. Throughout your high school career, keep adding to your list, which can also be used to build your resume if needed.
Upload your essays
If you paste your essay directly into the text box, remember it won't retain formatting like italics or bold text. Sometimes, dashes or other characters might alter the word count, so check that you've respected the word limit after inputting your essays.
If you have to upload a file, make it a PDF. Use a simple standard font, like Times New Roman, and format spacing to 1.5 or double space.
Send your high school transcripts and test scores
As soon as you complete your part of the application, ensure your school counselor sends your transcripts to the right colleges. Make sure your SAT, ACT, and AP scores have been sent to the correct schools. Some schools allow results to be self-reported, while others require official score reports from testing organizations.
Request letters of recommendation
Many colleges require one to two letters of recommendation from a teacher, counselor, coach, or employer who knows you well. As early as the end of your junior year, you should unofficially notify teachers or counselors of upcoming requests to give them sufficient time to write a thoughtful personalized letter during the summer.
Once you have completed your portion of the online application, send an official request through the application portals and check whether your recommenders have submitted their letters two to three weeks before the deadline.
Write your resume
Some schools require you to write a resume. While you may not have much or any work experience, you can highlight your educational career. Include your academic achievements, awards, projects, and leadership positions. You can also include any work experience, internships, or summer programs.
Review your application
Before submitting, double-check that all necessary materials are included.
Checklist
Here's a checklist you can use to track your progress through the application process.
<!–– skip-in-text-insert ––>
College application checklist
0 / 15
Congratulations!
It looks like your application is ready to submit. Good luck with getting accepted!
Return to checklist
Other interesting articles
If you want to know more about academic writing, effective communication, or parts of speech, make sure to check out some of our other articles with explanations and examples.
Frequently asked questions about college application essays
Cite this Scribbr article
If you want to cite this source, you can copy and paste the citation or click the "Cite this Scribbr article" button to automatically add the citation to our free Citation Generator.
You have already voted. Thanks :-)
Your vote is saved :-)
Processing your vote...