Appeal to Pity Fallacy | Definition & Examples
The appeal to pity fallacy occurs when someone attempts to persuade others by provoking feelings of guilt or pity. Instead of presenting factual information and evidence to support an argument, one may try to play on people's feelings. However, this is a manipulative tactic because feelings of pity are usually irrelevant to the point being made.
The appeal to pity fallacy is also known as argumentum ad misericordiam or argument from pity and can be observed in various contexts like marketing, political campaigns, and law.

What is the appeal to pity fallacy?
The appeal to pity fallacy occurs when someone substitutes logical evidence in an argument with a claim intended to elicit pity or guilt. However, feelings don't serve as evidence for the truth of a claim. When we accept a conclusion regarding what should be a logical issue just because we feel sorry, we fall for this type of fallacy.
Appeal to pity is an informal fallacy. In other words, the content of the argument fails to provide adequate reasons for believing the truth of the conclusion. More specifically, it is a fallacy of relevance: these fallacies appeal to evidence or examples irrelevant to the argument at hand.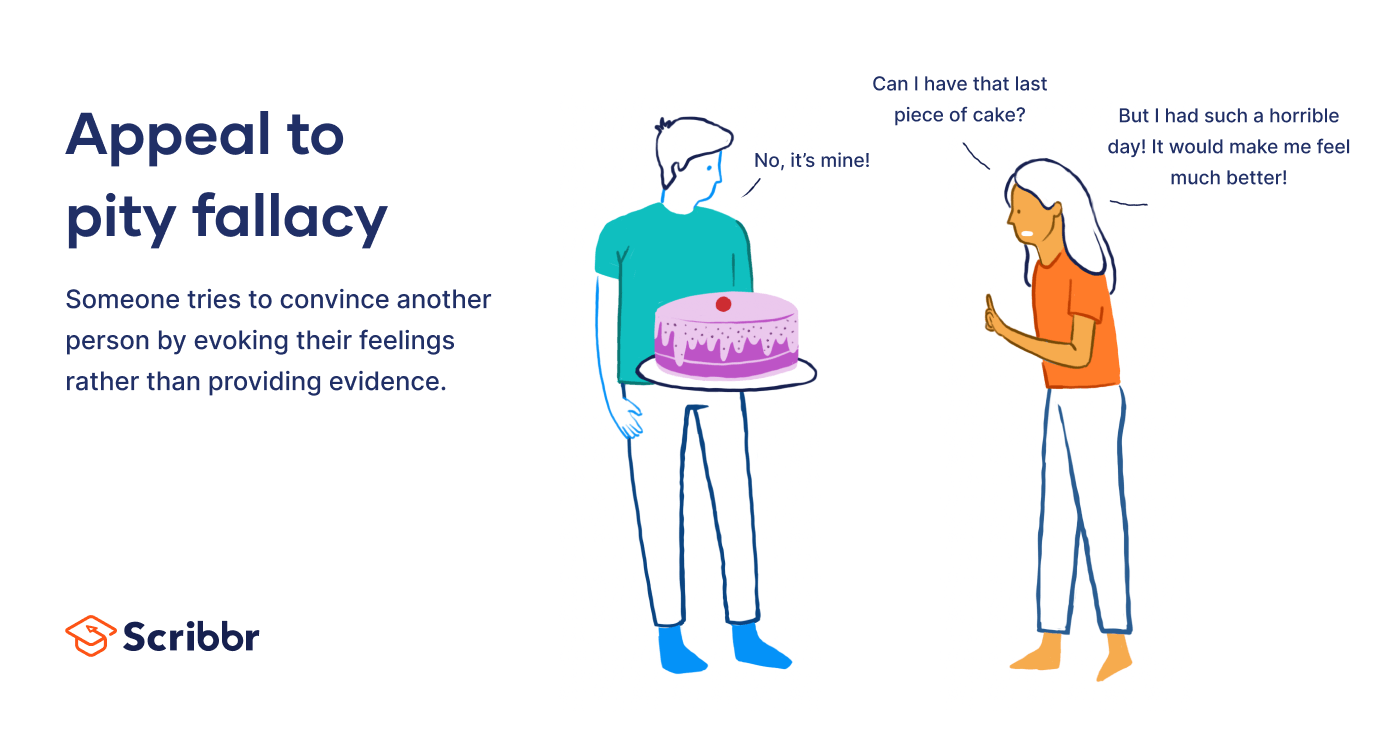 The appeal to pity fallacy is a variation of the appeal to emotion fallacy. If we can't find a way to support our view with solid arguments, it may be tempting to arouse emotions in others so that they accept our conclusion. Although there is nothing wrong with using emotions when we argue, it is a fallacy to use emotions as a diversion or as proof that what we say is true or correct.
Are appeals to pity always fallacious?
An appeal to pity is not always fallacious. In fact, an appeal to pity is a variation of the rhetorical strategy known as appeal to emotion (or pathos). People may try to capitalize on any number of our emotions to persuade us, including pity. Such appeals may be legitimate as long as they are presented along with sound evidence.
In general, whether or not an appeal to pity is fallacious depends on how relevant the pity evoked is to the matter in question. When discussing personal stories or experiences that are relevant to a broader issue, like human trafficking, emotions can play a legitimate role in understanding and empathizing with others' perspectives. It is the absence of supporting evidence that makes an appeal to pity fallacious.
Appeal to pity fallacy examples
In a court of law, the appeal to pity fallacy is often used to distract from the facts of the case and to gain sympathy from the judge, jury, or members of the public.
Propagandists rely on fallacious appeals to pity in an attempt to make their audiences more receptive to their divisive message.
Other interesting articles
If you want to know more about fallacies, research bias, or AI tools, make sure to check out some of our other articles with explanations and examples.
Frequently asked questions about the appeal to pity fallacy
Sources in this article
We strongly encourage students to use sources in their work. You can cite our article (APA Style) or take a deep dive into the articles below.
This Scribbr article
Sources
You have already voted. Thanks :-)
Your vote is saved :-)
Processing your vote...