What Is Optimism Bias? | Definition & Examples
Optimism bias is the tendency to overestimate the likelihood of positive events and underestimate the likelihood of negative events. Optimism bias causes most people to expect that things will work out well, even if rationality suggests that problems are inevitable in life.
Although optimism bias can motivate us to overcome obstacles, it can also cause us to ignore potential risks, resulting in poor decision-making.
What is optimism bias?
Optimism bias (or unrealistic optimism) is a type of unconscious cognitive bias. It refers to an unrealistically favorable attitude that people have towards themselves and people that are close to them. Positive illusions help us maintain self-esteem and avoid discomfort, at least in the short term.
Optimism bias causes people to believe that they are less likely to experience negative events than other people. For example, people expect that their careers, marriages, or health will be better than those of others, and that the financial troubles, divorces, or illnesses that happen to other people will not happen to them.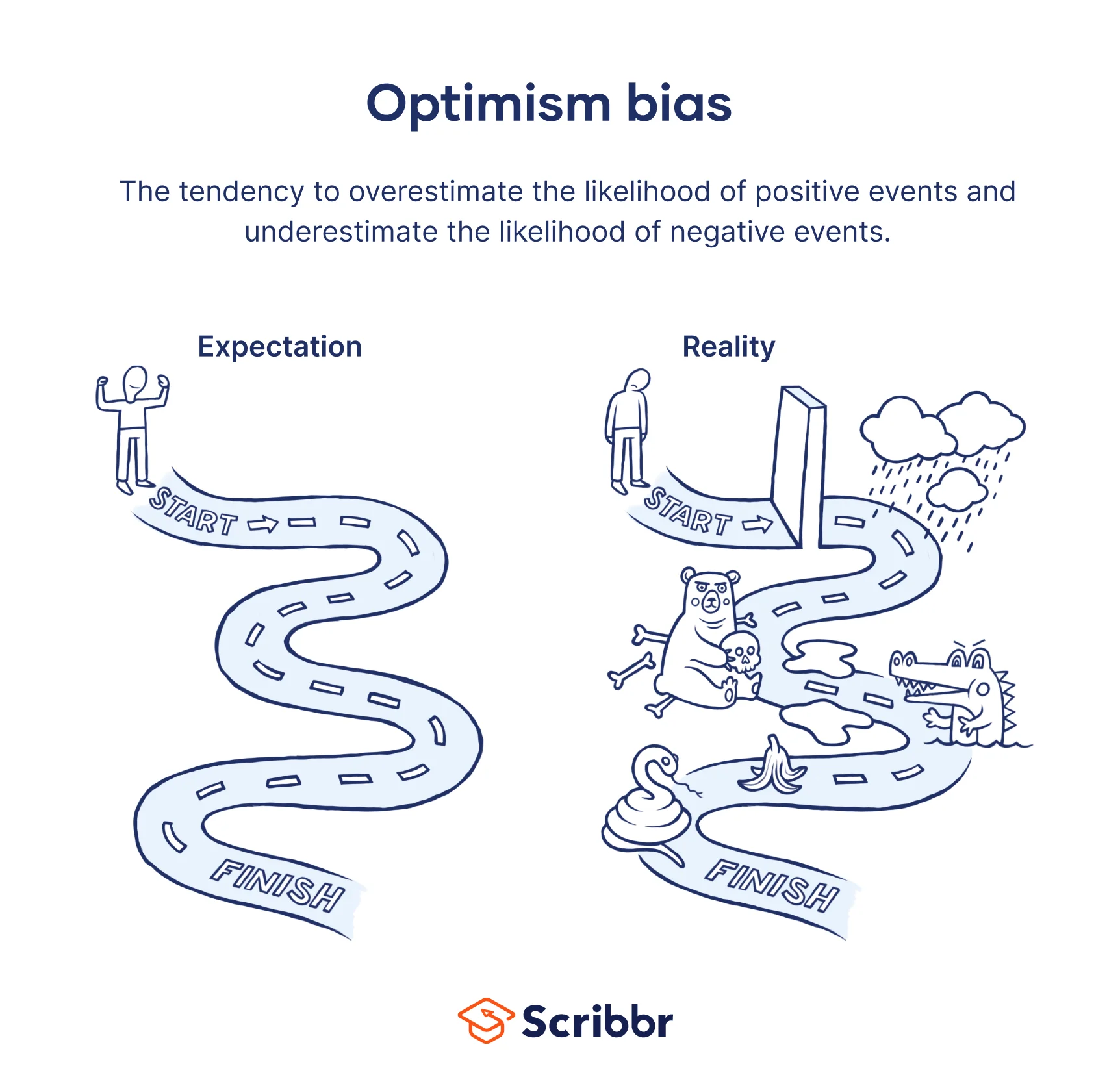 This irrational belief seems to be deeply ingrained in humans. Studies suggest that it is observed in about 80% of the population (but, notably, not among people with depression).
Why does optimism bias occur?
Maintaining a positive outlook gives us courage and motivates us to keep going, despite any adverse situations we face. Optimism bias allows us to try new or difficult things because we feel confident that they will go well.
Throughout human evolution this characteristic served us well and was passed down from one generation to the next. In other words, because optimism bias proved beneficial to humans, we are inclined to mispredict the future.
There are two key assumptions at the root of optimism bias:
That we exercise some level of control over the world around us, including what will happen to us in the future.
That we, as individuals, possess more positive traits than the average person.
Several factors can help explain optimism bias:
We have the tendency to selectively update our beliefs and expectations about the future. We are more likely to update our beliefs based on positive information rather than negative information. This, in turn, perpetuates optimism bias.
Optimism is beneficial to our mental and physical health. Expecting positive outcomes reduces stress and anxiety. Optimistic patients are more likely to believe that they will recover, leading them to adopt behaviours that increase their chances (e.g., exercise, healthy diet).
Overall, optimism bias enables us to cope with our environment and worry less about uncertainty. Because of this, it can often lead to better results than unbiased or rational beliefs.
Why does optimism bias matter?
Because a majority of people are susceptible to optimism bias, it's important to be aware of its influence on our perception and judgment.
Optimism bias can be a problem when it prevents us from accurately anticipating risk. In project management, for instance, optimism bias can cause us to underestimate the budget and time needed, a common error called the planning fallacy. Failure to assess potential hazards can also mean failing to take out sufficient insurance or to get regular medical check-ups. It can even cause us to adopt harmful habits, such as smoking.
On the other hand, optimism is also linked to achievement in several domains, such as sports, business, and education. When we are optimistic, we are more motivated to try harder, which in turn can influence the outcome. Sometimes, expecting positive things can become a self-fulfilling prophecy.
Optimism bias examples
Optimism bias can also influence collective behaviour and produce large-scale effects.
Optimism bias can have negative consequences, particularly when serious risks are disregarded.
How to avoid optimism bias
Although optimism bias is part of human nature (and can't be entirely avoided), there are ways to keep it in check:
Perform a project "premortem." A premortem analysis starts with the hypothesis that your project has failed. With that in mind, you try to come up with possible reasons why. This allows you to spot the weaknesses in your project plan and prepare for the future.
Use the availability heuristic. Actively attempt to retrieve negative past experiences or times things didn't go as planned. Here, the purpose is not to demotivate yourself, but to learn from the past so as to make sensible choices in the future.
Take an outsider's approach. Take an objective approach when making plans. For example, when you estimate how long you will need to write a paper, seek out information about the average time it takes most people and adjust your initial assumptions accordingly.
Other types of research bias
Frequently asked questions about optimism bias
Sources in this article
We strongly encourage students to use sources in their work. You can cite our article (APA Style) or take a deep dive into the articles below.
This Scribbr article
Sources
You have already voted. Thanks :-)
Your vote is saved :-)
Processing your vote...