What Is Information Bias? | Definition & Examples
Information bias is a type of error that occurs when key study variables are incorrectly measured or classified. Information bias can affect the findings of observational or experimental studies due to systematic differences in how data is obtained from various study groups.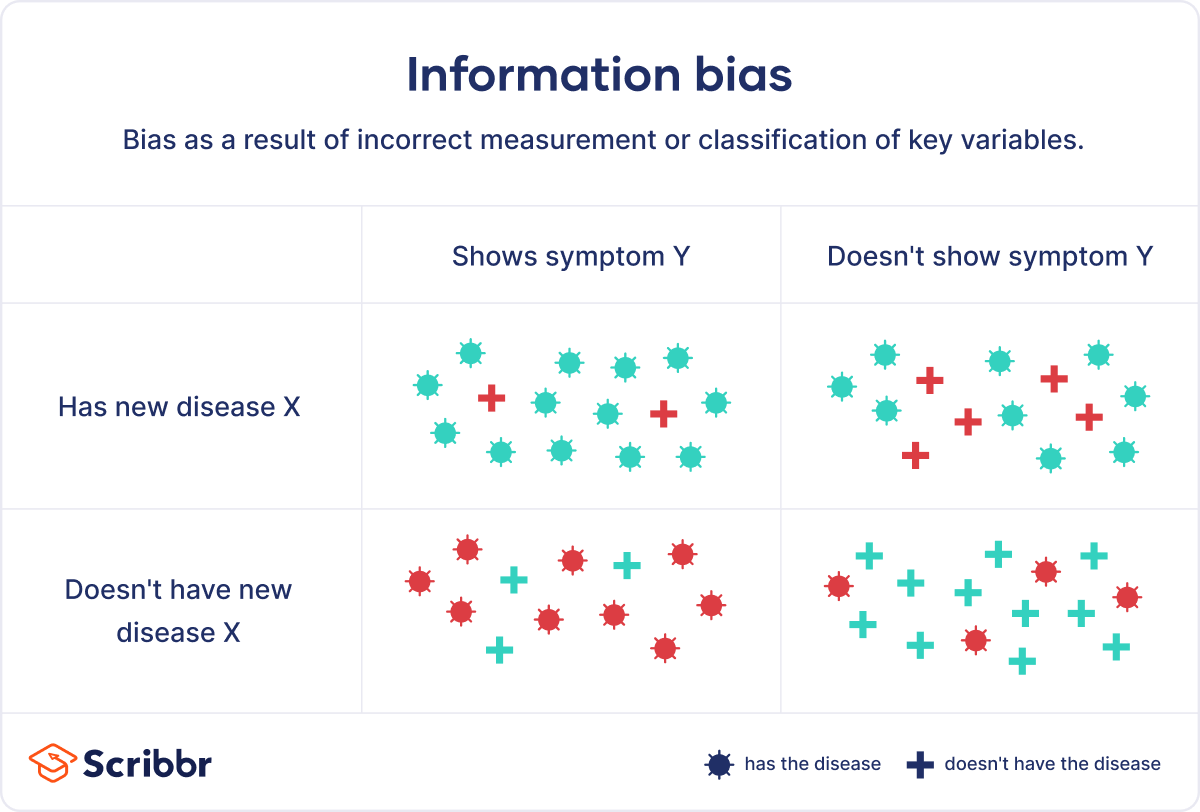 Information bias is also known as measurement bias or misclassification.
What is information bias?
Information bias occurs when information used in a study is either measured or recorded inaccurately. These measurements can be in various forms, such as:
Information bias is one of the most common sources of research bias. It affects the validity of observational studies, as well as experiments and clinical trials. Information bias can occur when:
In general, information bias tends to produce erroneous results or conclusions that differ systematically from the truth.
What causes information bias?
Information bias can arise due to non-differential misclassification if both the experimental and the control group are affected equally, or differential misclassification if it affects one group more than the other. Here, misclassification refers to the classification of an individual or an attribute into a category other than that the one it should be assigned.
Non-differential misclassification
Non-differential misclassification is caused by equally inaccurate measurements in all study groups. This can occur when study participants in both comparison groups have difficulty accurately remembering something that is not objectively verifiable, such as levels of alcohol consumption.
Non-differential misclassification tends to make the groups appear more similar than they really are. It also causes researchers to underestimate the association between variables (e.g., between alcohol consumption and the risk of lung cancer).
Differential misclassification
Differential misclassification is caused by a measurement difference that exists between study groups, such as a case study group and a control group. Because participants in the case group already possess an attribute, such as a specific health condition, they may be able to recall past exposure to risk factors more accurately than the healthy control group.
Differential misclassification can cause either an underestimate or an overestimate of the association between variables.
Types of information bias
Information bias is a broad term describing systematic errors in how data are collected or measured. There are several types of information bias:
Information bias examples
Researchers' expectations or opinions can interfere with data collection, resulting in information bias.
Information bias can also cause researchers to miss important data regarding possible factors that contributed to the onset of a disease or condition.
How to minimize information bias
Information bias arises from the approach used to collect or measure data in your study. There are several steps you can take to minimize information bias during data collection:
Other types of research bias
Frequently asked questions
Measurement bias or information bias refers to the distorted measurement of key study variables. Because there is a systematic (i.e., nonrandom) difference from the truth, measurement bias leads to erroneous results.

Measurement bias can occur, for example, because researchers and/or participants are aware of the research objectives and  hypothesis (called observer bias). This awareness can influence how they respond and behave in the study.

Bias is a systematic error in the design, administration, or analysis of a study. Because of bias, study results deviate from their true value and researchers draw erroneous conclusions.

There are several types of bias and different research designs or fields are susceptible to different types of research bias. For example, in health research, bias arises from two main sources:

The approach adopted for selecting study participants
The approach adopted for collecting or measuring data

These are, respectively, selection bias and information bias.
Sources in this article
We strongly encourage students to use sources in their work. You can cite our article (APA Style) or take a deep dive into the articles below.
This Scribbr article
Sources
Show all sources (4)
You have already voted. Thanks :-)
Your vote is saved :-)
Processing your vote...