What Is Confirmation Bias? | Definition & Examples
Confirmation bias is the tendency to seek out and prefer information that supports our preexisting beliefs. As a result, we tend to ignore any information that contradicts those beliefs.
Confirmation bias is often unintentional but can still lead to poor decision-making in (psychology) research and in legal or real-life contexts.
What is confirmation bias?
Confirmation bias is a type of cognitive bias, or an error in thinking. Processing all the facts available to us costs us time and energy, so our brains tend to pick the information that agrees most with our preexisting opinions and knowledge. This leads to faster decision-making. Mental "shortcuts" like this are called heuristics.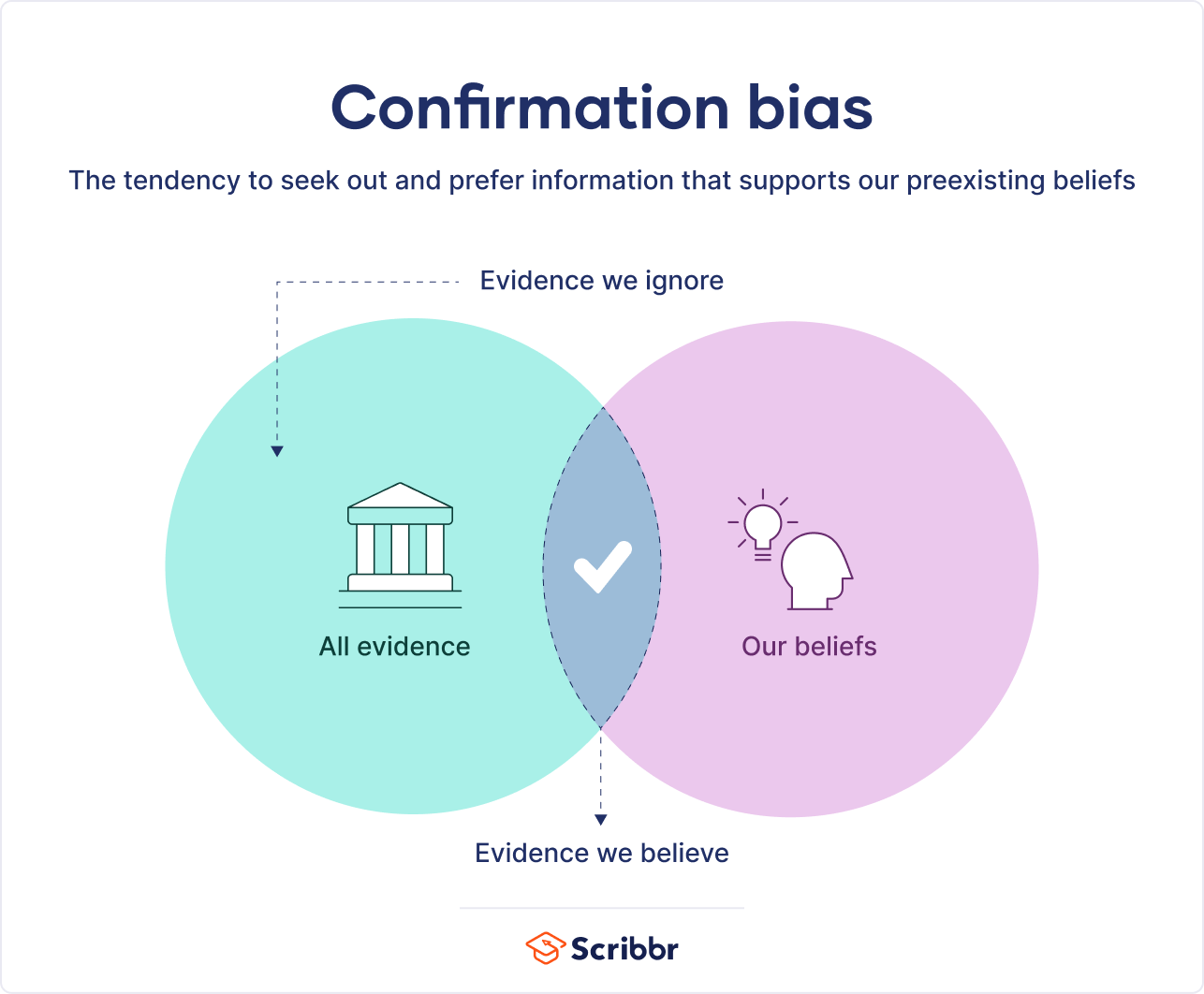 When confronted with new information that confirms what we already believe, we are more likely to:
Accept it as true and accurate
Overlook any flaws or inconsistencies
Incorporate it into our belief system
Recall it later, using it to support our belief during a discussion
On the other hand, if the new information contradicts what we already believe, we respond differently. We are more likely to:
Become defensive about it
Focus on criticizing any flaw, while that same flaw would be ignored if the information confirmed our beliefs
Forget this information quickly, not recalling reading or hearing about it later on
Types of confirmation bias
There are three main ways that people display confirmation bias:
Biased search for information
This type of bias occurs when only positive evidence is sought, or evidence that supports your expectations or hypotheses. Evidence that could prove them wrong is systematically disregarded.
Biased interpretation of information
Confirmation bias is not limited to the type of information we search for. Even if two people are presented with the same information, it is possible that they will interpret it differently.
Biased recall of information
Confirmation bias also affects what type of information we are able to recall.
Confirmation bias examples
Confirmation bias has serious implications for our ability to seek objective facts. It can lead individuals to "cherry-pick" bits of information that reinforce any prejudices or stereotypes.
Confirmation bias can lead to poor decision-making in various contexts, including interpersonal relationships, medical diagnoses, or applications of the law.
How to avoid confirmation bias
Although confirmation bias cannot be entirely eliminated, there are steps you can take to avoid it:
First and foremost, accept that you have biases that impact your decision-making. Even though we like to think that we are objective, it is our nature to use mental shortcuts. This allows us to make judgments quickly and efficiently, but it also makes us disregard information that contradicts our views.
Do your research thoroughly when searching for information. Actively consider all the evidence available, rather than just the evidence confirming your opinion or belief. Only use credible sources that can pass the CRAAP test.
Make sure you read entire articles, not just the headline, prior to drawing any conclusions. Analyze the article to see if there is reliable evidence to support the argument being made. When in doubt, do further research to check if the information presented is trustworthy.
Other types of research bias
Frequently asked questions about confirmation bias
Cite this Scribbr article
If you want to cite this source, you can copy and paste the citation or click the "Cite this Scribbr article" button to automatically add the citation to our free Citation Generator.
You have already voted. Thanks :-)
Your vote is saved :-)
Processing your vote...