What Is Straw Man Fallacy? | Definition & Examples
Straw man fallacy is the distortion of someone else's argument to make it easier to attack or refute. Instead of addressing the actual argument of the opponent, one may present a somewhat similar but not equal argument.
By placing it in the opponent's mouth and then attacking that version of the argument, one is essentially refuting an argument that is different from the one under discussion.
The straw man fallacy can be used to distract from relevant arguments in different contexts, such as in political debates, in the media, as well as in everyday discussions. It is also known as the straw man argument.
What is a straw man fallacy?
A straw man fallacy is a form of logical fallacy or reasoning error. Fallacies are statements or arguments that might sound reasonable or true but are actually flawed and therefore can be deceptive.
Straw man fallacy occurs when someone distorts their opponent's argument by oversimplifying or exaggerating it, for example, and then refutes this "new" version of the argument—called a straw man argument.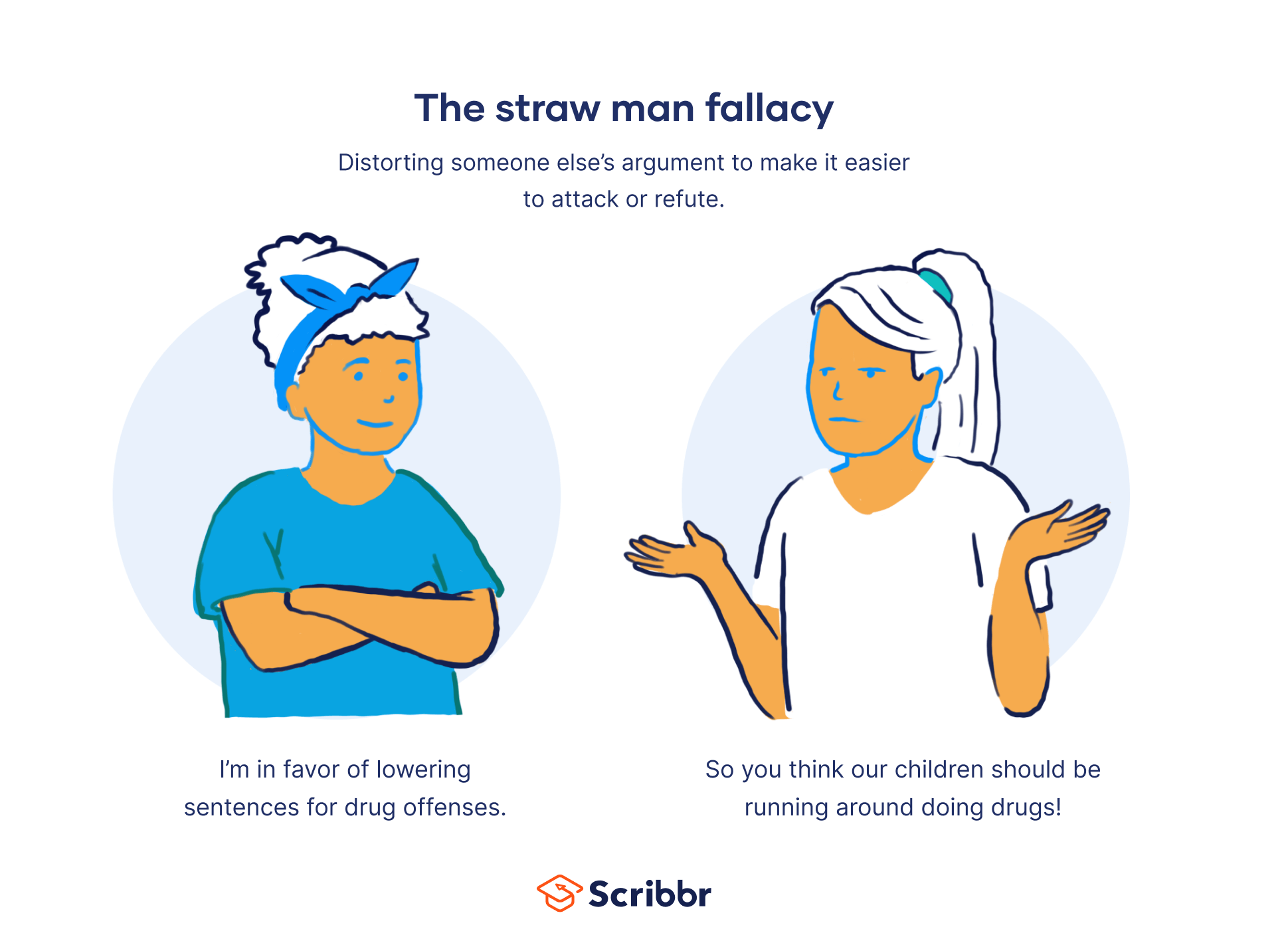 Essentially, the person using the straw man argument pretends to argue against their opponent's original position, while in reality they have created a distorted version of that position—one that their opponent doesn't necessarily support and that is easy to rebuke.
Straw man fallacy is an informal logical fallacy. In other words, the problem lies in the content of the argument, rather than its structure (in which case it would be a formal fallacy). More specifically, it is a fallacy of relevance: these fallacies use evidence, examples, or statements that are irrelevant to the argument at hand.
Why is the straw man fallacy used?
People often use straw man arguments to discredit a position or theory to which they don't subscribe. For example, describing evolution theory as "all random chance" is a straw man argument because it dilutes a complex idea and misrepresents it by only focusing on one aspect of it—random mutations.
Sometimes, people resort to a straw man fallacy to turn their opponent's argument into an unpopular position that's easy to rally supporters against because it violates social norms. Claiming for instance that "those who want to legalize drugs are fine with children taking ecstasy and LSD," is a proposition no one can argue for.
However, it is important to keep in mind that when people commit the straw man fallacy they don't necessarily do it on purpose. It might be due to a genuine misunderstanding of the other person's argument.
What are different types of straw man fallacy?
Straw man fallacy can take different forms and may involve:
Taking an opponent's words out of context (i.e., choosing words that misrepresent their intention)
Exaggerating or oversimplifying an opponent's argument and then attacking this distorted version
Fabricating claims that the opponent never actually made
Changing small but important details in the opponent's original argument
Regardless of their form, straw man fallacies share this general structure:
Person A states position X.
Person B describes position Y, a distorted version of position X.
Person B argues against Y instead of X, claiming that original position X has been refuted.
Straw man fallacy examples
The "war on Christmas" is an example of a straw man argument used by both sides of the political spectrum.
Other interesting articles
If you want to know more about fallacies, research bias, or AI tools, make sure to check out some of our other articles with explanations and examples.
Frequently asked questions about the straw man fallacy
Sources in this article
We strongly encourage students to use sources in their work. You can cite our article (APA Style) or take a deep dive into the articles below.
This Scribbr article
Sources
You have already voted. Thanks :-)
Your vote is saved :-)
Processing your vote...