MLA format for academic papers and essays
The MLA Handbook provides guidelines for creating MLA citations and formatting academic papers. This quick guide will help you set up your MLA format paper in no time.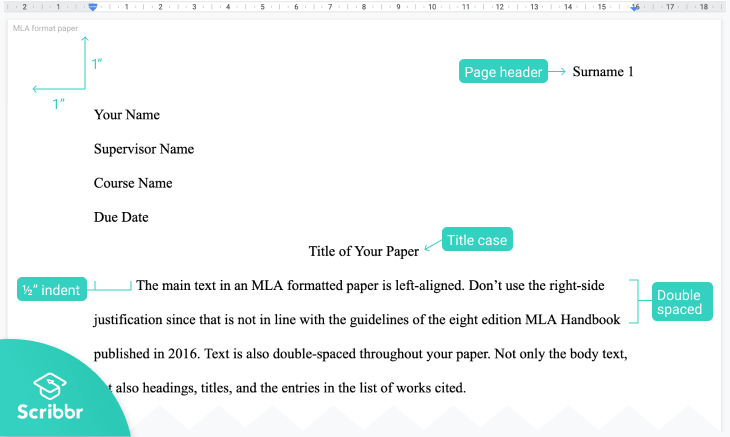 Start by applying these MLA format guidelines to your document:
Times New Roman 12
1″ page margins
Double line spacing
½" indent for new paragraphs
Title case capitalization for headings
Download Word templateOpen Google Docs template
(To use the Google Docs template, copy the file to your Drive by clicking on 'file' > 'Make a copy')
How to set up MLA format in Google Docs
Title page and heading
The heading in MLA format is left-aligned on the first page of your paper. It includes:
Your full name
Your instructor's or supervisor's name
The course name or number
The due date of the assignment
After the MLA heading, press ENTER once and type your paper title. Center the title and don't forget to apply title case capitalization. Read our article on writing strong titles that are informative, striking and appropriate.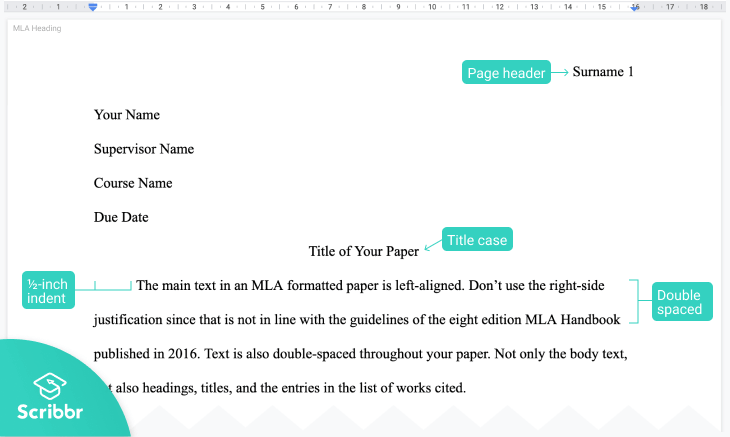 Page header
At the top of every page, including the first page, you need to include your last name and the page number. Follow these steps to set up the MLA header in your Word or Google Docs document:
Double-click at the top of a page
Type your last name
Insert automatic page numbering
Align the content to the right
The MLA header should look like this:

Works Cited page
The list of works cited is included on a separate page at the end of your paper. You list all sources you referenced in your paper in alphabetical order. Don't include sources that were only consulted.
Place the title "Works Cited" in the center at the top of the page. After the title, press ENTER once and insert your MLA references.
If a reference entry is longer than one line, each line after the first should be indented ½ inch (called a hanging indent). All entries are double spaced, just like the rest of the text.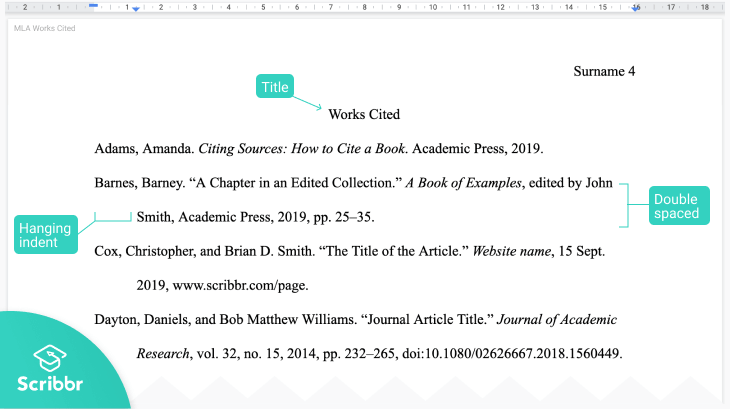 Creating MLA Style citations
Scribbr's free MLA Citation Generator can help you cite your sources in MLA Style. All you need is the website URL, book ISBN, or journal article DOI, and the citation generator does the rest.

Prefer to cite your sources manually? Use the interactive example below to see what the Works Cited entry and in-text citation look like for different source types.
Headings and subheadings
Headings and subheadings can help organize and provide structure to your paper, especially in longer assignments. There are no set formatting requirements for headings in MLA – the only rules are that you must be consistent and not add a period after the heading.
We recommend keeping the font and size the same as the body text and applying title case capitalization. In general, boldface indicates greater prominence, while italics is appropriate for subordinate headings. For example:
Chapter Title
Section Heading

Subheading
Tip: Both Google Docs and Microsoft Word allow you to create heading levels which help you to keep your headings consistent.
Tables and illustrations
Tables, illustrations, and other visuals should be placed as close to the relevant part of text as possible. MLA also provides formatting guidelines.
MLA format for tables
Tables are usually labelled and numbered, along with a descriptive title. The label and title are placed above the table on separate lines. Source references or explanatory notes are placed below the table and are assigned a lowercase letter instead of a numeral.
Just like in the rest of the paper, the text is double spaced and you should use title case capitalization for the title.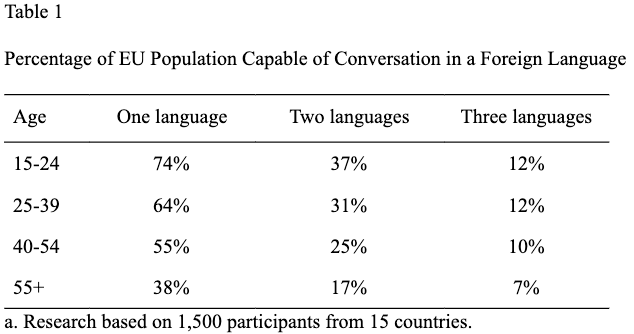 MLA format for illustrations and other visuals
Like tables, illustrations and other visuals are labelled and numbered. The label "Figure" is usually abbreviated to "Fig." and is followed by a number and caption. The information is placed directly below the image.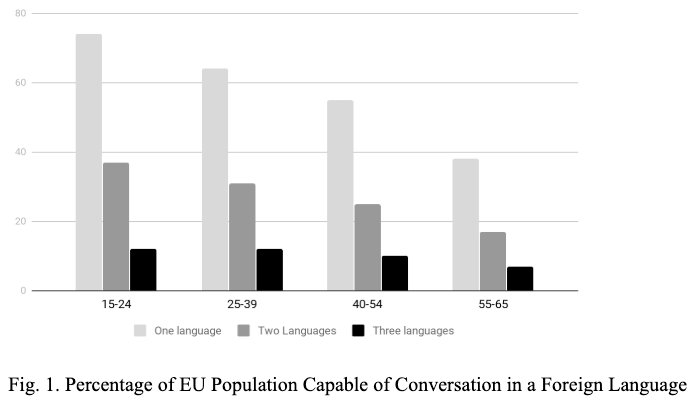 Frequently Asked Questions
MLA recommends using 12 point Times New Roman since it's easy to read and installed on every computer. Other standard fonts such as Arial or Georgia are also acceptable. If in doubt, check with your supervisor which font you should be using.

The fastest and most accurate way to create MLA citations is by using Scribbr's MLA Citation Generator.

Search by book title, page URL or journal DOI to automatically generate flawless citations, or cite manually using the simple citation forms.
You have already voted. Thanks :-)
Your vote is saved :-)
Processing your vote...