MLA format for papers
In addition to the MLA citation guidelines, the MLA Handbook outlines requirements for formatting essays and papers.
To adhere to MLA format guidelines, apply 12 pt Times New Roman, double spacing and title case for headings. Set page margins to one inch and indent the first line of each paragraph ½ inch. Every page (except the title page) also has a header including the author's last name and page number.
There are specific formatting guidelines for headings, the title page, and the Works Cited page.
MLA sample paper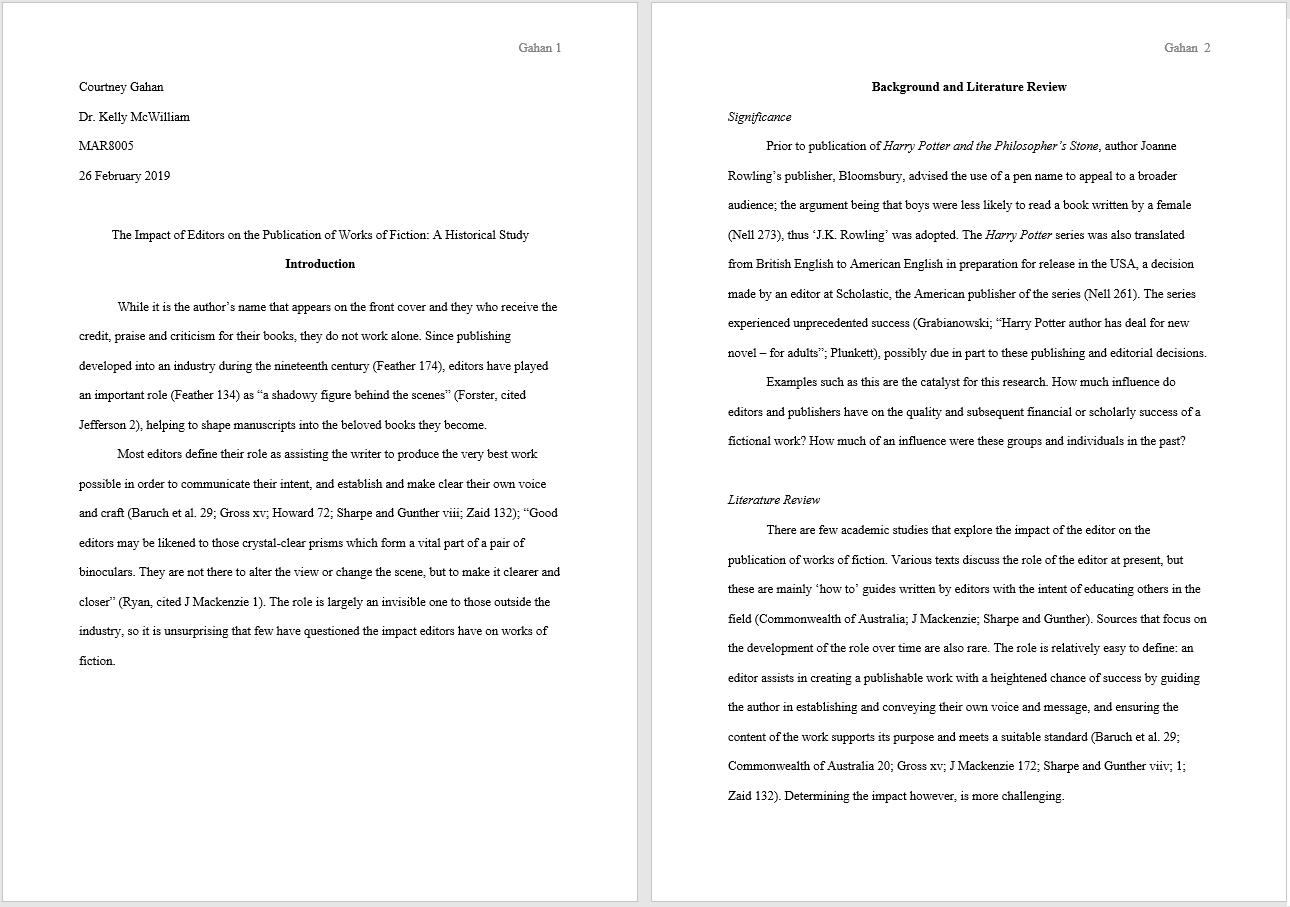 Word templateGoogle Docs template
If you wish to use the Google Docs template, go to "File" in the top left corner and click "make a copy."
General formatting guidelines
Every page of an MLA paper needs to follow certain formatting rules. These are related to the text itself, as well as spacing and alignment.
Text formatting
Times New Roman 12 pt (body and headings)
Double space all text
Title case for headings
Indentation, spacing and alignment
One inch (2.54 cm) page margins
0.5 inch indentation for the first line of each paragraph
One space after periods
Left-aligned
Example of MLA formatting

Header
Every page, aside from the first, must include a header, also known as a running head. This header consists of your surname and the page number in the top right corner, half an inch from the top of the page.
To implement this, simply insert automatic page numbering and add your name in the "header" section of the document. Make sure the text is justified to the right. This header will then automatically appear on every page in the document.
Example MLA header

Check if your university or supervisor wish for you to include the header on the first page.
First page or cover page
On the first page of your paper you should include the title of your paper, your personal information and course information. In most cases you do not use a separate title or cover page, unless your supervisor specifically asks for this. The first page or cover page looks like this:
Start with the personal and course information in the top left-hand corner:
your full name
supervisor's name
course name
date of submission
The title of your paper should be centred above the text. As per the rest of the paper, both the title and personal information are double spaced and formatted in 12 pt Times New Roman font.
If your paper also includes a cover page, include the following, formatted as in the example above:
university name
title of paper (including subtitle, if applicable)
your name
course name and number
professor/supervisor name
date
Headings and subheadings
Headings and subheadings can help to organize and provide structure, especially in longer documents.
The different "levels" of headings refer to the order of prominence. For example, in a dissertation, each chapter heading will be a "first-level heading." Sub-sections within each chapter will be "second-level headings," and so on.
There is no set formatting required by MLA for the different levels — the only rule is that you must be consistent. In general, boldface indicates greater prominence, while italics is ideal for subordinate headings.
Example of different heading formatting styles
Level 1 Heading: bold
Level 2 Heading: italicized
Level 3 Heading: plain text
Level 4 Heading: underlined
Both Google Docs and Microsoft Word have functions that allow you to automatically set different heading levels. You can also download our MLA heading template that adds these heading styles to Word. Import the template by clicking on 'Tools', 'Templates and Add-ins' in Word.
Tips for MLA headings
Shorter is better
Write in title case
Include a space above and below each heading
Avoid numbers and letters to signify different headings, unless this is the norm in your field of study
Be sure to repeat the same grammatical form. This simply means that if the first heading is a verb, the second must be. For example: Going to the zoo; Eating at the zoo; Travelling home.
MLA citations
Whenever you quote, paraphrase or summarize any information from another source (such as a book, website or journal article), you must include an in-text citation. You must also reference that source in the Works Cited list at the end of your paper.
There are specific formatting guidelines for both the in-text citations and Works Cited list. You can learn more about these guidelines in our MLA citation quick guide.
Footnotes and endnotes
There are two kinds of notes you might consider as part of an MLA paper: content and bibliographic. Both of these can be formatted as either footnotes or endnotes.
Bibliographic notes
For citation alone, MLA heavily favours the use of in-text citation rather than footnotes or endnotes. MLA recommends the use of bibliographic notes only when it is necessary to cite several sources simultaneously on a frequent basis, or if you wish to include evaluative comments related to the sources.
Example of a bibliographic footnote (citing more than one source)
1. For further insight into Australia's early publishing industry, beginning in the late 18th century, see Crittenden 5-11 and Kent 17-34.
Content notes
Content notes are quite similar to evaluative bibliographic notes, where the author is commenting on the content of the source and how it relates to the information in the text.
Example of content notes
Main text:
Four main factors have been determined possible characteristics of any successful fictional work: popularity, enduring fame, commercial success and scholarly appeal. Each of the case studies must possess at least one of these.1
Note:
See Grabianowski and also "100 Best Novels" for additional supporting evidence regarding the selected four case studies, all of which are considered successful works by these sources.
Works Cited:
Grabianowski, Ed. "The 21 Best-Selling Books of All Time." How Stuff Works. Discovery Communications, 2012.
"100 Best Novels." Modern Library. Random House, Inc, 2012.
List of Works Cited
An MLA Works Cited list appears at the end of your paper and must include all sources referenced in the text. You do not include works that were only consulted.
The format of an MLA Works Cited list follows many of the same rules as the rest of the paper, including font size, the application of double spacing and the inclusion of the header. You should also use hanging indents for entries that cover more than one line of text and end all entries with a period.
MLA Works Cited example
Gahan 16
Works Cited
Aronson, Marc. "The Evolution of the American Editor." Editors on Editing: What Writers Need to Know About What Editors Do, edited by Gerald Gross, 3rd ed., Grove Press, 1993, pp. 10-21.
"Bad Speller: Austen's Books Were Heavily Edited." smh.com.au. The Sydney Morning Herald, 25 Oct. 2010, https://​www.smh.com.au/​entertainment/​books/​bad-speller-​austens-books-were-​heavily-edited. Accessed 2 Jun. 2012.
Barker, Juliet. The Brontës. 2nd ed., Great Britain, Phoenix Giants, 1995.
‐‐‐ The Brontës: A Life in Letters. London, Viking, 1997.
‐‐‐ The Brontes: Wild Genius on the Moors: The Story of a Literary Family. Pegasus, 2012.
Creating source entries
Every source type requires specific information. You can read more about what to include in an MLA book citation, a play citation, a journal article citation, and more in our MLA citation quick guide.
Alphabetizing the list of Works Cited
All sources in the Works Cited list are sorted alphabetically, using the author name. The source title is used for sources without authors.
A citation generator or the automatic reference list feature in Microsoft Word can alphabetize the list automatically. However, there are certain exceptions.
Works with no author
If there is no author, arrange the source alphabetically based on the title of the work. Ignore words like "The," "An" and "A." Alphabetize based on the first letter of the next word.
If a title begins with a numeral, then alphabetize the title as if the numeral were written as a word. E.g. 12 would be treated as "twelve."
Example source reference of a work with no author
Oxford Classical Dictionary. 4th ed., Oxford University Press, 2012.
For the example above, you would alphabetize based on the "O" in "Oxford."
Multiple works by the same author
If your Works Cited list includes more than one work by the same author, only include the name in the first instance, then use three hyphens in place of the name. Arrange the sources alphabetically by title.
Example of more than one work by the same author
Barker, Juliet. The Brontës. Weidenfeld and Nicolson, 1994.
‐‐‐ The Brontës: A Life in Letters. Harry N. Abrams, 1998.
‐‐‐ Brontë Yearbook. Weidenfeld & Nicolson, 1990.
If the same person performed different roles for different sources, include a term describing the role after the hyphens and a comma.
Borroff, Marie. Language and the Poet: Verbal Artistry in Frost, Stevens, and Moore. University of Chicago Press, 1979.
‐‐‐, translator. Pearl: A new Verse Translation. W. W. Norton, 1977.
If one author is also cited in the subsequent entry as part of a collaborative work, repeat the name in full instead of using the hyphens.
Notes on alphabetizing
Ignore accents and other marks. A German "ö" should be treated as an "o." Also ignore special characters such as @. If a source (usually an online username) includes this character, begin alphabetization with the first letter after it.
If you have an edited collection of works by multiple authors, list the work based on the editor name.
Tables and figures
Depending on your subject of study, you may need to include some tables, illustrations or even musical examples in your paper. MLA follows specific guidelines for how to format the labels and notes for these. Be sure to place tables and figures as close to the relevant part of text as possible.
Tables
Label the table with the word "Table," an arabic numeral and the title.
Use title case for the title
Place the label (Table 1) and title on separate lines
Include any notes immediately below the table.
Example of a table in an MLA paper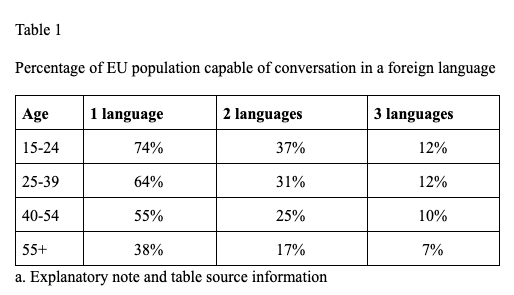 Figures
Label any other kind of visual using "Figure." This includes photographs, maps, graphs and charts. Usually, Figure is abbreviated to "Fig."
Assign each figure an arabic numeral as well as a caption
The label and caption should appear directly under the figure
Example of a figure in an MLA paper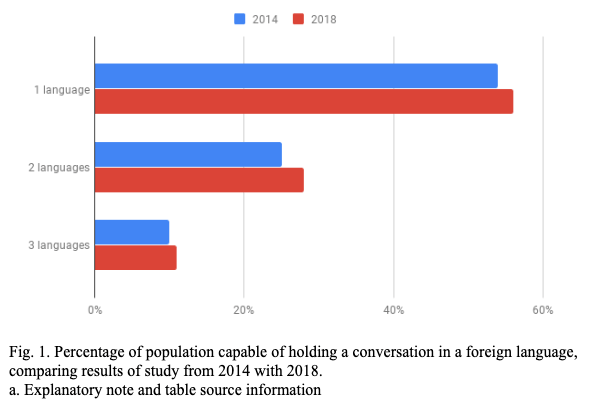 Musical illustrations
Musical illustrations should be labelled "Example," abbreviated to "Ex."
Assign each an arabic numeral and include a caption
The label and caption should appear immediately below the example
Note that, if you provide the full source information for the table or figure in the caption or notes and the source is not cited in the text, you do not need to include this source in the full Works Cited list.
You have already voted. Thanks :-)
Your vote is saved :-)
Processing your vote...