MLA Footnotes & Endnotes | Format & Examples
MLA style requires you to cite sources using MLA in-text citations, not notes. However, you can still use footnotes or endnotes in MLA style for other purposes:
Citing a lot of sources at once
Providing any extra explanation needed about your citation or translation practice
Elaborating on ideas
Providing additional examples that don't fit into the main text
Footnotes appear at the bottom of the relevant page, while endnotes appear at the end of the paper, just before the Works Cited list. MLA allows the use of either type, but stick to one or the other.
Any sources you cite in your footnotes or endnotes must also be included in your Works Cited list, just like sources in the main text.
Formatting footnotes and endnotes in MLA
Both footnotes and endnotes are indicated by superscript numbers. The number usually appears at the end of a sentence, after the period.
If you need to use a note in the middle of a sentence to avoid ambiguity, place the number directly after a punctuation mark (with the exception of the dash, where the number comes before).
The note itself begins with the corresponding number, again in superscript, followed by a space, and then the content of the note. Notes should be in the same font as the rest of your document, but a smaller font size; the first line of each note is slightly indented.
Your word processing program should allow you to automatically insert footnotes.
Formatting the endnotes page
If you are using endnotes, list them on a separate page directly before the Works Cited list. The title ("Notes" or "Endnotes") appears centered at the top of the page. Like the rest of an MLA format paper, the endnotes should be double-spaced.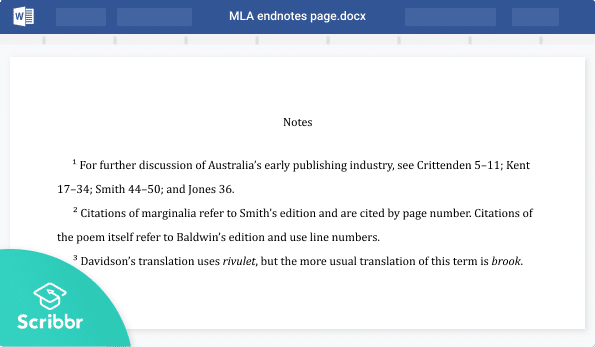 Citing a lot of sources at once
When you have a lot of sources to cite at once, you can save space in your text by placing them in a note instead. These can be sources for a statement you made in the text, or sources providing supplementary information relevant to the discussion.
Note that you don't need to use parentheses around the page numbers when the note just consists of a list of sources.
Explaining citation or translation practice
When there's any important information that might not be immediately obvious from your citations, you can explain it in a note at the first point where it comes up.
For example, you might use your own translations for some texts but not others, or you might cite different editions of a text in different ways. These details can be clarified in notes where relevant.
Using notes to elaborate on ideas
When you mention something in passing but think more information may be useful to the reader, you can add the extra information, as well as related sources if relevant, in a note.
Bear in mind that long notes with superfluous information can be distracting for readers. Use notes of this kind sparingly, and keep them brief. If a piece of information is essential to your point, you should usually include it in the main text.
Providing more examples in notes
Sometimes you have more examples than you can smoothly fit into your text. In those cases, it can be worth placing further examples in a note, if you think they add something to your point. You might also provide a counterexample to acknowledge the limitations of your argument.
Frequently asked questions about MLA notes
Cite this Scribbr article
If you want to cite this source, you can copy and paste the citation or click the "Cite this Scribbr article" button to automatically add the citation to our free Citation Generator.
You have already voted. Thanks :-)
Your vote is saved :-)
Processing your vote...