Best plagiarism checker for students | In-depth comparison
Scribbr put the most popular plagiarism checkers to the test by comparing the amount of plagiarism detected, the size of the database, the strength of the plagiarism algorithm and the ease of use of the report. This helps you pick the best plagiarism checker.
How we tested the plagiarism checkers
We used two documents to test the plagiarism checkers.
Real Paper: Original and plagiarized paragraphs. Some were slightly rewritten.
Mosaic: 100% plagiarised text from journals, books and websites. Some words were changed to see how plagiarism checker handle this.
For most students, it is most useful to look at the test results of the 'Real Paper' as this is most similar to your own thesis, paper or dissertation.
Discover the test results for both document by clicking the different tabs.
In-depth plagiarism checker reviews
Turnitin
Unfortunately, the Turnitin plagiarism checker is not available to students.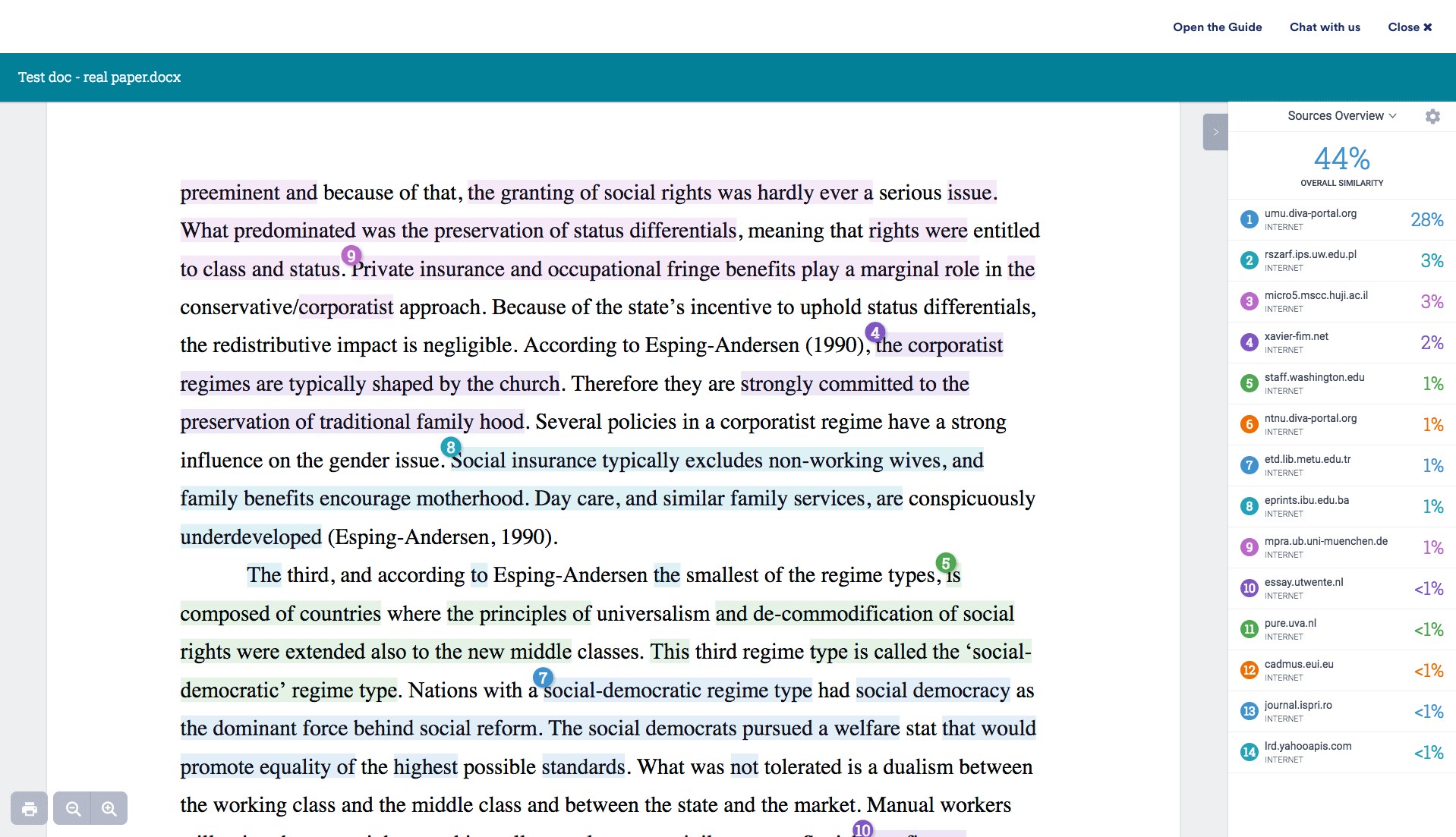 Pros
Best plagiarism algorithm on the market
Scholarly database access
Easy to use
Trusted by universities worldwide
Safe and secure
Cons
Currently not available to students, only universities
Result
Turnitin is the best plagiarism checker currently on the market. The combination of the user-friendly design with Turnitin's database and algorithm means it outperforms every other plagiarism check. At the moment, Turnitin is only available to universities.
Database Access
Turnitin has access to all available sources and is therefore capable of finding the highest match rate of all plagiarism checkers.
Turnitin Database (documents that have been submitted by students)
Internet sources
Books
Published journal articles
Algorithm
The algorithm is able to ignore changed words and still locate plagiarized text, even if that text has been modified. This is where most plagiarism checkers fail, as they are only capable of finding exact matches.
Report
The Turnitin similarity report is very clean and contains all the information you'd like to see. It has a plagiarism percentage, a list of sources and the original document where plagiarized parts are highlighted in different colours.
Scribbr Plagiarism Checker
Recommended: Yes, tailor-made for students
Price: $18.95 (7.500 words)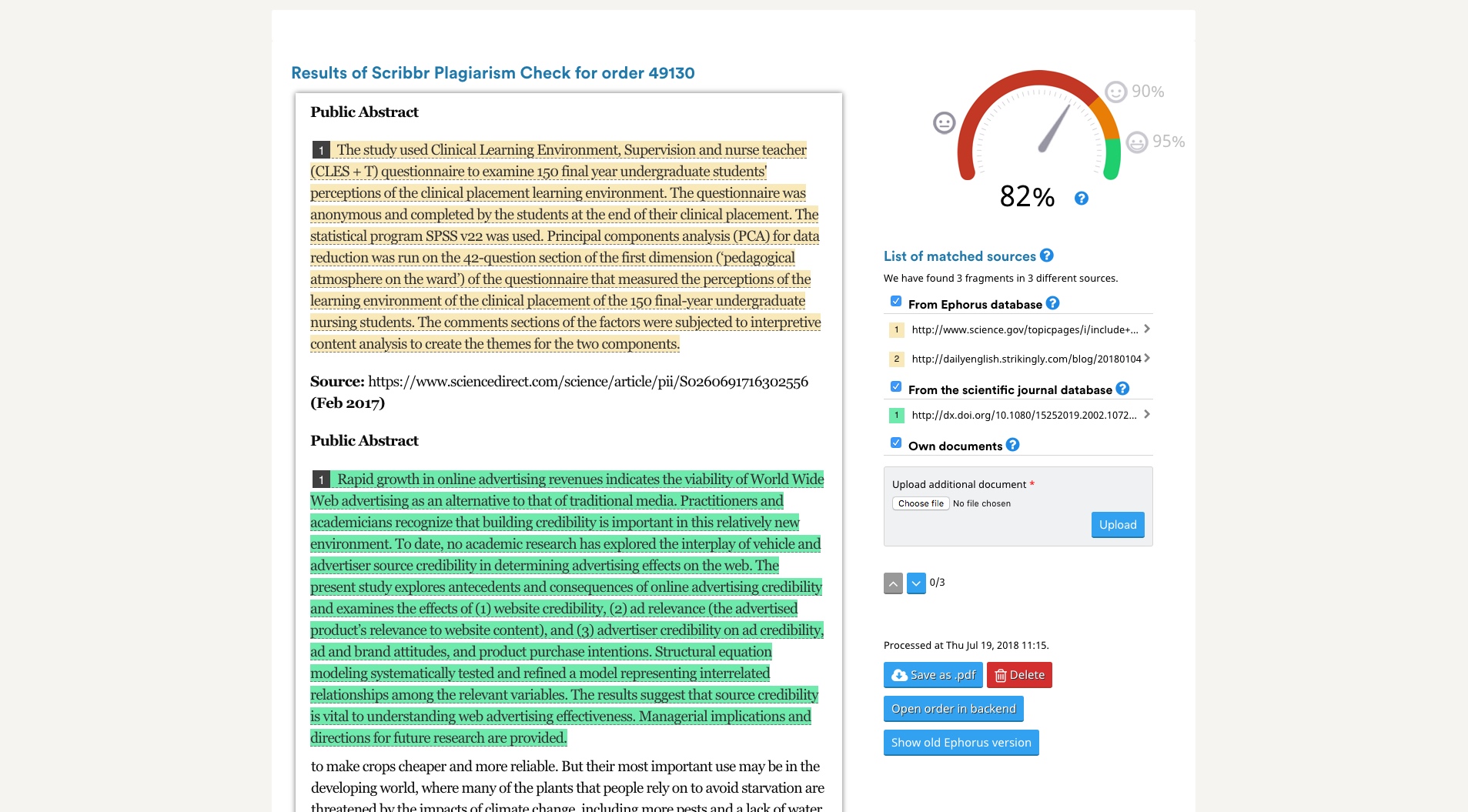 Pros
One of the best plagiarism algorithms
Scholarly database access
Clear plagiarism report
Used by universities worldwide
Possibility to upload extra documents to check against
Safe and secure — document is not kept in the system
Cons
Quality comes at a price
No 'paste text' feature
Result
The Scribbr Plagiarism Checker is designed specifically for students. It is very user-friendly, the Ephorus database is among the biggest and the algorithm is very strong even when parts of the text are changed. For students, this is the best plagiarism checker.
Database Access
The Scribbr plagiarism checker has access to all sources available and is has therefore often the highest match rate of all plagiarism checkers.
Official Ephorus database
Internet sources
Books
Published journal articles
Algorithm
The Ephorus algorithm is after Turnitin, the best on the market. Unlike many other plagiarism checkers, it is able to detect plagiarizes text in the 'mosaic' document where quite some words were changed.
Report
The plagiarism report is detailed and easy to read, as you can see in the example above. Plagiarized sentences are highlighted and the source is shown on the side. Every source is highlighted in a different colour. The report can be accessed an unlimited number of times and can be downloaded.
Grammarly Plagiarism Checker
Recommended: No, doesn't detect plagiarism in a real document.
Price: $29.99 for one month (cheaper when choosing a yearly plan)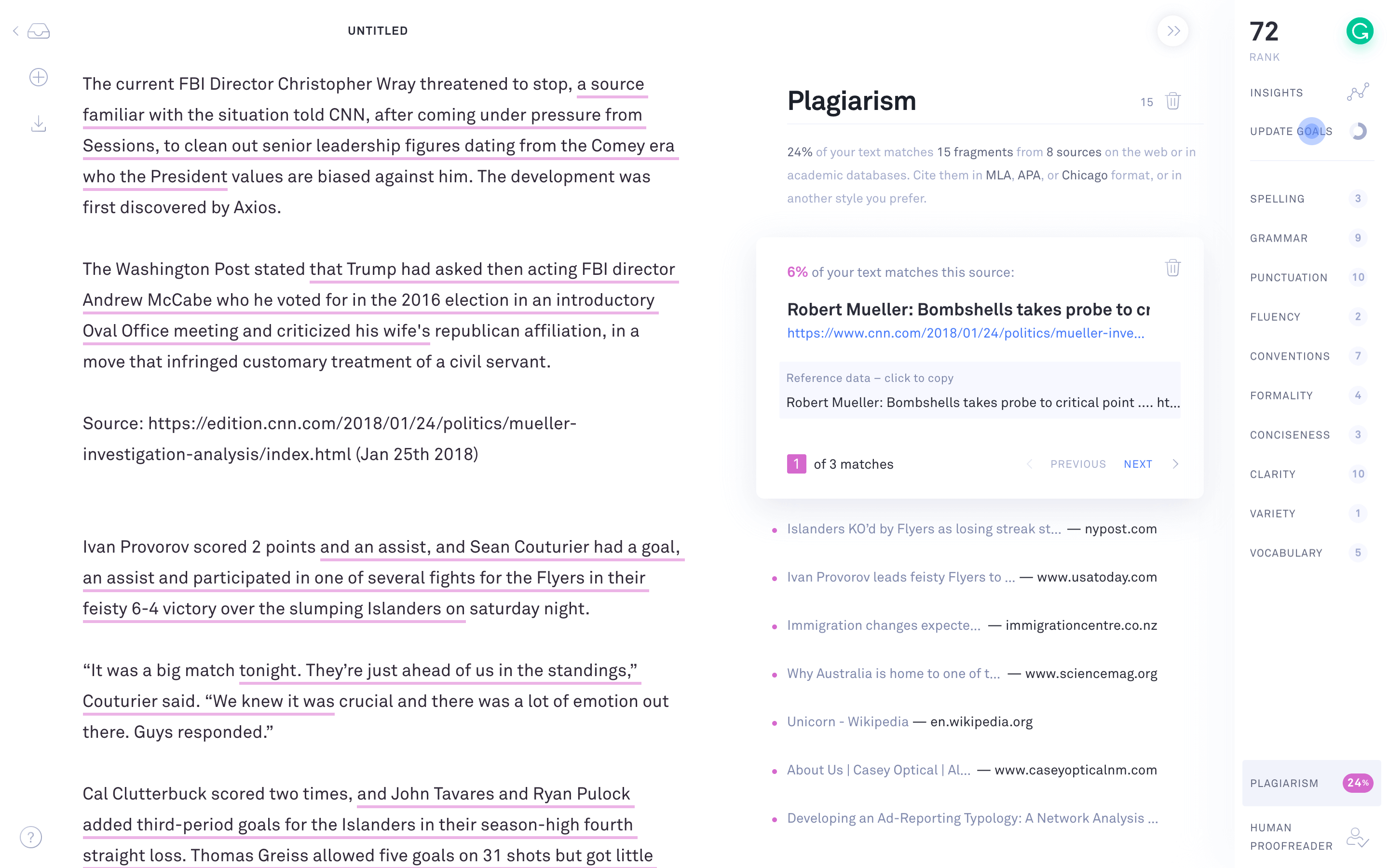 Pros
Combined with a world-class spelling and grammar checker
User-friendly
Access to ProQuest's database
Cons
Fails to detect plagiarism when some words are changed (it only finds exact matches)
Only available as a monthly subscription
Result
Grammarly focuses on its spelling tool and offers the plagiarism checker as an extra service. If you're already a paying Grammarly customer, using their plagiarism checker might be a good option. However, if you really want to find all plagiarism, you are better off using another plagiarism checker capable of finding more than only exact matches.
Database Access
Grammarly's plagiarism database is quite extensive. It is able to check your document against the following sources:
ProQuest's database
Internet sources
Books
Published journal articles
Algorithm
The Grammarly plagiarism checker does not perform well when some words in a plagiarized paragraph are changed. It found 0% plagiarism in a real paper, where other checks like Scribbr and Quetext found between 25% and 29%.
Report
The plagiarism checker is easy to use, reporting a plagiarism percentage and a list of sources where matching text can be found. The plagiarized text is highlighted in the document right beside possible spelling and grammatical errors.
Quetext
Recommended:  Yes, if you don't mind a monthly subscription.
Price: $9.99 per month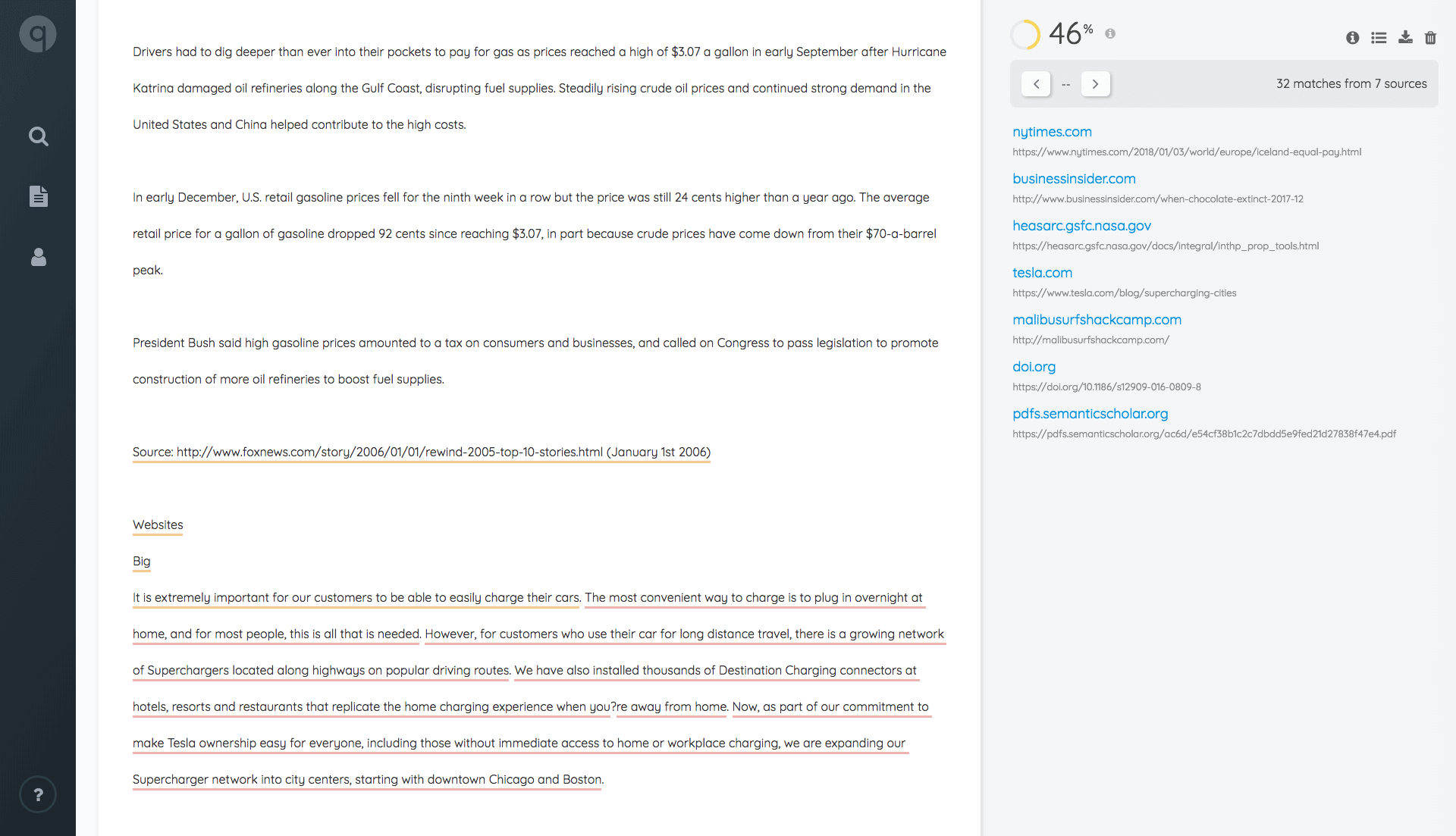 Pros
Simple to use
Free trial for three documents of 500 words
Built-in citing option
Cons
Can't check for plagiarism against scholarly articles
Does not find all plagiarized sentences
Some sentences are falsely marked as plagiarism
No individual checks possible (only monthly subscriptions)
Result
Quetext performs pretty well. In both documents, the Quetext plagiarism checker was able to find more plagiarized text than most others.
However, it detects less plagiarism than the Scribbr plagiarism checker. If you're a student and your university uses a more professional plagiarism checker, you might be surprised by unexpected plagiarism detected by your university's more thorough checker.
Database access
Quetext's database is considerably smaller than that of Grammarly and Scribbr. It only checks for plagiarism against internet sources and online books. It does not detect plagiarized text from journal articles unless the text is from the abstract (which is openly accessible).
Algorithm
Quetext's plagiarism algorithm works fine. Compared to many other checks, it is capable of detecting plagiarism, even if some words are changed. However, sometimes it marks sentences and separate words as plagiarism when it is not the case.
Therefore, when analysing the plagiarism report, it is essential to check everything carefully and decide whether it is really plagiarism.
Report
The results are reported in a nice overview with a percentage and highlighted sentences that are matched with other sources. Quetext also has a built-in citation feature to cite plagiarized paragraphs.
Plagscan
Recommended: Yes, if you don't mind that some potential plagiarism may not be detected.
Price: Free trial (2,000 words). $9.99 for 50,000–200,000 words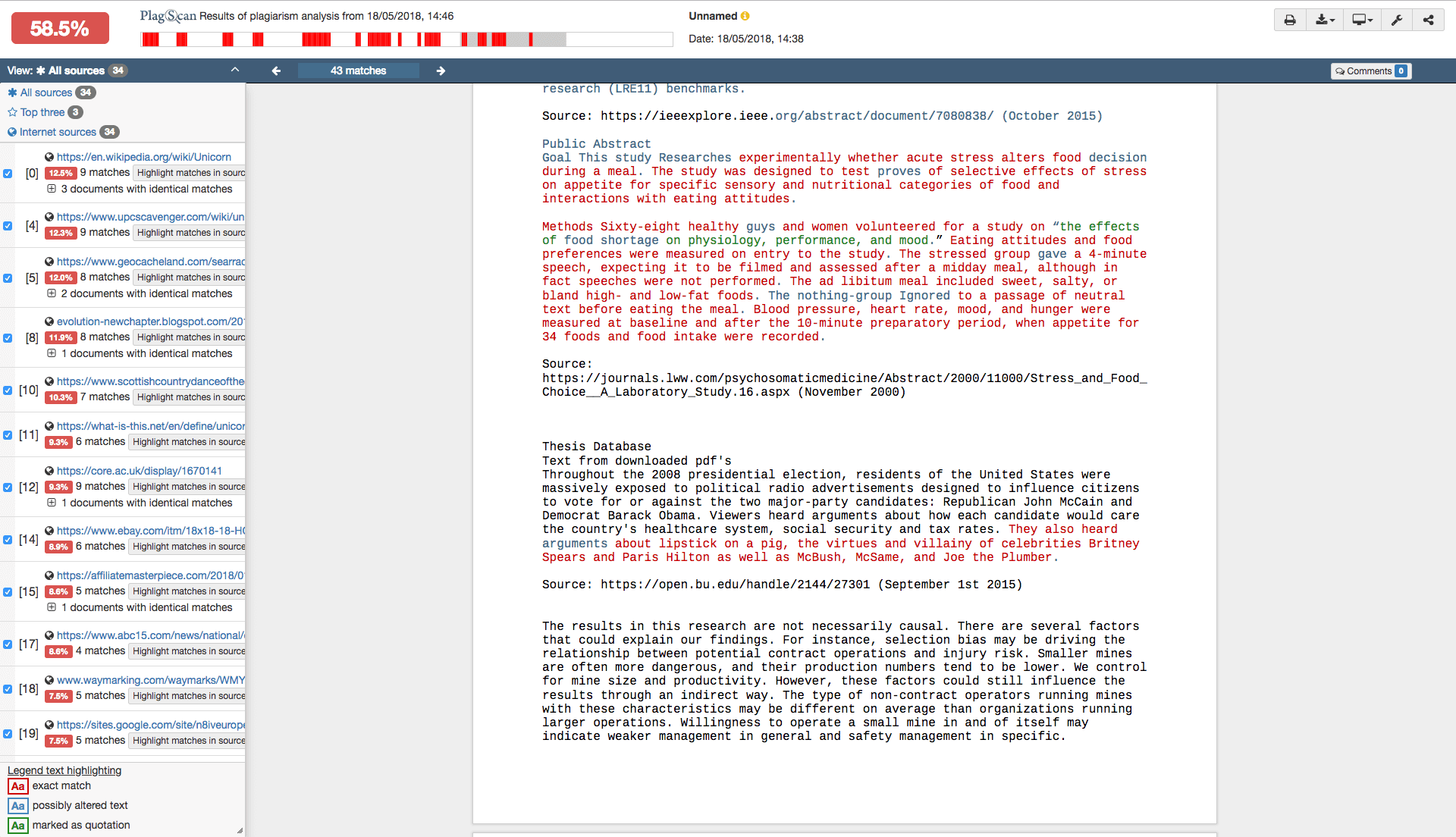 Pros
Money-back guarantee
Relatively cheap
A trial for up to 2,000 words
Shows you exactly where the plagiarized text came from in the original source by highlighting the text within that source
Cons
Did not find much plagiarism in a "real paper" document
Some parts falsely flagged as plagiarism
No access to databases with theses and papers
Result
Plagscan is a widely used plagiarism checker that performs quite well with the mosaic document. However, in the "real paper" document, Plagscan did not detect much plagiarism.
Database access
The downside is the size of the Plagscan database. It is smaller than, for instance, Scribbr, and therefore not able to match with as many sources.
Algorithm (4/5)
The algorithm is smart enough to ignore some changed words while still being able to flag a paragraph as plagiarism. The algorithm is not capable of viewing a paragraph as one; rather, it sees every sentence as separate. This means you have to go through many separate plagiarism matches with the same source.
Report (4/5)
The plagiarism report is clear and easy to use. You receive a list with all matched sources, which are also highlighted in the document itself. In the report, the text is categorized as "exact match," "possibly altered text" and "marked as quotation." However, categorization does not work perfectly.
Plagramme
Recommended: Yes, if you're on a budget and do not mind spending time looking into false positive matches.
Price: $0.35 per page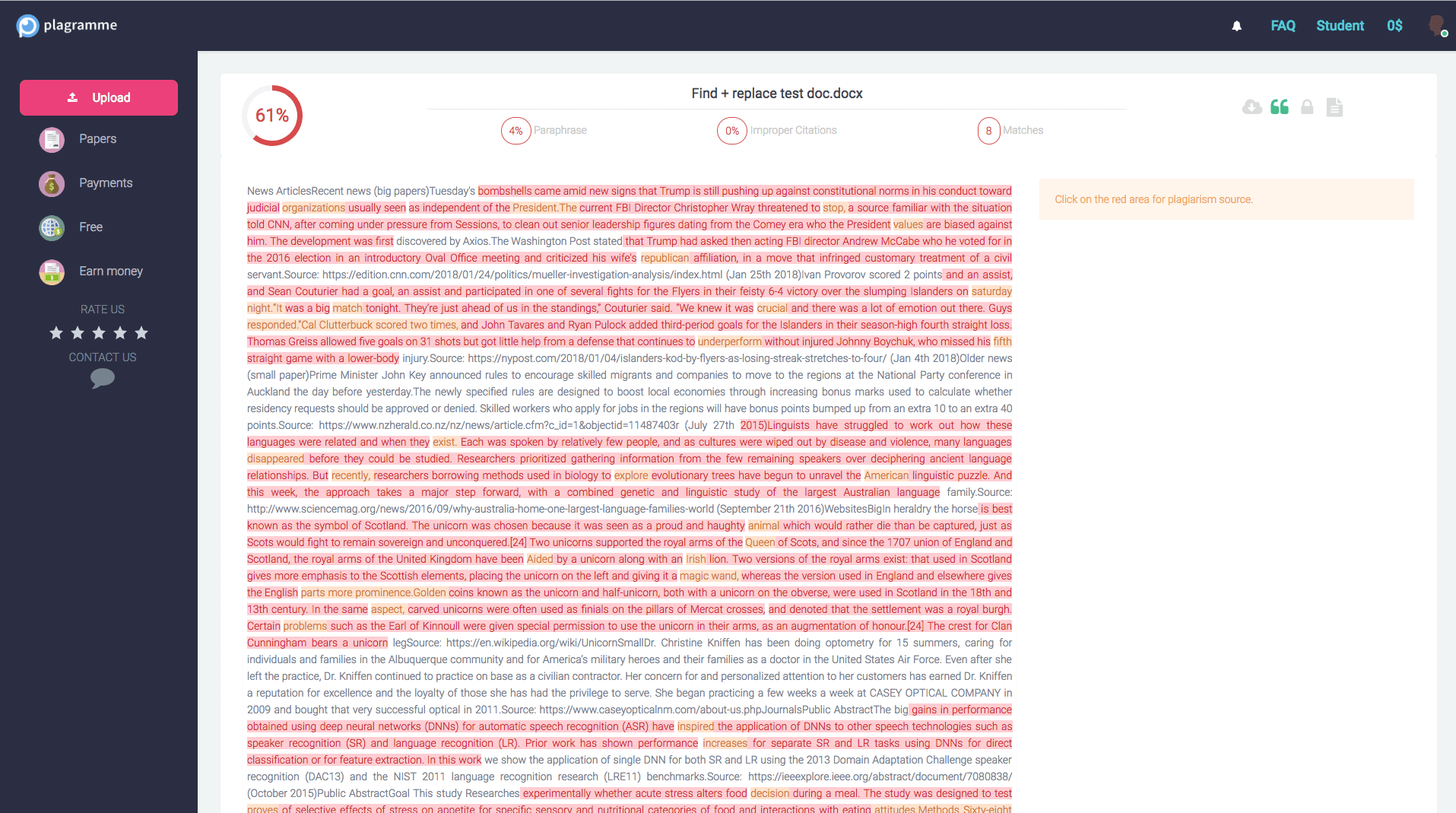 Pros
Rather cheap, at $0.35 per page
Cons
After uploading, the text in the document doesn't keep the original formatting
Requires an account before using the trial
In order to get free credits, you need to post on social media
Result
The Plagramme plagiarism checker finds a high percentage of plagiarism in the mosaic plagiarism document. However, it marks a lot of words as plagiarism when it is actually not the case (false positives). This makes the plagiarism percentage less reliable.
The pricing of the plagiarism checker is a bit confusing as they claim to offer a free check, but in reality, they only give you a percentage. To find out which parts of the text are plagiarized you have to buy credits.
Database access
Internet sources
Books
Published journal articles
Algorithm
The algorithm works rather well even when some words are changed. It is still capable of marking the text as plagiarized and highlights the changed words in a different colour. It does mark quite some sentences as plagiarism, while it is not. Furthermore, it does not detect all plagiarism even if the original information comes from a source the checker has access to.
Report
One of the shortcomings of this check is that the document doesn't keep the original formatting (as can be seen in the screenshot).
Edubirdie
Recommended: No, finds very little plagiarism and possibly sells your document.
Price: Free (used as marketing to acquire customers for their essay writing service)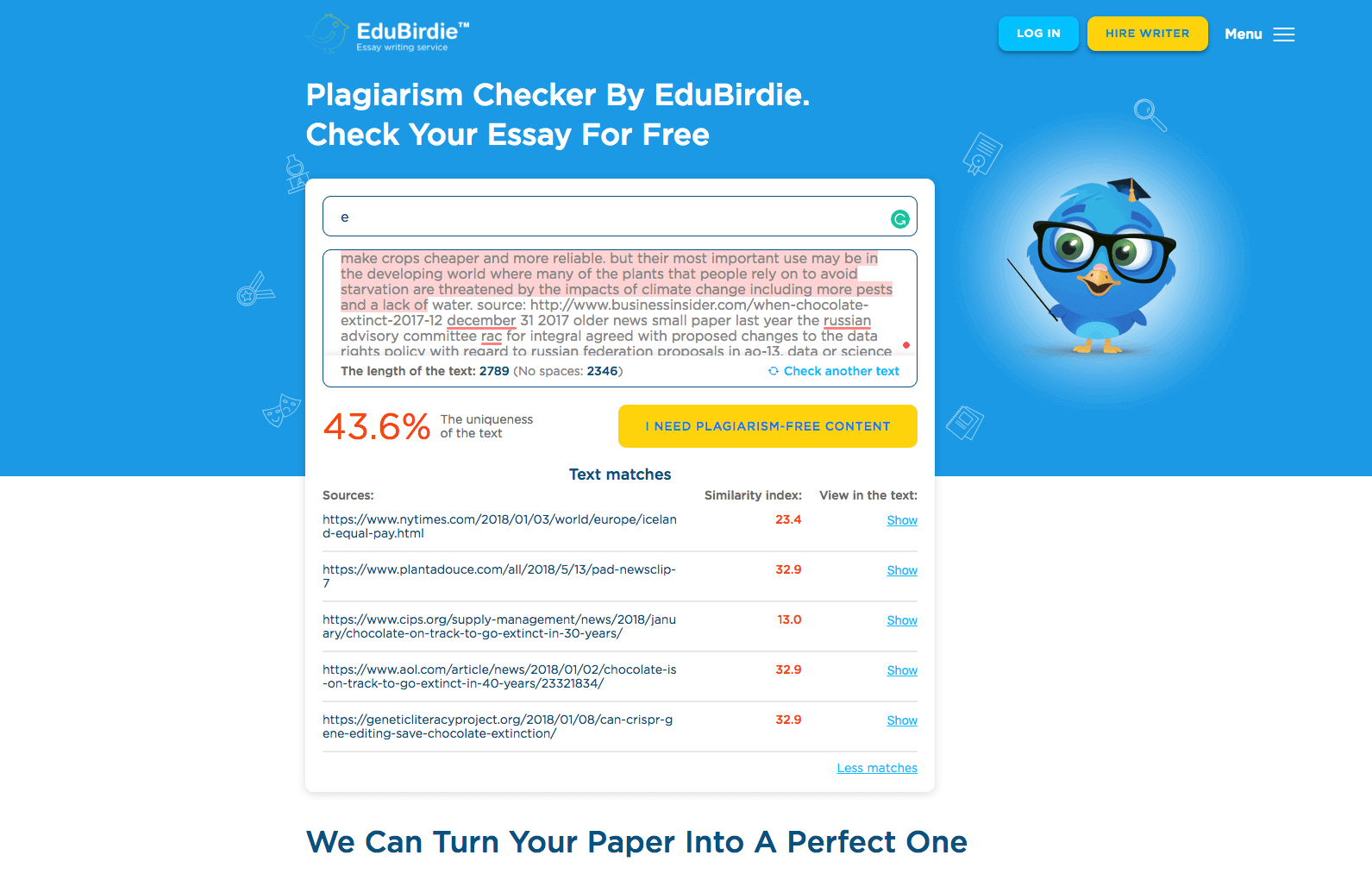 Cons
Hard to analyze the plagiarized parts due to the small window used to show feedback
Detects very little plagiarism
Stores document in a database
When using the check, you grant Edubirdie a royalty-free licence for your document
Result
Edubirdie's plagiarism checker is of very poor quality. Edubirdie found 14% and 4% plagiarism, in the two documents, much less than other plagiarism checkers. The database is rather small and the algorithm only checks for exact matches.
The major and rather dangerous downside is that they store your document. By using their service, you grant Edubirdie a royalty-free licence for your work. They might even sell your document in their essay writing service. It says so in their terms of use.
Database access
Edubirdie only checks against major internet sources. Plagiarized text from small websites will not be found.
Internet sources (only major websites)
Algorithm
The algorithm is really poor. It only finds exact matches. When a couple of words are changed, it does not detect any plagiarism. Furthermore, Edubirdie marks some parts of the text as plagiarism even when they're not. Sometimes it finds plagiarism, but the source of this plagiarism is not the right one.
Report
The window in which you can find the highlighted/plagiarized text is very small and useless for students with a big document. You can only see four to six sentences at a time.
Smallseotools
Recommended: No
Price: Free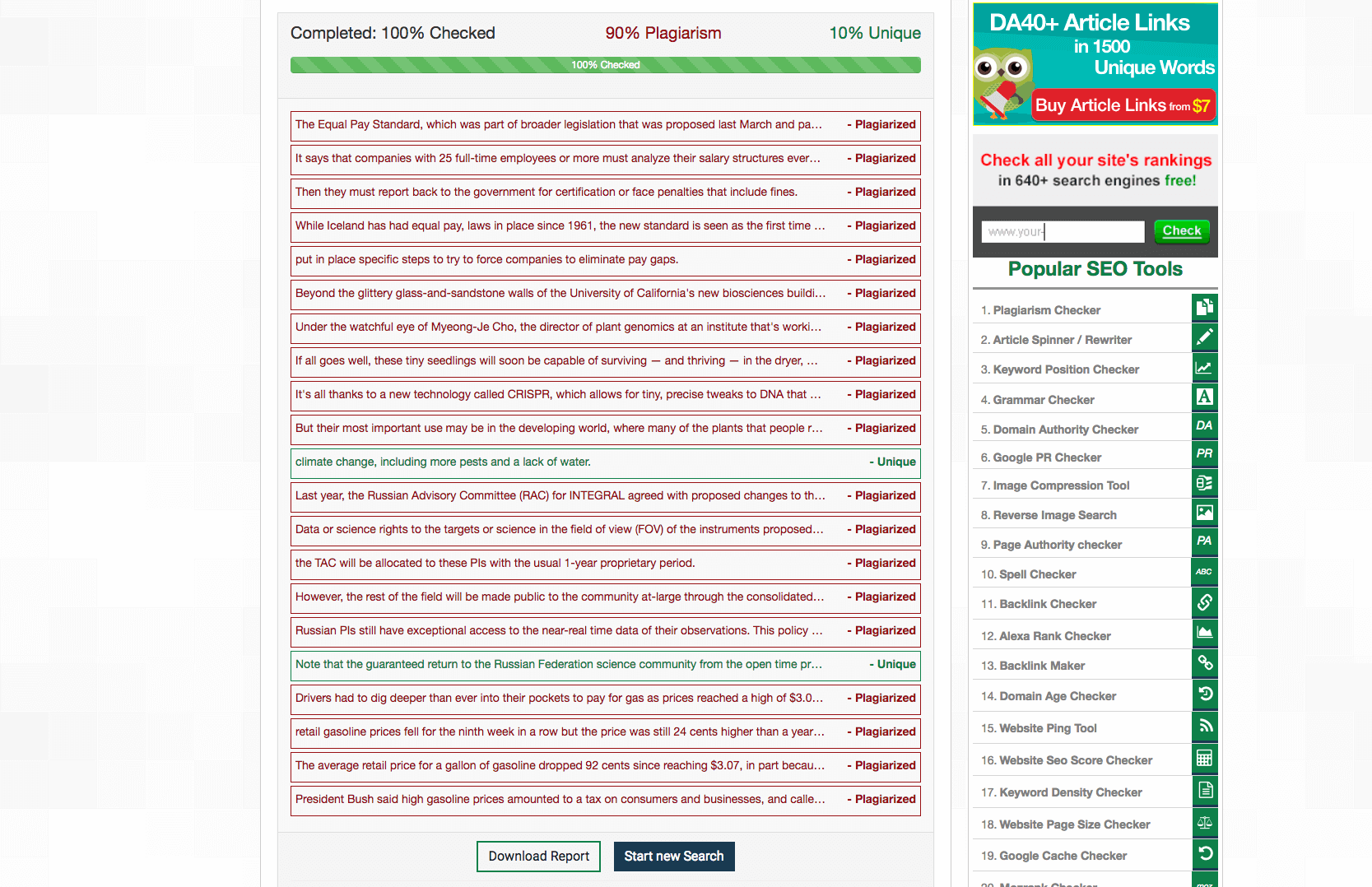 Cons
A lot of distracting ads and buttons
1,000-word limit
The plagiarized text is not highlighted in the document
Only finds exact matches with Google Search (you'll need to find the source yourself)
Doesn't detect plagiarism when some words are changed
Result
As the name suggests, Smallseotools is a free plagiarism checker mainly meant for marketers who want to check short pieces of text for plagiarism. We only reviewed Smallseotools because a lot of students use it.
Overall, we don't recommend that students use this plagiarism checker because the results are not reliable and are very tough to analyse.
Database access
Smallseotools has no specific database. This plagiarism checker enters every sentence in Google to see if the search engine finds a match. When it does, it marks the sentence as plagiarized. As can be seen in the plagiarism percentage, this method is very unreliable.
Internet sources
Algorithm
The plagiarism checker makes use of Google's "exact search" to find matches. There is no database or advanced algorithm, which is reflected in the limited amount of plagiarism detected by the check. The downside of the Google Search method is that you have to find the source of the matched text in the search results yourself.
Report
This plagiarism checker doesn't highlight the plagiarized text in the document. It only provides you with a list of plagiarized sentences.
BibMe
Recommended: Yes, if you don't mind that the plagiarism is not so thorough.
Price: Three-day trial (credit card required) then $10 per month (maximum five checks)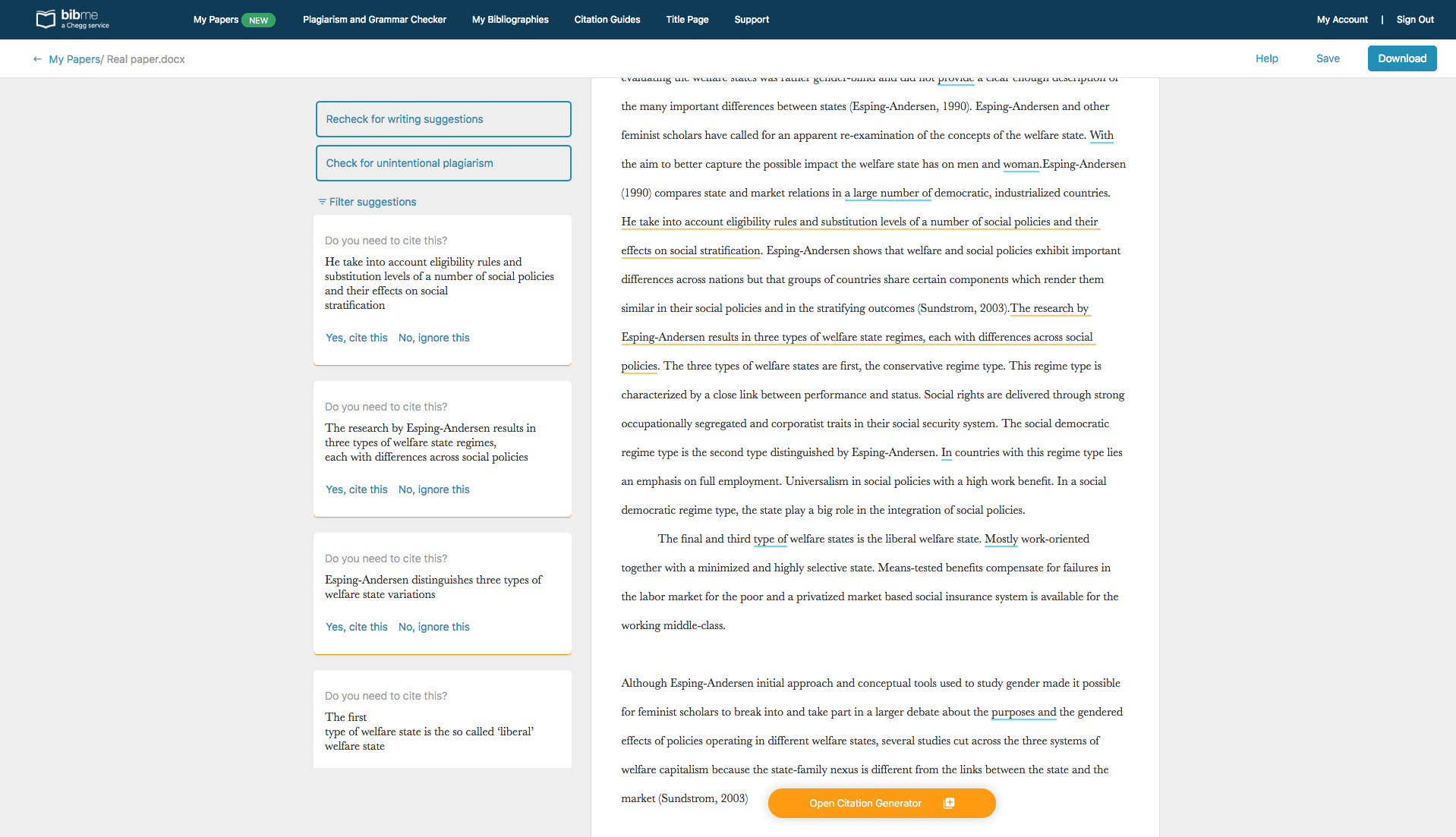 Pros
Three-day trial period
Built-in citing tool
Built-in spelling checker
Cons
Provides no plagiarism percentage
Does not detect all plagiarism
Your document is added to the BibMe plagiarism database
Maximum five checks per month included in the price
Result
The quality of the plagiarism check is less than, for instance, the Scribbr plagiarism checker. The database is smaller and the matching algorithm does not perform as well as others.
If you want to make use of the BibMe plagiarism checker, you'll need to sign up for BibMe Plus. After a three-day trial, it costs $10 per month with five plagiarism checks per month included. If you need more checks you can buy an additional 20 for $10.
Database access
The database includes basically everything that is openly accessible online. BibMe is able to find the plagiarized text from journal article abstracts, but not from the content of the article.
Algorithm
The algorithm works pretty well. The percentage found in the "mosaic" plagiarized document we tested is quite high compared to other checks. However, the plagiarism percentage found in the real paper is quite low.
Report
BibMe does not report a plagiarism percentage like other plagiarism checkers. It only highlights the parts of the text that are plagiarized.
BibMe does include some useful additional features, such as a spelling check (moderate quality) and a citing tool.
Searchenginereports
Recommended: No, does not find much plagiarism.
Price: Free (maximum 1,000 words per check)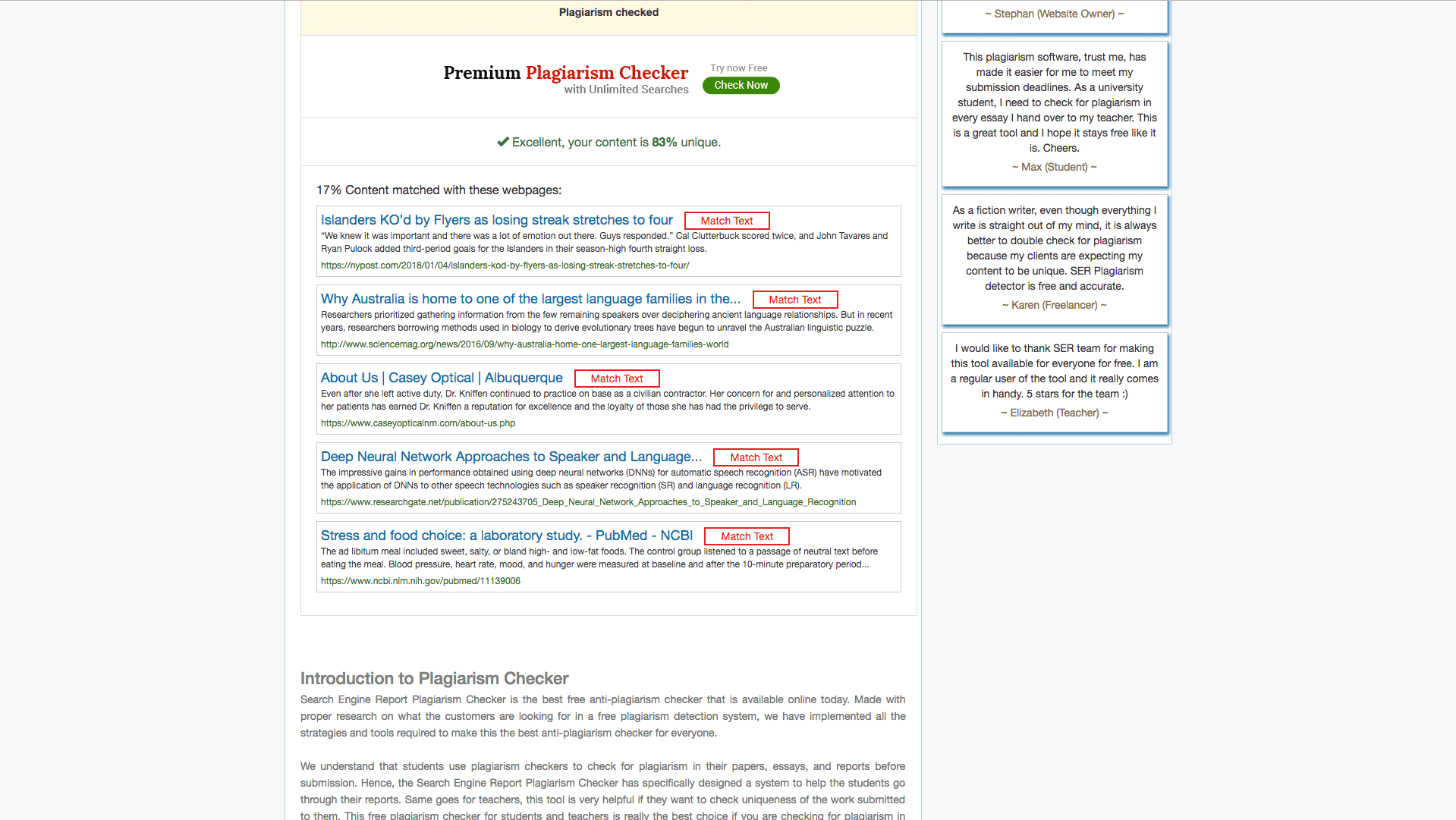 Pros
Free
Shows plagiarized text on the webpage
Cons
Does not work for long texts (max 1,000 words per check)
A lot of distracting ads
Result
Just like the Smallseotools plagiarism checker, Searchenginereport.net is built for businesses rather than students.
The performance of these plagiarism checkers is comparable. In the first two documents (with whole plagiarized paragraphs) the checks performed at a satisfactory level. In the real paper, it detects very little plagiarism.
As the latter is the document that is the most similar to real papers and theses, this plagiarism checker is useless for most students.
Database access
This plagiarism checker only compares your document against the available internet sources.
Internet sources
Algorithm
The algorithm is poor. It finds exact matches but is unable to detect plagiarism when some words are changed. Furthermore, the algorithm is not capable of detecting plagiarized paragraphs. Rather, it sees every sentence as separate.
Report
The report only shows a list of sentences that are possibly plagiarized. When checking a larger document, this is unclear because every sentence is shown separately. If you want to find the source of the plagiarized text, you're redirected to Google's exact search.
You have already voted. Thanks :-)
Your vote is saved :-)
Processing your vote...