How do plagiarism checkers work?
A plagiarism checker uses advanced database software to scan for matches between your text and existing texts. There are many plagiarism checker tools on the market, and they vary widely in features and in quality.
When you upload your text, the checker scans it and provides you with a percentage figure. This figure shows how similar your text is to existing texts in the database.
High-quality checkers will also provide you with a report, and link each instance of potential plagiarism with a source. From here, it's easy to fix potential instances of plagiarism and submit your work with confidence.

How plagiarism checkers identify similarities
Plagiarism checker software crawls web content and indexes it, scanning your text for similarities against its database of existing content on the Internet.
Exact matches are highlighted using keyword analysis. High-quality checkers have also developed algorithms to identify non-exact matches, for content that has been paraphrased or altered but could still be considered plagiarism.
Interactive Scribbr sample report
Database size affects results
Not every plagiarism checker has access to the same database. This can lead to major differences in results.
Free plagiarism checkers often have smaller databases. This means that there are large gaps in their ability to find matches, especially with less readily available online content. The highest-quality plagiarism checkers have larger databases, which enhance their ability to find matches and ensure you are not plagiarizing accidentally.
Scribbr's Plagiarism Checker has access to Turnitin's comprehensive database. In addition to web sources, this database also contains scientific publications, scholarly journals, and books.
Quality of plagiarism software
The quality of plagiarism checkers available on the market varies widely. Many free checkers only recognize exact matches. If you have paraphrased a bit too closely or forgotten to add a citation, these checkers are unlikely to flag it.
High-quality plagiarism checkers use a process called "fingerprinting" to find non-exact matches among paraphrased or altered texts. Here, the software scans sentence fragments, searching for structural similarities. Just like a real fingerprint, each fragment in your text should be completely unique, and should not match existing document fingerprints. If there are matches, these checkers are able to identify them.
Example text
A match is found when several words in a sentence match.
Free plagiarism check
A match is found when several words in a sentence match.
A match is recognized from some matching words in a sentence.
High-quality plagiarism check
A match is found when several words in a sentence match.
A match is recognized from some matching words in a sentence.
To help you choose the best tool, we conducted in-depth research to identify the top plagiarism checkers in 2021.
What plagiarism checkers can't identify
Although plagiarism checkers are consistently evolving and improving, they can't recognize everything quite yet.
Ideas and non-text plagiarism
Plagiarism checkers often struggle to identify plagiarized ideas if they have been rewritten, as well as other non-text plagiarism, such as plagiarism of images or artwork.
Plagiarism of translated texts, ideas, images, or non-text content is still considered plagiarism, and has the same consequences.
Internal databases at educational institutions
Educational institutions often use plagiarism checkers to ensure students aren't plagiarizing. In addition, most educational institutions also have their own internal database with uploaded work from current and former students.
This database is often not shared with outside parties. This means that plagiarism from fellow students will probably only be recognized by your educational institution, and not by a commercial plagiarism checker.
However, sometimes educational institutions share access to their internal database with other institutions, in order to better flag plagiarism or other types of academic dishonesty among students. Self-plagiarism or resubmitting a friend's work as your own still counts as plagiarism, and is subject to the same consequences.
If you're concerned about accidental plagiarism from unpublished or private documents, such as a previously-submitted paper or a friend's thesis, Scribbr's Own Sources Checker can help. It works similarly to standard plagiarism checkers, but you can submit documents not available on the Internet that may or may not be in your educational institution's database.
Interpreting your plagiarism score
Once you have submitted your text to a tool like Scribbr's, you will receive a report. It highlights potential instances of plagiarism in your text, links them to identified sources, and gives you an overall percentage score.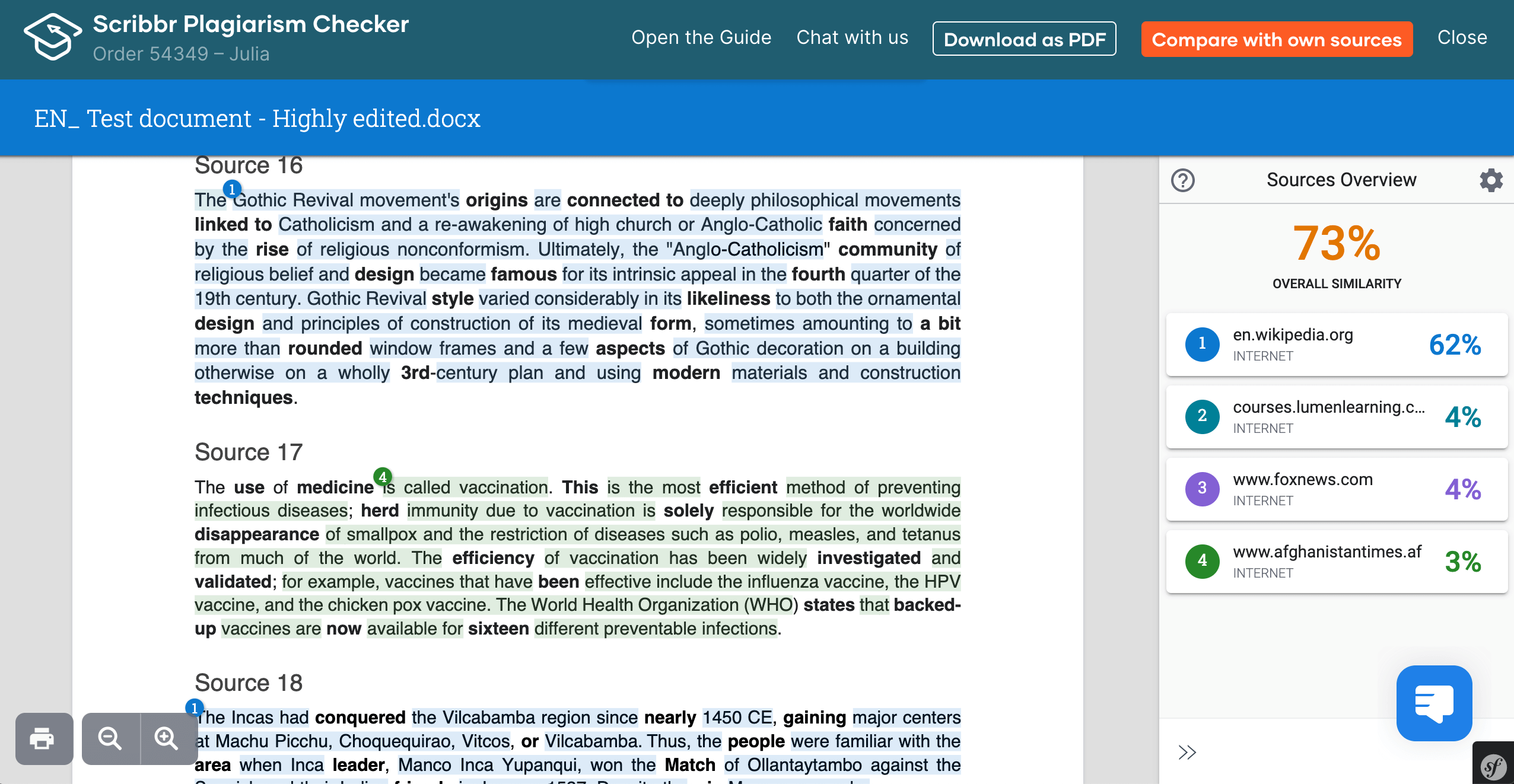 How high can your plagiarism score be?
Your work should not contain any plagiarism, as it can have serious consequences for your academic and professional aspirations.
However, it is important to note that plagiarism checkers do not detect plagiarism, but rather similarities. Not all similarities necessarily constitute plagiarism.
Our checker can sometimes flag the following:
Properly-cited quotes
In-text citations or your reference list
Commonly-used phrases that are not considered plagiarism
Because of this, you can generally follow these guidelines:
A score higher than 10% is troublesome.
A score between 5% and 10% is concerning.
A score around 5% is reasonable.
Resolving flagged similarities
As you work through the report, review each match individually to determine whether or not plagiarism has occurred.
You can ignore the match if you are confident that you have:
Correctly quoted or paraphrased
Cited the source you used in footnotes or in-text citations
You can also ignore any phrases that are so common they can't be attributed to any specific source. But if you see that a complete, correct citation is missing or that you have paraphrased too closely, make the appropriate adjustments to avoid committing plagiarism and resolve the issue.
Some plagiarism scanners offer additional help, such as a citation tool that helps you generate the correct citations. For example, Scribbr offers a free Citation Generator for APA and MLA styles, to make sure your citations are perfect on the first try. You can also use Scribbr's APA Citation Checker service for extra peace of mind.
Quoting correctly
In order to quote correctly, be sure to correctly cite the original source, and that the text within quotation marks is identical to the original.
Paraphrasing correctly
When paraphrasing, you must entirely rewrite the passage you are referencing without changing the meaning of the original text, citing the original source.
Frequently asked questions
You have already voted. Thanks :-)
Your vote is saved :-)
Processing your vote...