How to Avoid Plagiarism | Tips on Citing Sources
Plagiarism means using someone else's words or ideas without properly crediting the original author. Sometimes plagiarism involves deliberately stealing someone's work, but more often it happens accidentally, through carelessness or forgetfulness.When you write an academic paper, you build upon the work of others and use various credible sources for information and evidence. To avoid plagiarism, you need to correctly incorporate these sources into your text.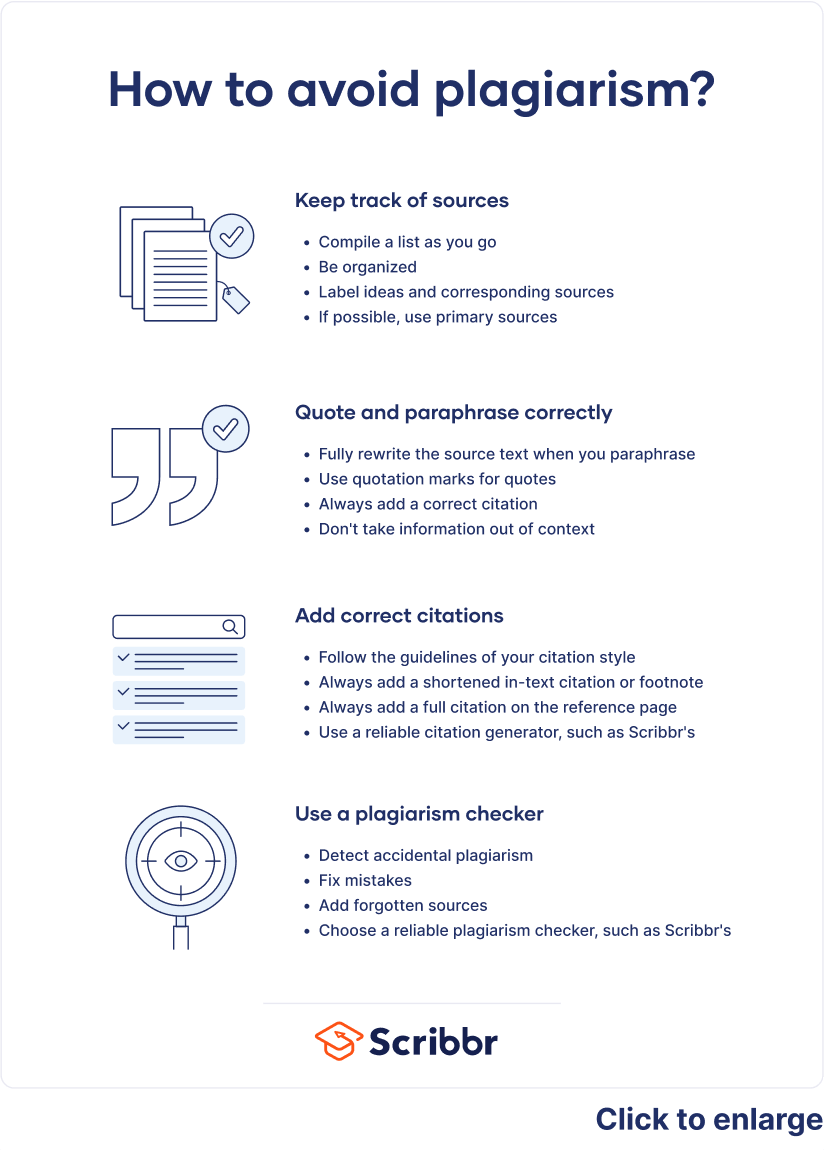 You can avoid plagiarism by:
Keeping track of the sources you consult in your research
Paraphrasing or quoting from your sources (by using a paraphrasing tool and adding your own ideas)
Crediting the original author in an in-text citation and in your reference list
Using a plagiarism checker before you submit
Use generative AI tools responsibly (outputs may be detected by an

 

AI detector)
Even accidental plagiarism can have serious consequences, so take care with how you integrate sources into your writing.
Keeping track of your sources
One of the most common ways that students commit plagiarism is by simply forgetting where an idea came from and unintentionally presenting it as their own. You can easily avoid this pitfall by keeping your notes organized and compiling a list of citations as you go.
Clearly label which thoughts are yours and which aren't in your notes, highlight statements that need citations, and carefully mark any text copied directly from a source with quotation marks.
In the example below, red indicates a claim that requires a source, blue indicates information paraphrased or summarized from a source, and green indicates a direct quotation.
Managing sources with the Scribbr Citation Generator
To make your life easier later, make sure to write down the full details of every source you consult. That includes not only books and journal articles, but also things like websites, magazine articles, and videos. This makes it easy to go back and check where you found a phrase, fact, or idea that you want to use in your paper.
Scribbr's Citation Generator allows you to start building and managing your reference list as you go, saving time later. When you're ready to submit, simply download your reference list!
Generate accurate citations with Scribbr
Avoiding plagiarism when quoting
Quoting means copying a piece of text word for word. The copied text must be introduced in your own words, enclosed in quotation marks, and correctly attributed to the original author.
In general, quote sparingly. Quotes are appropriate when:
You're using an exact definition, introduced by the original author
It is impossible for you to rephrase the original text without losing its meaning
You're analyzing the use of language in the original text
You want to maintain the authority and style of the author's words
Long quotations should be formatted as block quotes. But for longer blocks of text, it's usually better to paraphrase instead.
Avoiding plagiarism when paraphrasing
Paraphrasing means using your own words to explain something from a source.
Paraphrasing does not mean just switching out a few words from a copy-pasted text. To paraphrase properly, you should rewrite the author's point in your own words to show that you have fully understood it.
Citing your sources correctly
Every time you quote or paraphrase, you must include an in-text or footnote citation clearly identifying the original author. Each citation must correspond to a full reference in the reference list or bibliography at the end of your paper.
This acknowledges the source of your information, avoiding plagiarism, and it helps your readers locate the source for themselves if they would like to learn more.
There are many different citation styles, each with its own rules. A few common styles are APA, MLA, and Chicago. Your instructor may assign a particular style for you to use, or you may be able to choose. The most important thing is to apply one style consistently throughout the text.
The examples below follow APA Style.
Citing a single source
In-text citation
The novel's central theme is voiced by Cersei Lannister: "when you play the game of thrones you win or you die. There is no middle ground." (Martin, 2002, p. 403).
Reference list
Martin, G. R. R. (2002). A game of thrones (Reprint ed.). Bantam.
Citing multiple sources
If you quote multiple sources in one sentence, make sure to cite them separately so that it's clear which material came from which source.
In-text citation
Martin's narrative can be read as a classic "zero-sum game" (Morgenstern and von Neumann, 1980, p.98), where players in the "game of thrones" either "win or … die" (Martin, 2002, p. 403), with no other outcomes possible.
Reference list
Martin, G. R. R. (2002). A game of thrones (Reprint ed.). Bantam.
Morgenstern, O., & von Neumann, J. (1980). Theory of games and economic behavior (3rd ed.). Princeton University Press.
To create correctly formatted source citations, you can use our free Citation Generator.
APA Citation Generator MLA Citation Generator
And if you're citing in APA Style, consider using Scribbr's Citation Checker, a unique tool that scans your citations for errors. It can detect inconsistencies between your in-text citations and your reference list, as well as making sure your citations are flawlessly formatted.
Using a plagiarism checker
Most universities use plagiarism checkers like Turnitin to detect potential plagiarism. Here's how plagiarism checkers work: they scan your document, compare it to a database of webpages and publications, and highlight passages that appear similar to other texts.
Consider using a plagiarism checker yourself before submitting your paper. This allows you to identify issues that could constitute accidental plagiarism, such as:
Forgotten or misplaced citations
Missing quotation marks
Paraphrased material that's too similar to the original text
Then you can easily fix any instances of potential plagiarism.
There are differences in accuracy and safety between plagiarism checkers. To help students choose, we conducted extensive research comparing the best plagiarism checkers.
Using AI tools responsibly
Generative AI tools like ChatGPT can be helpful at different stages of the writing and research process. However, these tools can also be used to plagiarize in various ways (whether intentionally or unintentionally). When using these tools, it's important to avoid the following:
AI-assisted plagiarism:

 

Passing off AI-generated text as your own work (e.g., research papers, homework assignments)
Plagiarism:

 

Using the tool to paraphrase content from another source and passing it off as original work
Self-plagiarism:

 

Using the tool to rewrite a paper you previously submitted
It's important to use AI tools responsibly and to be aware that AI-generated outputs may be detected by your university's AI detector.
<!–– skip-in-text-insert ––>
Checklist: Plagiarism prevention
0

/

7
Free lecture slides
Are you a teacher or professor who would like to educate your students about plagiarism? You can download our free lecture slides, available for Google Slides and Microsoft PowerPoint.
Open Google SlidesDownload PowerPoint
Frequently asked questions
Cite this Scribbr article
If you want to cite this source, you can copy and paste the citation or click the "Cite this Scribbr article" button to automatically add the citation to our free Citation Generator.
You have already voted. Thanks :-)
Your vote is saved :-)
Processing your vote...