APA reference page
The reference page is where you provide full references for all the sources you've cited in the text. It helps your reader to locate the original sources. The inclusion of a complete and correct reference page also ensures you do not commit plagiarism. The reference page comes at the end of the paper.
As well as the content of the page, there are also formatting requirements for aspects such as indentation and spacing. The reference list should be alphabetized.
This article is based on the sixth edition of the APA manual and is regularly updated.
APA reference page example
SHORT TITLE OF YOUR PAPER35
References
Bakalar, N. (2018, February 12). High blood sugar levels tied to memory decline. The New York Times. Retrieved from: https:/​/​www.nytimes.com/​well/​mind/​high-blood-sugar-levels-tied-to-memory-decline.html
Festin, M. (2008). Continuous glucose monitoring in gestational diabetes. British Medical Journal, 337 (7675), 886-887. Retrieved from: http:/​/​www.jstor.org/​stable/​doc25671429
Quinn, B. (2018, July 15). The facts about sugar and cancer. The Sydney Morning Herald. Retrieved from: https:/​/​www.smh.com.au/​lifestyle/​health-and-wellness/​the-facts-about-sugar-and-cancer.html
Olabi, B., & Bhopal, R. (2009). Diagnosis of diabetes using the oral glucose tolerance test. British Medical Journal, 339 (7733), 1268-1269. Retrieved from: http:/​/​www.jstor.org/​stable/​doc25673375
Creating references in APA style
Each reference must be structured according to the rules for that source type. These rules vary between books, journal articles, internet articles and more. APA references can be created either manually or by using our APA Citation Generator, which can retrieve all information automatically based on the website URL, journal DOI or book ISBN.
You should include a reference for all sources you have cited in the text. Don't include sources you have only consulted. There are four types of source that are never included in an APA reference page:
APA book citation
Format

AuthorSurname

,

Initials

. (

Year of publication

). Book Title (

edition

).

City

,

Country/State

:

Publisher

Example
Ibrahimovic, Z., Lagercrantz, D., & Urbom, R. (2012). I Am Zlatan Ibrahimovic. New York, NY: Penguin Books.
APA journal citation
Format

AuthorSurname

,

Firsts

. (

Year of publication

).

Article title

. Journal title,

Volume number

 (

Issue Number

),

page numbers

. https://doi.org/

number

Example
Sundbo, J., & Gallouj, F. (2000). Innovation as a loosely coupled system in services. Innovation systems in the service economy, 18, pp. 43-68. https://doi.org/​10.1007/978-1-4615-4425-8_3
Multiple authors in APA
A standard source reference begins with the author's surname, followed by a comma, then the initial(s) of his or her first name.
If there are multiple authors, place a comma between each of the author names and an ampersand ("&") before the last author's name. If there are more than eight authors, list the first six followed by an ellipses "…" followed by the last author.
There should always be a period after the author name(s).
| Number of authors | Example (journal article format) |
| --- | --- |
| 1 author | Bentham, G. (1996). Association Between Incidence Of Non-Hodgkin's Lymphoma And Solar Ultraviolet Radiation In England And Wales. BMJ: British Medical Journal, 312(7039), 1128-1131. Retrieved from http://www.jstor.org/stable/29731519 |
| 2 authors | Mead, G., & Whitehouse, J. (1986). Regular Review: Modern Management Of Non-Hodgkin's Lymphoma. British Medical Journal (Clinical Research Edition), 293(6547), 577-580. Retrieved from http://www.jstor.org/stable/29524395 |
| 3 – 7 authors | Ishii, K., Hosoi, Y., Yamada, S., Ono, T., & Sakamoto, K. (1996). Decreased Incidence of Thymic Lymphoma in AKR Mice as a Result of Chronic, Fractionated Low-Dose Total-Body X Irradiation. Radiation Research, 146(5), 582-585. https://doi.org/10.2307/3579560 |
| 8+ authors | Zoufaly, A., Stellbrink, H., An der Heiden, M., Kollan, C., Hoffmann, C., Van Lunzen, J., . . . ClinSurv Study Group. (2009). Cumulative HIV Viremia during Highly Active Antiretroviral Therapy Is a Strong Predictor of AIDS-Related Lymphoma. The Journal of Infectious Diseases, 200(1), 79-87. Retrieved from http://www.jstor.org/stable/40255115 |
Formatting the reference page
An APA reference page must also adhere to various apa format requirements, including indentation, spacing and margins. It is also vital that your reference list is alphabetized. This is how it should look: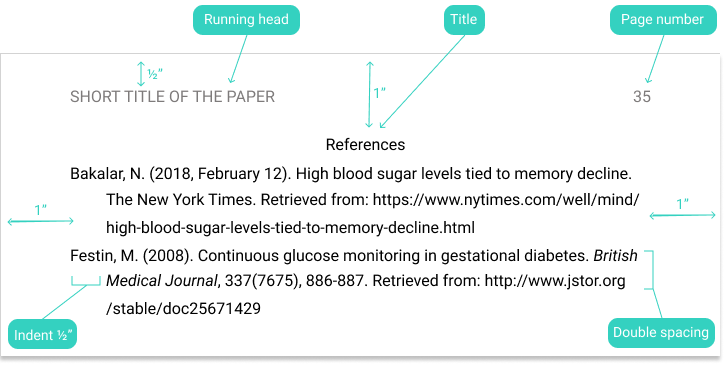 One inch (2.54 cm) page margins on all sides
Times New Roman font in 12 pt
'References' as title (centered)
Running head (top left corner)
Page number (top right corner)
Double spacing within and between references
½ inch hanging indent for references longer than one line.
Alignment instructions for Word
Make sure you can see the ruler at the top of the page (change the setting under the "View" tab if you cannot).
Select all text in the reference list.
The ruler will show two triangles and one square. Drag the bottom triangle to the right, half an inch, to set the hanging indent.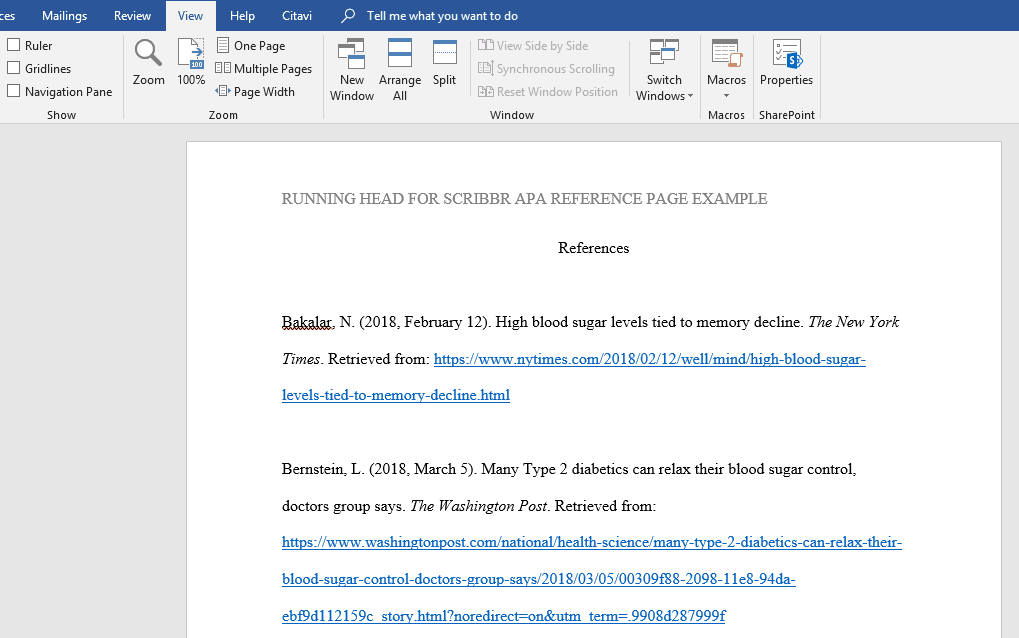 Dividing URLs
Microsoft Word sees a URL as one word and will always split a long URL over more than one line. This often leaves a lot of white space. See the screenshot below:

To avoid this, you want Word to divide the URL after a slash. You can divide a URL after a slash by placing your cursor after the slash and then clicking on Insert → Symbol → More Symbols… → Special Characters. Then add the character "No-Width Optional Break" or type ALT+8203.
You can also do this for all the slashes in your document by using the Find and Replace function in Word. At "Find what", insert a slash. At "Replace with" insert a slash and then type ALT+8203. Then click "Replace All."
Alphabetizing
The last step in creating the perfect APA reference page is to ensure the sources are correctly alphabetized, usually based on the author's surname. Word can do this automatically for you. We also wrote an in-depth article on how to alphabetize the APA reference list.
APA format for other sections
The reference page is not the only part of your paper with specific formatting requirements in APA style. Read our APA format quick guide or see our articles on the APA format guidelines of the title pages, running head, abstract and headings.
You have already voted. Thanks :-)
Your vote is saved :-)
Processing your vote...