How to Cite a Report in APA Style | Format & Examples
Reports may be published by governments, task groups, or other organizations. To reference a report with an individual author, include the author's name and initials, the report title (italicized), the report number, the organization that published it, and the URL (if accessed online, e.g. as a PDF).
APA format

Author last name

,

Initials

. (

Year

). Report title: Subtitle (Report No.

number

).

Publisher name

.

URL

APA reference entry
Bedford, D. A. D. (2017). Enterprise information architecture: An overview (Report No. WA-RD 896.4). Washington State Department of Transportation. https://www.wsdot.wa.gov/research/reports/fullreports/896-4.pdf
APA in-text citation
(Bedford, 2017, p. 12)
Note that brochures are cited in a similar format. You can easily create accurate APA citations using our free Citation Generator.
Report with multiple authors
When a report has multiple authors, up to 20 should be listed in the reference.
If the report has 21 or more authors, list the first 19, then an ellipsis, then the last listed author:
With in-text citations, list up to two authors. For three or more, list the first followed by "et al."
| | |
| --- | --- |
| 2 authors | (Bedford & Caulfield, 2012) |
| 3+ authors | (Davis et al., 2015) |
Report with organization as author
Sometimes, reports do not list individual authors, only the organization responsible. In these cases, list the organization in the author position.
| | |
| --- | --- |
| APA reference entry | Europeana Task Force on Metadata Quality. (2015). Report and recommendations from the Task Force on Metadata Quality. Europeana. https://pro.europeana.eu/files/Europeana_Professional/Europeana_Network/metadata-quality-report.pdf |
| APA in-text citation | (Europeana Task Force on Metadata Quality, 2015) |
This sometimes results in the name of the author and publisher being identical. Omit the second mention of the organization in this case.
Where to find the report number
Many reports are associated with a specific number. If a report has a number, it will typically be listed in the database where you found the report.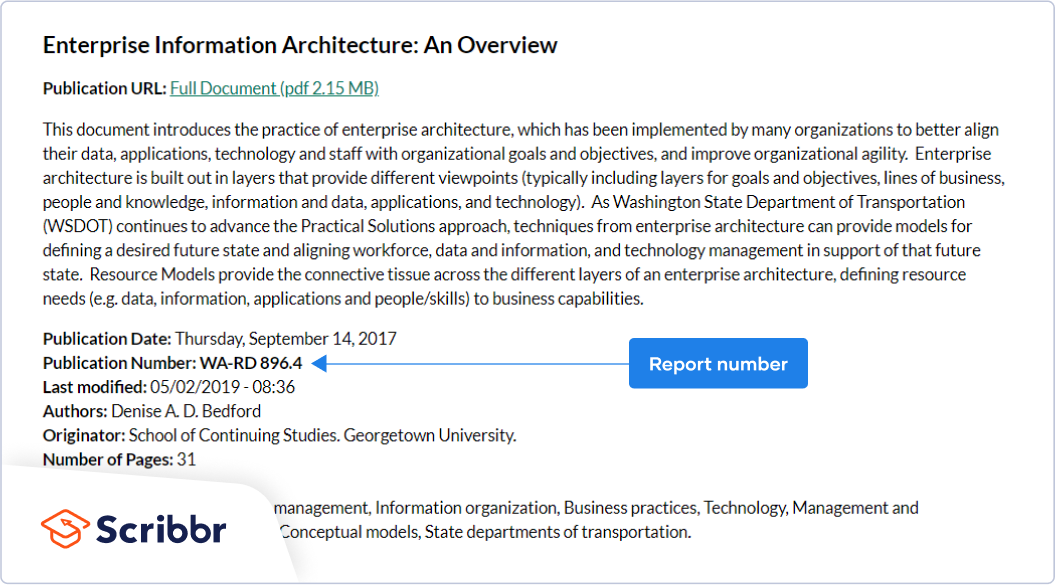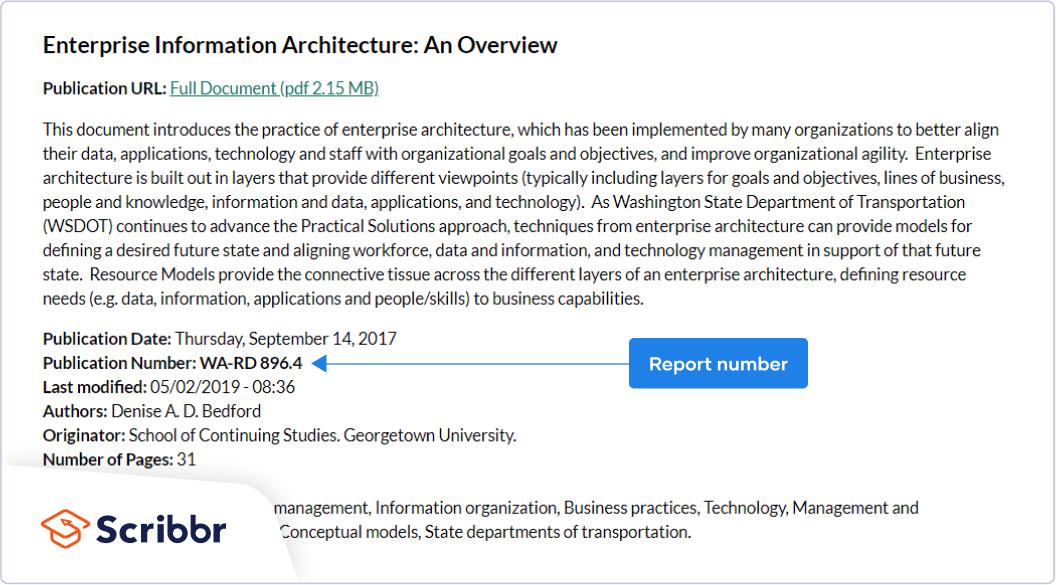 It will also generally appear on the cover or title page of the report itself.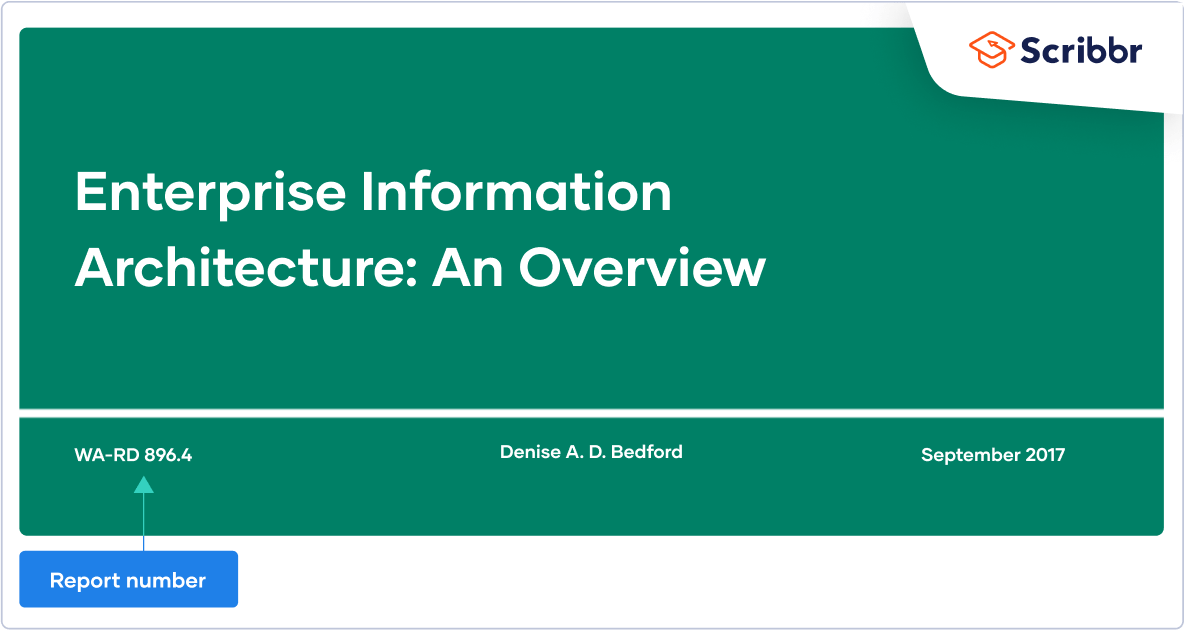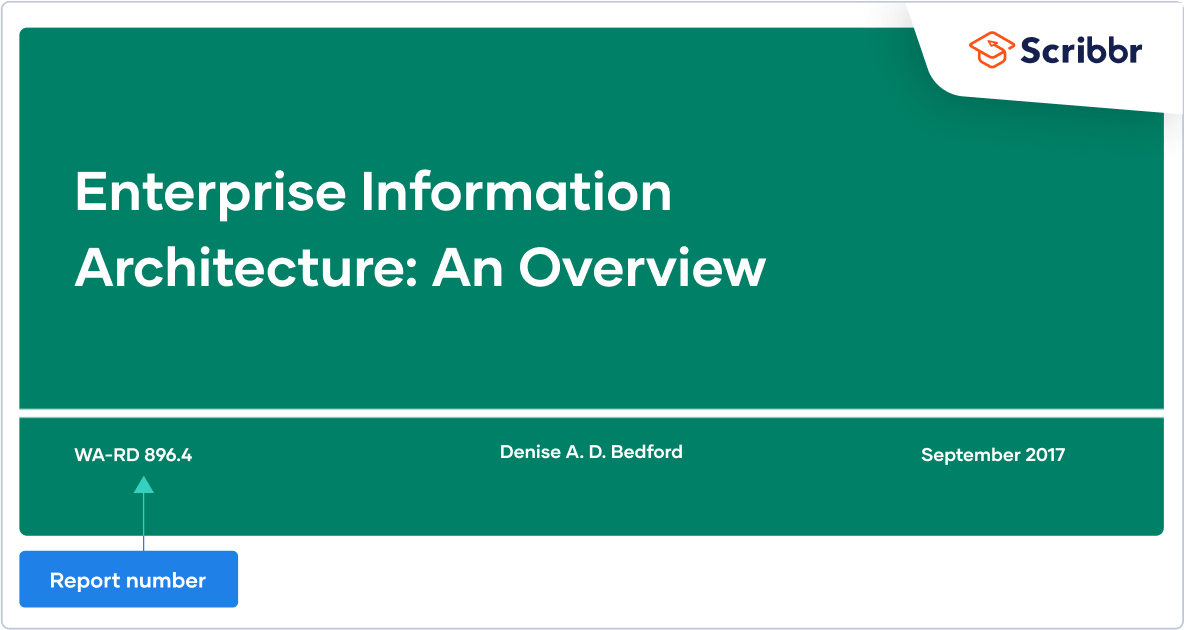 A report number should always be included when available, but if a report doesn't have one, you can just leave this part out.
Frequently asked questions about APA Style citations
When no individual author name is listed, but the source can clearly be attributed to a specific organization—e.g., a press release by a charity, a report by an agency, or a page from a company's website—use the organization's name as the author in the reference entry and APA in-text citations.

When no author at all can be determined—e.g. a collaboratively edited wiki or an online article published anonymously—use the title in place of the author. In the in-text citation, put the title in quotation marks if it appears in plain text in the reference list, and in italics if it appears in italics in the reference list. Shorten it if necessary.

The abbreviation "et al." (meaning "and others") is used to shorten APA in-text citations with three or more authors. Here's how it works:

Only include the first author's last name, followed by "et al.", a comma and the year of publication, for example (Taylor et al., 2018).

You may include up to 20 authors in a reference list entry.

When an article has more than 20 authors, replace the names prior to the final listed author with an ellipsis, but do not omit the final author:

Davis, Y., Smith, J., Caulfield, F., Pullman, H., Carlisle, J., Donahue, S. D., James, F., O'Donnell, K., Singh, J., Johnson, L., Streefkerk, R., McCombes, S., Corrieri, L., Valck, X., Baldwin, F. M., Lorde, J., Wardell, K., Lao, W., Yang, P., . . . O'Brien, T. (2012).
Cite this Scribbr article
If you want to cite this source, you can copy and paste the citation or click the "Cite this Scribbr article" button to automatically add the citation to our free Citation Generator.
You have already voted. Thanks :-)
Your vote is saved :-)
Processing your vote...