APA Headings and Subheadings | With Sample Paper
Headings and subheadings provide structure to a document. They signal what each section
is about and allow for easy navigation of the document.
APA headings have five possible levels. Each heading level is formatted differently.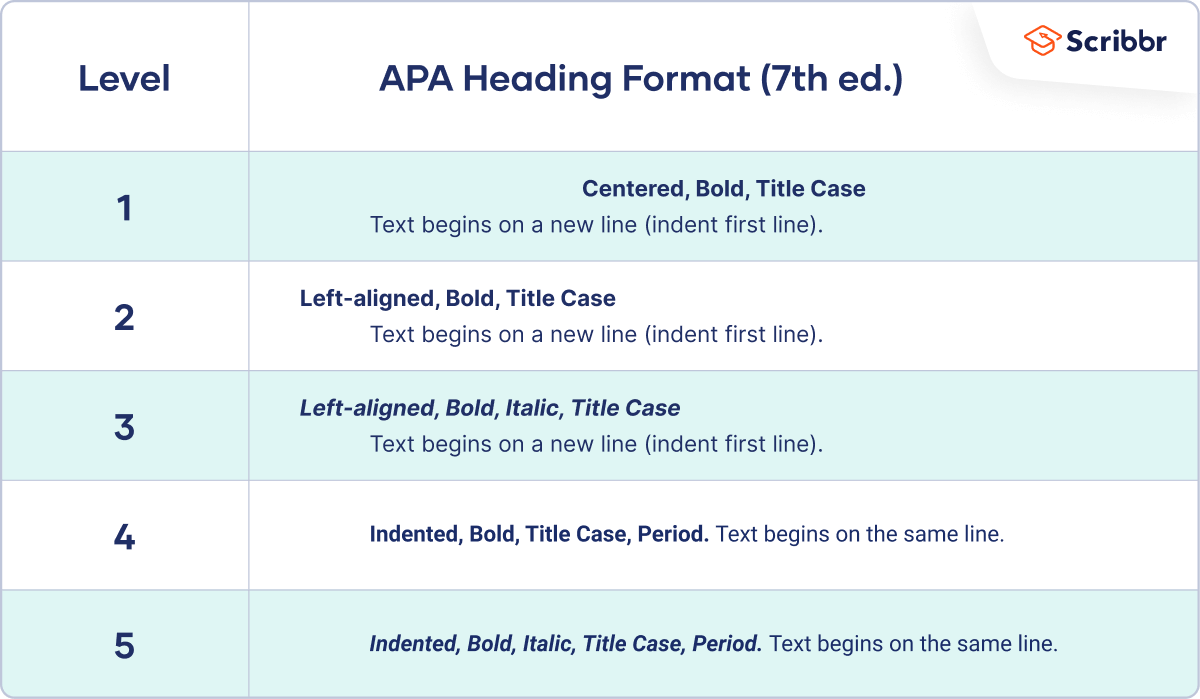 Additional guidelines for APA headings
As well as the heading styles, there are some other guidelines to keep in mind:
Double-space all text, including the headings.
Use the same font for headings and body text (e.g., Times New Roman 12pt.).
Don't label headings with numbers or letters.
Don't add extra "enters" above or below headings.
How many heading levels should you use?
Depending on the length and complexity of your paper, you may not use all five heading levels. In fact, shorter student papers may have no headings at all.
It's also perfectly fine for some sections in your paper to go as deep as five levels, where others use only heading level 1.
When to use which APA heading level
Heading level 1 is used for main sections like "Methods", "Results", and "Discussion". There is no "Introduction" heading at the beginning of your paper because the first paragraphs are understood to be introductory.
Heading level 2 is used for subsections under level 1. For example, under "Methods" (level 1) you may have subsections for "Sampling Method" and "Data Analysis" (level 2). This continues all the way down to heading level 5.
Always use at least two subheadings or none at all. If there is just one subheading, the top-level heading is sufficient.
Section labels vs headings
In addition to regular headings, APA works with "section labels" for specific parts of the paper. They're similar to headings but are formatted differently. Section labels are placed on a separate line at the top of a new page in bold and centered.
Use section labels for the following sections in an APA formatted paper:
Sample paper with APA headings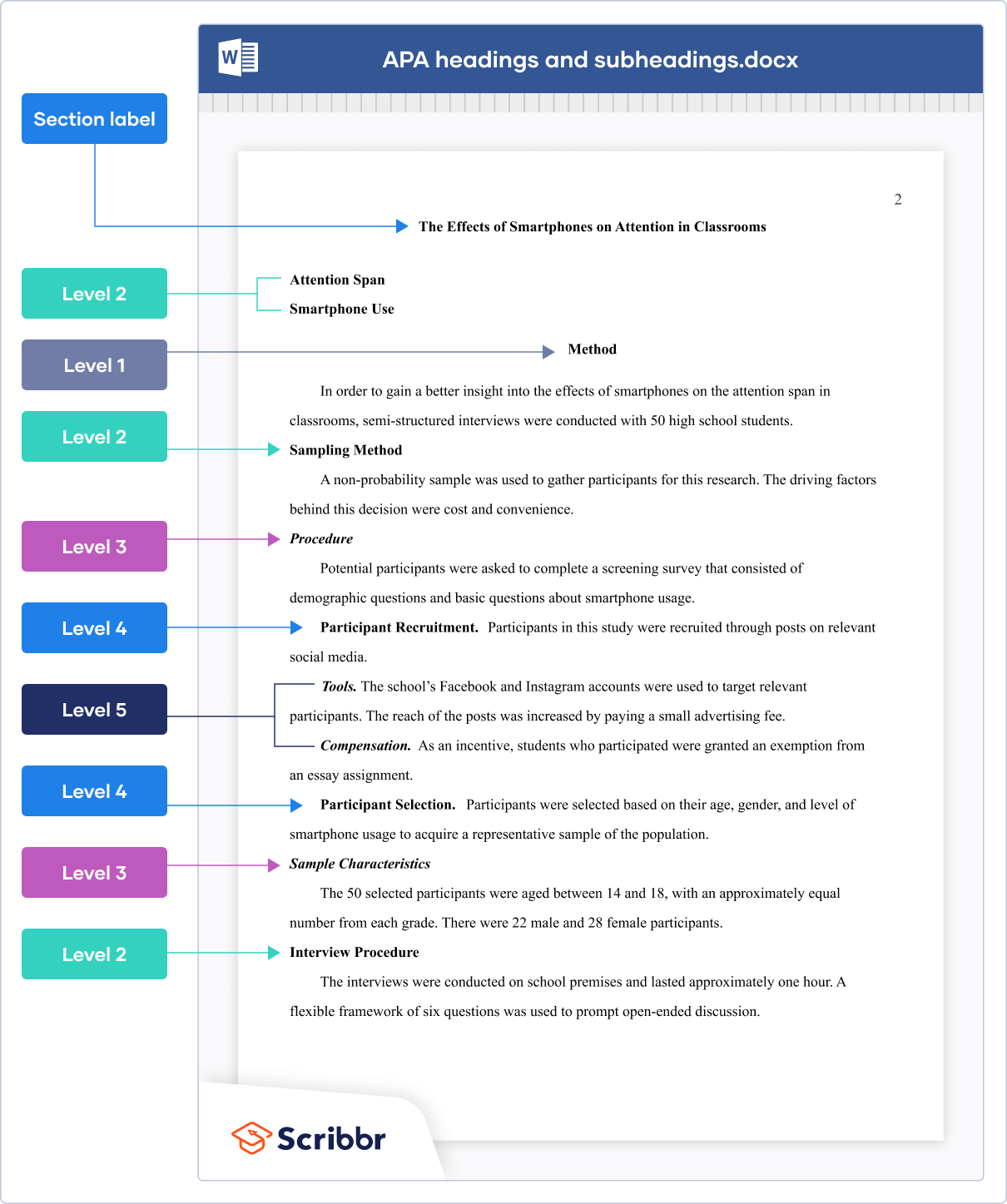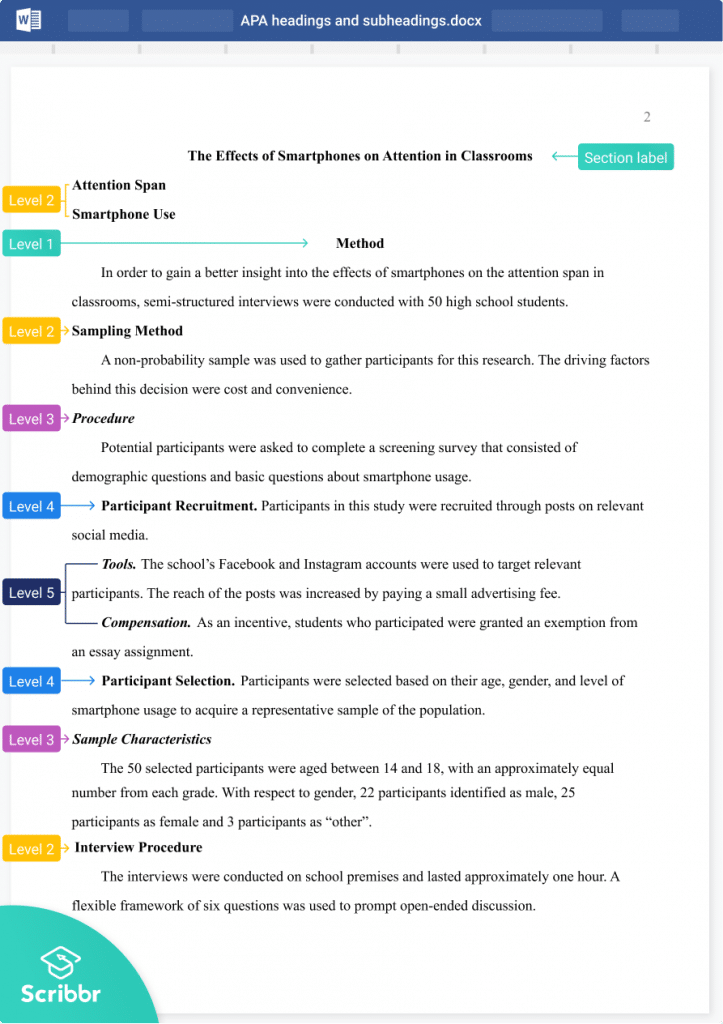 Using heading styles in Word or Google Docs
Instead of formatting every heading individually, you can use the "Styles" feature in Word or Google Docs. This allows you to save the styling and apply it with just a click.
The first time you use APA Style, you need to update the default heading styles to reflect the APA heading guidelines. Click here for the instructions for Microsoft Word and Google Docs.
An added benefit of using the "Styles" feature is that you can automatically generate a table of contents.
Cite this Scribbr article
If you want to cite this source, you can copy and paste the citation or click the "Cite this Scribbr article" button to automatically add the citation to our free Citation Generator.
You have already voted. Thanks :-)
Your vote is saved :-)
Processing your vote...