How to Block Quote | Length, Format and Examples
A block quote is a long quotation, set on a new line and indented to create a separate block of text. No quotation marks are used. You have to use a block quote when quoting more than around 40 words from a source.
In APA and MLA styles, you indent block quotes 0.5 inches from the left, and add an in-text citation after the period. Some other citation styles have additional rules.
Block quote example
Although Brontë lived an isolated life, she writes about human emotion with remarkable insight, as exemplified by Heathcliff's impassioned speech:
Catherine Earnshaw, may you not rest as long as I am living; you said I killed you – haunt me, then! The murdered DO haunt their murderers, I believe. I know that ghosts HAVE wandered on earth. Be with me always – take any form – drive me mad! only DO not leave me in this abyss, where I cannot find you! Oh, God! it is unutterable! I CANNOT live without my life! I CANNOT live without my soul! (Brontë, 1847, 268)
How long is a block quote?
The minimum length of a block quote varies between citation styles. Some styles require block quote formatting based on the number of words, while others require it based on the number of lines.
Citation style
Block quote minimum length
Harvard
30 words
APA
Vancouver
40 words
ACS
50 words
Chicago
APSA
100 words
MLA
Four lines of prose
Three lines of poetry or verse
OSCOLA
IEEE
Three lines
AMA
AAA
Four lines
Turabian
Five lines
Step 1: Introduce the quote
Every time you quote a source, it's essential to show the reader exactly what purpose the quote serves. A block quote must be introduced in your own words to show how it fits into your argument or analysis.
If the text preceding the block quote is a complete sentence, use a colon to introduce the quote. If the quote is a continuation of the sentence that precedes it, you don't need to add any extra punctuation.
The opioid addiction crisis in the United States has grown to result in approximately 140,000 deaths per year, and there is increasing pressure on government to confront this issue. A recent New York Times editorial argued that
lawmakers and regulators need to stop pharmaceutical companies from marketing drugs like OxyContin and establish stronger guidelines about how and when doctors can prescribe them. These drugs are often the last resort for people with cancer and other terminal conditions who experience excruciating pain. But they pose a great risk when used to treat the kinds of pain for which there are numerous non-addictive therapies available. (The Editorial Board, 2018)
Step 2: Format and cite the quote
Block quotes are not enclosed in quotation marks. Instead, they must be formatted to stand out from the rest of the text, signalling to the reader that the words are taken directly from a source. Each citation style has specific formatting rules.
APA and MLA format both require an indent of 0.5 inches on the left side. Block quotes are double spaced, the same as the rest of the document. Some other citation styles also require indentation on the right side, different spacing, or a smaller font.
To format a block quote in Microsoft Word, follow these steps:
Hit Enter at the beginning and end of the quote.
Highlight the quote and select the Layout menu.
On the Indent tab, change the left indent to 0.5″.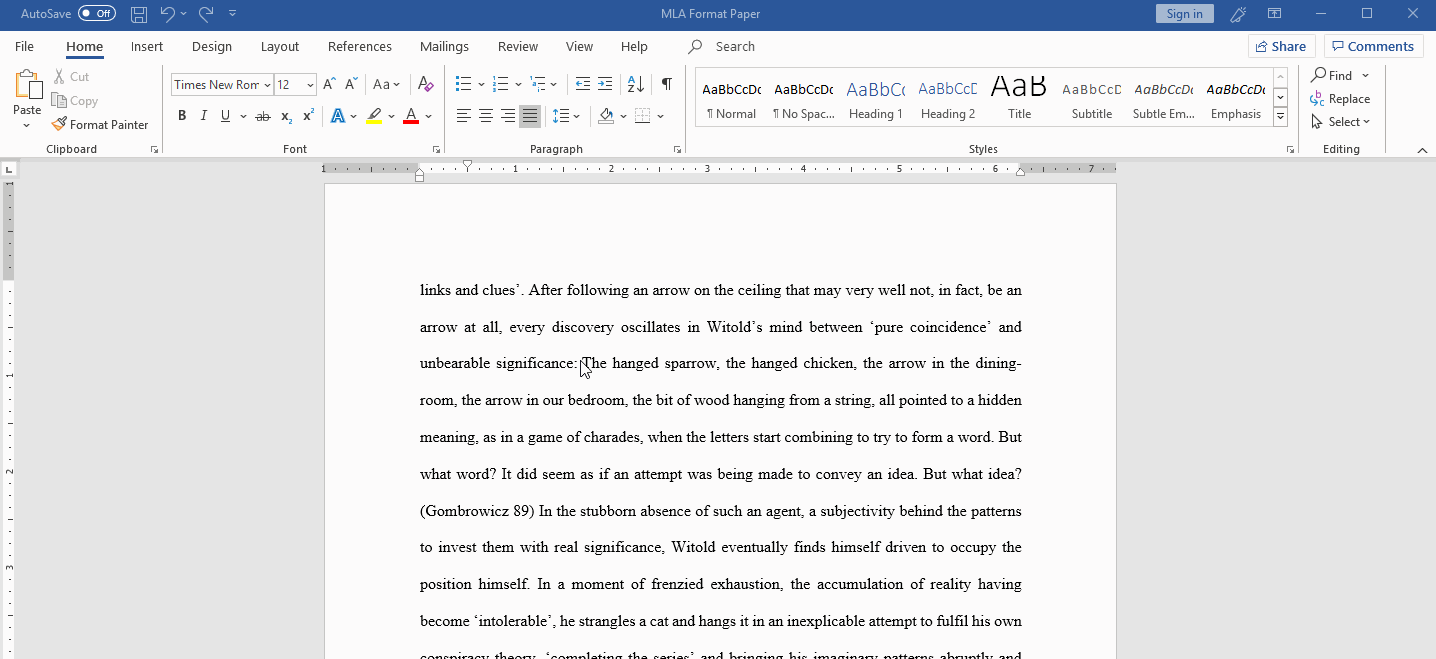 Block quotes of more than one paragraph
If you quote more than one paragraph, indent the first line of the new paragraph as you would in the main text.
Example of quoting more than one paragraph
The opening paragraphs of Harry Potter and the Sorcerer's Stone introduce the Dursley family in the lighthearted tone that characterizes much of the series:
Mr. and Mrs. Dursley, of number four, Privet Drive, were proud to say that they were perfectly normal, thank you very much. They were the last people you'd expect to be involved in anything strange or mysterious, because they just didn't hold with such nonsense.
Mr. Dursley was the director of a firm called Grunnings, which made drills. He was a big, beefy man with hardly any neck, although he did have a very large mustache. Mrs. Dursley was thin and blonde and had nearly twice the usual amount of neck, which came in very useful as she spent so much of her time craning over garden fences, spying on the neighbors. The Dursleys had a small son called Dudley and in their opinion there was no finer boy anywhere. (Rowling 1)
Citing block quotes
All block quotes must end with a citation that directs the reader to the correct source. How the citation looks depends on the citation style. In most styles, including APA and MLA, the parenthetical citation comes after the period at the end of a block quote.
Step 3: Comment on the quote
A paragraph should never end with a block quote. Directly after the quote, you need to comment on it in your own words. Depending on the purpose of the block quote, your comment might involve:
Analyzing the language of the quoted text
Explaining how the quote relates to your argument
Giving further context
Summarizing the overall point you want to make
When to use block quotes
Block quotes should be used when the specific wording or style of the quoted text is essential to your point. How often you use them depends partly on your field of study.
In the arts and humanities, block quotes are frequently used to conduct in-depth textual analysis.
In social science research involving interviews or focus groups, block quotes are often necessary when analyzing participants' responses.
In scientific writing, block quotes are very rarely used.
Avoid relying on block quotes from academic sources to explain ideas or make your points for you. In general, quotes should be used as sparingly as possible, as your own voice should be dominant. When you use another author's ideas or refer to previous research, it's often better to paraphrase.
You have already voted. Thanks :-)
Your vote is saved :-)
Processing your vote...