What Is Deep Learning? | A Beginner's Guide
Deep learning is a type of technology that allows computers to simulate how our brains work.
More specifically, it is a method that teaches computers to learn and make decisions independently, without explicitly programming them. Instead of telling a computer exactly what to look for, we show it many examples and let it learn on its own.
Deep learning is the technology behind many popular AI applications like chatbots (e.g., ChatGPT), virtual assistants, and self-driving cars.
How does deep learning work?
Deep learning uses artificial neural networks that mimic the structure of the human brain. Similar to the interconnected neurons in our brain, which send and receive information, neural networks form (virtual) layers that work together inside a computer.
These networks consist of multiple layers of nodes, also known as neurons. Each neuron receives input from the previous layer, processes it, and passes it on to the next layer. In this way, the model gradually learns to recognize increasingly complex patterns in the data.
The adjective "deep" in "deep learning" refers to the use of multiple layers in the network through which the data is processed.
There are different types of neural networks, but in its simplest form, a deep learning neural network contains:
An input layer. This is where we feed the data such as image or text for processing.
Multiple hidden layers. These are where most of the learning happens: they learn to identify important patterns and features in the data. As the data flow through the network, the complexity of the patterns and features learned increases. The first hidden layer could learn to detect simple patterns, like the edges of an image, while the last one learns how to detect more complex features like texture or shape, related to the type of object we are trying to recognize. Eventually, the network can determine which features (e.g., muzzle) are most important to tell one breed apart from another.
An output layer, where the final prediction or classification is made. For example, if the network is trained to recognize dog breeds, the output layer might give the probabilities that the input is a German Shepherd or some other breed.
It is also possible to train a deep learning model to move backwards, from output to input. This process allows the model to calculate errors and make adjustments so that the next predictions or other outputs are more accurate.
Deep learning vs. machine learning
Deep learning is a specialized form of machine learning that was developed to make machine learning more efficient. Essentially, deep learning is an evolution of machine learning.
Machine learning (ML) is a subset of artificial intelligence (AI), the branch of computer science in which machines are taught to perform tasks normally associated with human intelligence, such as decision-making and language-based interaction.
ML is the development of computer programs that can access data and use it to learn for themselves. However, deep learning and ML differ in terms of:
The type of data they work with
The methods with which they learn
Traditional ML requires structured, labeled data (e.g., quantitative data in the form of numbers and values). Human experts manually identify relevant features from the data and design algorithms (i.e., a set of step-by-step instructions) for the computer to process those features. ML is more dependent on human intervention to learn.
On the other hand, deep learning models can process unstructured data such as audio files or social media posts, and determine which features distinguish different categories of data from one another, without human intervention. In other words, a deep learning network just needs data and a task description, and it learns how to perform its task automatically.
Deep learning vs. machine learning

| Deep learning | Machine learning (ML) |
| --- | --- |
| A subset of machine learning | A subset of artificial intelligence |
| Requires large datasets for training | Can be trained on small datasets |
| Learns on its own | Human input is needed to correct errors and improve learning |
| Works with unstructured data (e.g., text, audio files, social media posts) | Can only use structured data to make predictions (e.g., dates, names, credit card numbers) |
| Continues to improve as the size of the dataset increases | Reaches a certain level of performance |
| Requires a lot of computational power | Requires less computational power |
What are different types of learning?
Deep learning, just like machine learning, uses several learning techniques:
Supervised learning is used when the training data consist of labeled examples—i.e., the correct answer is included. For example, a dataset that includes images of different dogs as well as the corresponding dog breed.
Unsupervised learning is the task of learning from unlabeled data. Instead, the algorithm detects patterns in the data and classifies the information by itself. For example, the dataset could consist of images of different animals but no description (label). The algorithm will learn how to group animals that belong to the same species on its own, by identifying similarities and differences.
Reinforcement learning (RL) is the task of learning through trial and error. Here, the algorithm learns through rewards and punishments by interacting with its environment. For instance, playing a video game and utilizing this mode of learning, an algorithm can figure out which actions maximize the rewards (i.e., lead to the highest score). Deep reinforcement learning is a specialized form of RL that utilizes deep neural networks to solve more complex problems.
What is the role of AI in deep learning?
While artificial intelligence (AI) is the broad science of using technology to build machines and computers that mimic human abilities (e.g., seeing, understanding, making recommendations), deep learning more specifically imitates the way humans gain certain types of knowledge.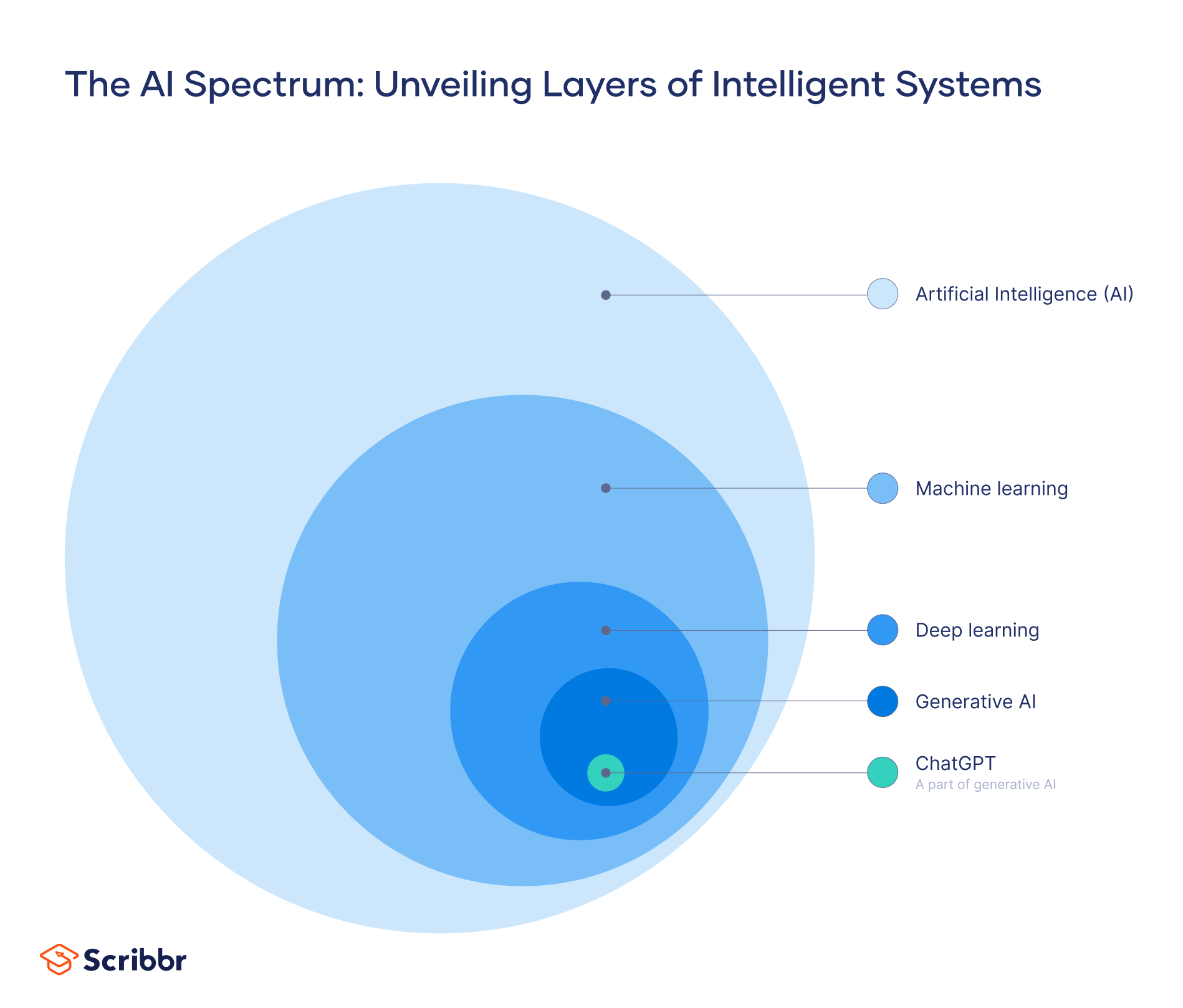 AI provides the overarching framework and concepts that guide deep learning algorithms and models. Within the field of deep learning, AI helps with the definition of goals and objectives, as well as the methods employed to attain them.
AI facilitates the creation and development of neural networks. These neural networks can learn complicated patterns and representations from vast volumes of data. AI provides the principles and techniques necessary to successfully train these networks, allowing them to improve their performance as they learn from additional examples.
Furthermore, AI guides deep learning model evaluation and optimization. It aids in determining which model architecture, parameters, and training procedures are best suited to a particular problem or activity.
What are some practical applications of deep learning?
Deep learning has a broad range of applications across various domains, continuously pushing the boundaries of what computers can do. Here are some everyday applications of deep learning.
Personalized recommendations
Video streaming services (e.g., Amazon, Netflix) learn your preferences to offer you suggestions. Each time you indicate that you like a movie or series by watching it to the end or adding it to your library, the service updates its algorithms to feed you more accurate recommendations.
As a student, you may encounter recommendation systems in online learning platforms that suggest relevant courses or study materials based on your interests and learning history.
Natural language processing (NLP)
Computers can understand and process human language with increasing accuracy in spoken and written forms. This ability has a wide range of applications, from chatbots and voice-enabled assistants to automatic text summarization and paraphrasing tools.
In research, NLP-powered sentiment analysis of social media posts can reveal whether people are positive, negative, or neutral towards a brand, a product, or an issue.
Computer vision
Computer vision refers to the computer's ability to recognize objects and extract useful information from images or videos. Using deep learning, computers can understand what they are "looking at" in a way similar to humans.
This application allows autonomous vehicles to recognize traffic signs and pedestrians, but it is also used in online content moderation to automatically block unsafe or inappropriate content, as well as for virtual try-on experiences in fashion.
Advantages and limitations of deep learning
Deep learning, just like any technology, comes with a set of advantages and limitations. It is important to be aware of these so that you can better understand what deep learning can and cannot do.
Advantages
Deep learning has a number of advantages, such as the following:
Deep learning algorithms can handle both structured and unstructured data, without relying on a human expert. Deep learning excels at pinpointing complex patterns and relationships in data, making it suitable for tasks like image recognition, natural language processing, and speech recognition.
It allows for independence in extracting relevant features. Feature extraction is the process of finding and highlighting important patterns or characteristics in data that are relevant for solving a particular task.
Its accuracy continues to improve over time with more training and more data.
It can self-correct; after its training, it requires little (if any) human interference.
Limitations
However, deep learning still has some limitations:
Deep learning insights are only as good as the data we train the model with. Relying on unrepresentative training data or data with flawed information that reflects historical inequalities, some deep learning models may replicate or amplify human biases around ethnicity, gender, age, and so on. This is called algorithmic bias.
Deep learning models require large computational and storage power to perform complex mathematical calculations. These hardware requirements can be costly. Moreover, compared to conventional machine learning, this approach requires more time to train.
These models have a so-called "black box" problem. In deep learning models, the decision-making process is opaque and cannot be explained in a way that can be easily understood by humans. If an autonomous vehicle injures a pedestrian, for example, we can't trace the model's "thought process" and see exactly what factors led to this mistake.
Other interesting articles
If you want to know more about ChatGPT, AI tools, fallacies, and research bias, make sure to check out some of our other articles with explanations and examples.
Frequently asked questions about deep learning
Cite this Scribbr article
If you want to cite this source, you can copy and paste the citation or click the "Cite this Scribbr article" button to automatically add the citation to our free Citation Generator.
You have already voted. Thanks :-)
Your vote is saved :-)
Processing your vote...