Interrogative Pronouns | Definition, Examples & List
Interrogative pronouns are pronouns that are used to ask questions. The main English interrogative pronouns are what, which, who, whom, and whose.
An interrogative pronoun normally appears at the start of a question, but it may instead appear in the middle or at the end, depending on the phrasing. A question can also include more than one interrogative pronoun.
Like other pronouns, interrogative pronouns are said to have an antecedent. This is the noun or noun phrase that they stand for. The antecedent of an interrogative pronoun is the answer to the question.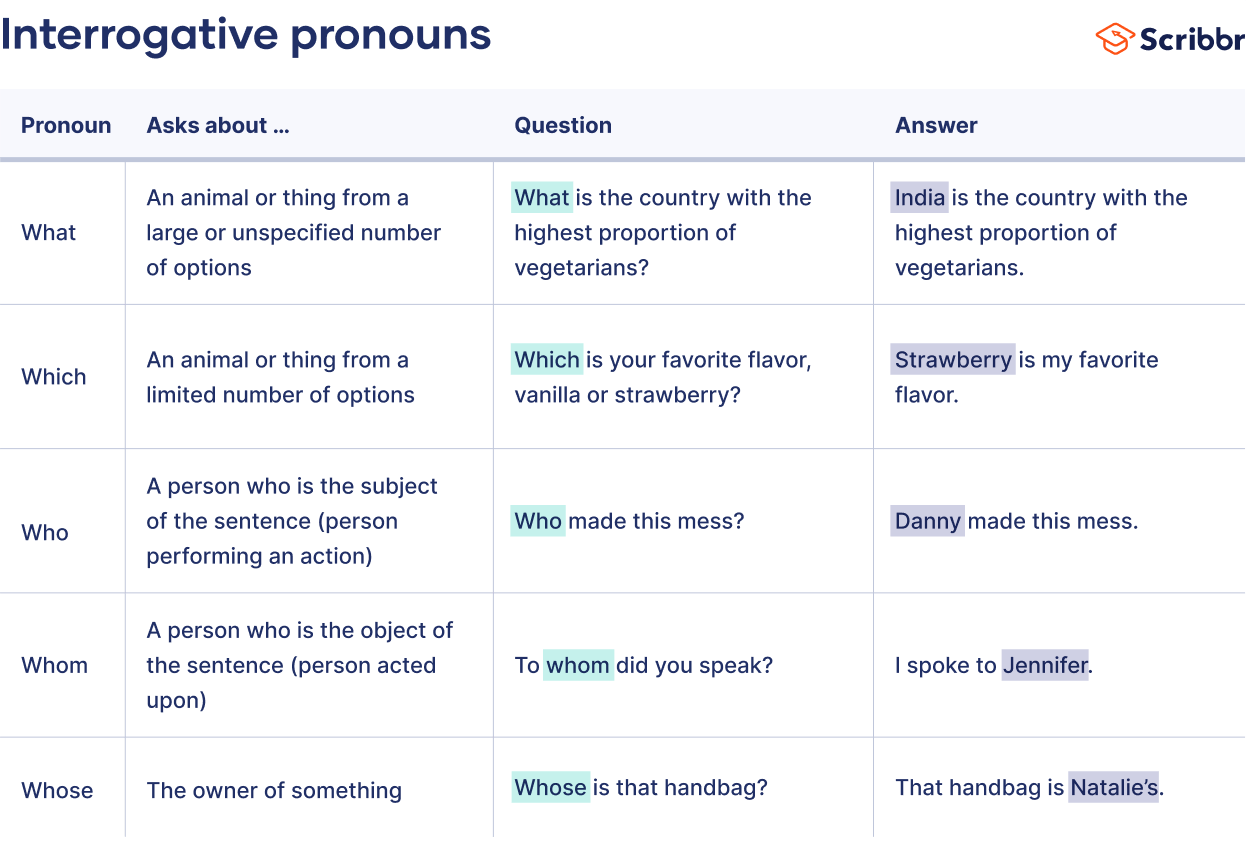 Interrogative pronouns in indirect questions
Interrogative pronouns are used in both direct and indirect questions:
A direct question is a sentence ending in a question mark, like the examples above.
An indirect question is a sentence that doesn't end in a question mark but still implicitly asks a question, reports a question asked by someone else, or states whether the answer to a question is known.
Even when an indirect question is implicitly a request for information, it should still end in a period, not a question mark, according to most style guides.
I was wondering what you think?
I was wondering what you think.
What do you think?
Who vs. whom
Who and whom play different roles in a sentence, and it's important to use them correctly in academic writing (even though in everyday communication, people rarely use "whom" at all).
Who functions as a subject pronoun (i.e., the person/people performing an action)
Whom functions as an object pronoun (i.e., the person/people being acted upon)
What vs. which
What and which are sometimes used interchangeably, but they differ slightly in meaning.
What is used in questions where there is a wide range of possible answers.
Which is used when there are only a few possible answers to choose from, either explicitly listed or implied by the nature of the question.
Compound interrogative pronouns
You can add "-ever" to any of the interrogative pronouns mentioned above to create the compound interrogative pronouns whatever, whichever, whoever, whomever, and (quite rarely) whosever.
These pronouns are used to add emphasis, suggesting that the question is particularly perplexing to the person asking it. They are often used in a facetious way to suggest that you know very well what the answer to your question is. It's generally not appropriate to use them in academic writing.
Other interrogative words (adverbs and determiners)
Interrogative pronouns are not the only words used to ask questions. Other words used for the same purpose are classified as different parts of speech. The other interrogative words are:
The interrogative adverbs (when, where, why, and how)
The interrogative determiners (what, which, and whose)
In the cases of what, which, and whose, whether they're classed as pronouns or determiners depends on their role in the question. When they replace nouns, as in the earlier examples, they are pronouns; when they modify nouns, they are determiners.
Interrogative vs. relative pronouns
All the interrogative pronouns can also function as relative pronouns. Relative pronouns are words used to introduce a relative clause: a clause providing extra information about the preceding noun or noun phrase.
Frequently asked questions
An interrogative pronoun is a pronoun that is used to introduce a question. The main English interrogative pronouns are what, which, who, whom, and whose.

They can be used in a direct question, which ends in a question mark (e.g., "What is your favorite color?") and indirect questions, which don't have a question mark (e.g., "I asked what her favorite color was").

"Interrogative" is an adjective that means "used in a question" or "having the form of a question."

Interrogative words (sometimes simply called "interrogatives") are words used to introduce questions: interrogative pronouns such as "who," interrogative adverbs such as "why," and interrogative determiners such as "which."

"Interrogative sentence" is another way of saying "question": a sentence ending in a question mark that functions as a request for information.

An interrogative sentence is a question. An interrogative sentence always ends in a question mark.

Interrogative sentences are marked by the use of interrogative words (interrogative pronouns, interrogative adverbs, and interrogative determiners; e.g., "who," "why") or by a form of the auxiliary verb "do" (e.g., "Do you like me?") or the main verb "be" (e.g., "Are you warm?").

Note that an indirect question (e.g., "I wonder what he thinks") does not count as an interrogative sentence and should not end in a question mark.
Sources in this article
We strongly encourage students to use sources in their work. You can cite our article (APA Style) or take a deep dive into the articles below.
This Scribbr article
Sources
Show all sources (3)
You have already voted. Thanks :-)
Your vote is saved :-)
Processing your vote...