How to cite a movie in APA
A movie or documentary can be a useful source for your paper. When you decide to use one of these sources, you need to know how to cite a movie in APA style.
To cite a movie or documentary correctly, you must use an in-text citation and include the source in the reference list.
Be aware that if you would like to cite a Youtube video, there are other rules you need to follow.
APA movie citation
Citing a documentary or movie in APA Style
APA format

ProducerLastName

,

Initials

. (Producer), &

DirectorLastName

,

Initials

. (Director). (

Year

). MovieTitle [

Motion Picture

].

Country: NameStudio

.
Reference list
Finerman, W., Starkey, S. P., Tisch, S. (Producers), & Zemeckis, R. (Director). (1994). Forrest Gump [Motion Picture]. United States: Paramount Pictures.
In-text citation

The movie Forrest Gump by

Finerman, Starkey, Tisch, and Zemeckis (1994)

is an example of … .
Forrest Gump invented the smiley

(Finerman, Starkey, Tisch, & Zemeckis, 1994)
Explanations and exceptions
Depending on the number of producers and directors, there are different APA Style rules. Read more about how to cite sources with multiple authors.
When a person is both a producer and director, indicate this by adding "(Producer/Director)" after their name instead of only "(Producer)."
Always italicize the movie title.
Always use [Motion Picture] to indicate the movie format, except when the movie is on DVD [DVD] or VHS [VHS].
If the movie or documentary is produced by Netflix (Netflix original) or another streaming service, you should replace the country and name of the production studio with "Retrieved from [source]". E.g. "Retrieved from https://www.netflix.com."
Where to find the information to cite a movie
The information needed to cite the movie can be easily found on IMDb (Internet Movie Database).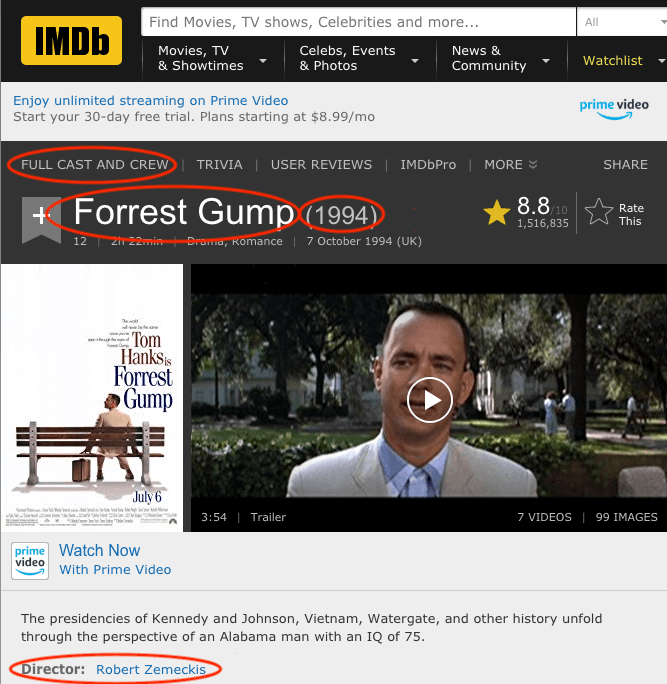 Search for the movie using the title (e.g. 'Forrest Gump').
The release year is displayed right after the title. In this case, 1994
Above the title, there is a tab called "Full cast and crew." Here you can find the producer(s) and director(s).

The director (Robert Zemeckis) is shown on top
Below the cast you will find the producers (Wendy Finerman, Steve Starkey and Steve Tisch). You don't need to cite the co-producers, line producers or associate producers.

Now, go back to the movie's overview page and scroll down to the heading "details." Here you find the country of origin (USA) and the production company/ studio. In this example it is "Paramount Pictures."
You have already voted. Thanks :-)
Your vote is saved :-)
Processing your vote...