APA journal citation
The APA citation format shown is similar for both online and printed journal articles. The general format is shown below. For printed works, simply finish the reference list entry after the page numbers (omit the DOI). 
Format

AuthorLastName

,

Initials

., &

Author LastName

,

Initials

. (

Year

).

Title of article

. Title of Journal, Volume(

Issue

),

Page Number(s)

. https://doi.org/

number

Reference list
Andreff, W., & Staudohar, P. D. (2000). The evolving European model of professional sports finance. Journal of Sports Economics, 1(3), 257-276. https://doi.org/10.1177/152700250000100304
In-text citation

Recent research suggests that … 

(Andreff & Staudohar, 2000)

.
In a recent study

Andreff and Staudohar (2000)

found that … .
You can also use the free APA Citation Generator to create your APA journal article citations. All you need to do so is the URL or DOI of the journal. With the click of a button, the generator retrieves all other field!
Where to find the information
All information required to cite an APA journal article should be displayed on the page where you find the journal article. Some journal publishers even include the citation ready for APA with the click of a button.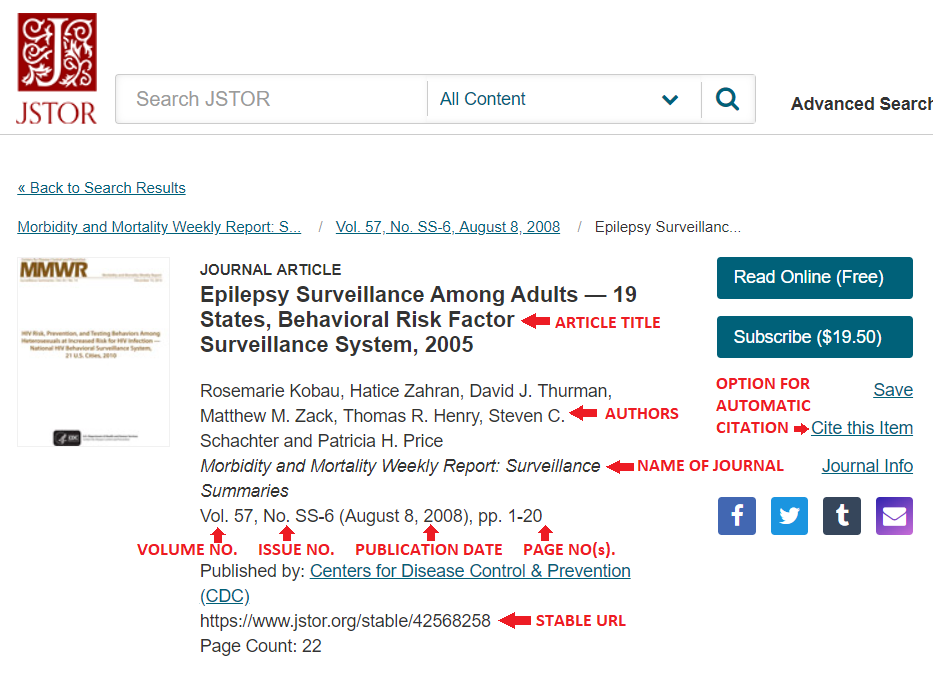 What is a DOI?
A DOI, or Digital Object Identifier, is a permanent URL that ensures anyone following the link will always be able to access the article. DOIs were implemented with journal articles due to the possibility for URLs to change, thereby always ensuring there is a reliable link.
When including a DOI in an APA journal article citation, include the version formatted like a standard internet URL as in the example above (i.e., https://doi.org/10.1177/0038038511435061).
Not all journals or journal databases will provide a DOI link, but where one is available, the APA journal article citation format recommends that you use this link rather than the URL.
Note that some databases provide their own version of a permanent URL, for example, JSTOR features a "stable URL." If any version of a stable URL or DOI is available, this should always be your preference rather than the standard URL that appears in the browser.
Credible sources for journal articles
It is crucial that you use credible primary sources, when writing your paper, as doing so ensures the credibility and accuracy of your own research. Peer-reviewed academic journals are the most reliable sources available, but there are many journals that are not peer reviewed or refereed.
Therefore, you should carefully assess the credibility of each journal article you consider using.
What is peer review?
Peer reviewed articles have been assessed and approved by academic experts in the relevant field. The best academic journals will always follow the peer review (also called "referee") process prior to publication, so you can trust that the information they publish is credible and accurate.
For journal articles, you can refer to the Journal Quality List, which provides a ranking of credible journals. In addition, you can check our list of credible sources for journal articles or learn how to apply the CRAAP Test.
Avoid plagiarism by citing correctly
Remember to ensure all of your sources, whether they are journals or not, are correctly cited in text every time you quote, paraphrase or summarize information from other researchers' work.
To help make sure you have cited everything correctly, you can run use a plagiarism checker to put your mind at ease before you submit your paper. To help you find the most suitable plagiarism checker we compared the best plagiarism checkers available.
Searching for information on citing journals in other styles? Read our guide to MLA journal article citation.
You have already voted. Thanks :-)
Your vote is saved :-)
Processing your vote...