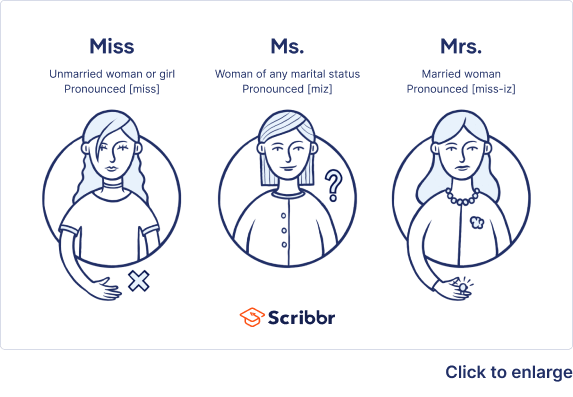 The words Ms., Mrs., and Miss are all titles used to address women formally (e.g., at the start of an email). Which one you should use depends on the age and marital status of the woman, as well as on her own preference about how she should be addressed.
Ms. (pronounced [miz]) is a neutral option that doesn't indicate any particular marital status. It's most commonly used for older unmarried women and for women whose marital status you don't know, but you can use it for any adult woman.
Mrs. (pronounced [miss-iz]) is used to address a married woman of any age.
Miss (pronounced [miss]) is used to address a young unmarried woman or girl.
| Examples: Ms. in a sentence | Examples: Mrs. in a sentence | Examples: Miss in a sentence |
| --- | --- | --- |
| Ms. Nielsen is a talented pianist. I hope she'll play for us at the party. | I've known Mr. and Mrs. Jayna for a few years. | Excuse me, miss. Is this your backpack? |
| Have you met Ms. Sofi before? | Mrs. Thompson is an entrepreneur; she started her own business last year. | I always get too much homework from Miss Jonas. |
Continue reading: Ms. vs. Mrs. vs. Miss | Difference & Pronunciation