How to Create a Title Page in Turabian/Chicago Style
Turabian style, a version of Chicago style designed specifically for writing research papers, theses and dissertations, provides detailed guidelines for formatting a title page.
A title page is not mandatory; if you haven't been told to include one, just centering your title at the top of the first page is fine. If you do include one, the key guidelines are:
Title and subtitle appear ⅓ of the way down the page.
Other information (e.g. your name, the date, class information) appears ⅔ down the page.
All text is center-aligned and double-spaced.
No page number is included on the title page.
Any specific guidelines given to you by your instructor or faculty overrule the guidelines presented here.
How to create a title page
The title page is the very first page of your text, appearing before the table of contents, acknowledgements, abstract, etc.
All text on your title page should be presented in the same font you use for the main text, center-aligned and double-spaced. The title page does not feature a page number, but it is included in the page count – that means that the following page should be page 2.
Formatting the title
The title appears roughly ⅓ of the way down the page (it's not important to be precise) in bold. It can also be written in a larger font size than the rest of the text, though this is optional.
Use headline capitalization, which means capitalizing all important words:
Summary of results
Summary of Results
If you have a subtitle, the main title should be followed by a colon, and the subtitle should appear on the next line. It should also appear in headline capitalization, in bold, and in the same font size as the main title.
Other information
Roughly ⅔ of the way down the page, add any other information your instructor or faculty requires you to include. This information should not be in bold, and should be in the same font size as your main text. Each new piece of information appears on a new line.
This might include your name, student number, the course name and number, and/or your instructor's name, among other things. There's no standard list of information to include, but you'll usually be told clearly by your university what needs to be here.
Chicago/Turabian title page example
Below is an example of a typical title page following Turabian guidelines: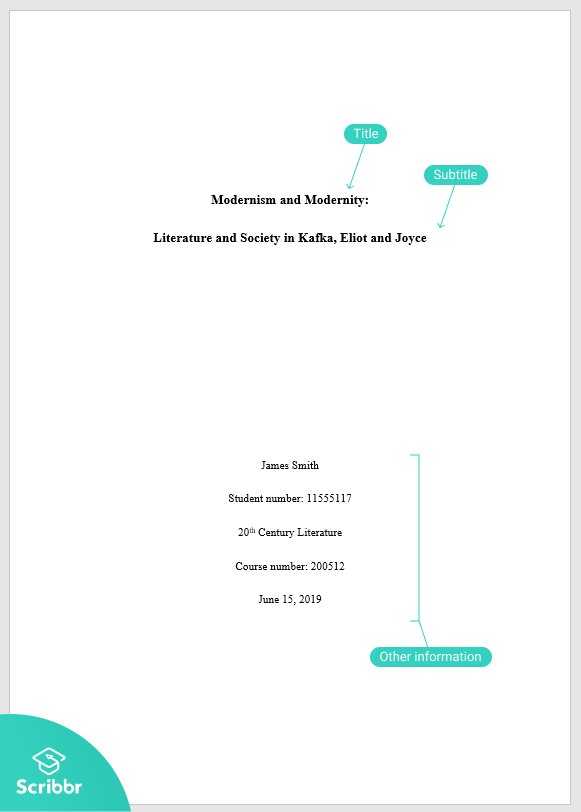 You have already voted. Thanks :-)
Your vote is saved :-)
Processing your vote...