Sample theoretical framework of a dissertation
The theoretical framework defines the key concepts in your research, proposes relations between them, and discusses relevant theories and models based on a literature review.

A strong theoretical framework gives your research a sound scientific basis, demonstrates your understanding of existing knowledge on the topic, and allows the reader to evaluate your guiding assumptions. It gives your research direction, allowing you to convincingly interpret, explain and generalize from your findings.


Your problem statement, research questions and literature review will serve as the basis for preparing your theoretical framework.
Sample problem statement and research questions
Company X is struggling with the problem that many online customers do not return to make subsequent purchases. Management wants to increase customer loyalty and believes that improved customer satisfaction will play a major role in achieving this goal.
To investigate this problem, you have identified and plan to focus on the following problem statement, objective, and research questions:
Problem: Many online customers do not return to make subsequent purchases.
Objective: To increase customer loyalty and thereby generate more revenue.
Research question: 'How can the satisfaction of company X's online customers be improved in order to increase customer loyalty?'
Sub-Questions:
'What is the relationship between customer loyalty and customer satisfaction?'
'How satisfied and loyal are company X's online customers currently'
'What factors affect the satisfaction and loyalty of company X's online customers?'
As the concepts of "loyalty" and "customer satisfaction" play a major role in the investigation and will later be measured, they are essential concepts to define within the theoretical framework.
Below is a (simplified) example of how you can describe and compare definitions as well as theories from the literature. In this example, we focus on the concept of 'customer satisfaction.'
Sample theoretical framework
2.1 Customer satisfaction
Thomassen (2003, p. 69) defines customer satisfaction as follows: "the perception of the customer as a result of consciously or unconsciously comparing his experiences with his expectations". Kotler & Keller (2008, p. 80) build on this definition, stating that customer satisfaction is determined by "the degree to which someone is happy or disappointed with the observed performance of a product in relation to his or her expectations". Performance that is below expectations leads to a dissatisfied customer, while performance that satisfies expectations produces satisfied customers. Expectations being exceeded leads to a "very satisfied or even pleasantly surprised customer" (Kotler & Keller, 2003, p. 80).
The definition of Zeithaml & Bitner (2003, p. 86) is slightly different from that of Thomassen: "Satisfaction is the consumer fulfillment response. It is a judgement that a product or service feature, or the product of service itself, provides a pleasurable level of consumption-related fulfillment." The emphasis of Zeithaml & Bitner is thus on obtaining a certain satisfaction in relation to purchasing.
The definition of Thomassen will be used in the current study, given the importance of perception. This meshes well with the offerings of company X, which fall into the luxury category. Although Zeithaml & Bitner (like Thomassen) say that customer satisfaction is a reaction to the experience gained and focus on a certain satisfaction, there is no distinction between conscious and unconscious comparisons in their definition. Company X claims in its mission statement (see Chapter 1) that it wants to sell not only a product, but also a feeling; as a result, unconscious comparison will play an important role. The definition of Thomassen is therefore more relevant to the current study.
Thomassen's Customer Satisfaction Model
According to Thomassen, both the so-called value proposition and other influencers have an impact on final customer satisfaction. In his satisfaction model (Fig. 1), Thomassen shows that word-of-mouth, personal needs, past experiences, and marketing and public relations determine customers' needs and expectations. These factors are compared to their experiences, and this comparison between expectations and experiences determines a customer's satisfaction level. Thomassen's model is important in this study, as it can reveal both to what extent company X's customers are satisfied and where improvements are necessary.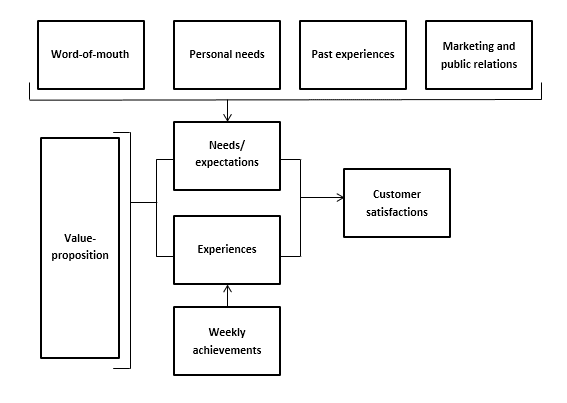 Fig. 1: Customer satisfaction creation (Thomassen, 2007, p.30).
Of course, you could analyze the concepts more thoroughly and compare additional definitions to each other. You could also discuss the theories and ideas of key authors in greater detail and provide several models to illustrate different concepts.
It is just critical that you correctly cite all of your sources sources throughout the theoretical framework; the APA Style can guide you on how to do this.
If you do not cite your sources you risk committing plagiarism. Read more about the consequences of plagiarism and how to avoid plagiarism.
Here's why students love Scribbr's proofreading services
What belongs in a theoretical framework
We have also prepared a summary of everything you need to know in order to create an appropriate theoretical framework for your dissertation.
You have already voted. Thanks :-)
Your vote is saved :-)
Processing your vote...