Figure and Table Lists | Word Instructions, Template & Examples
A list of figures and tables compiles all of the figures and tables that you used in your thesis or dissertation, along with their corresponding page numbers. These lists give your reader an overview of how you have used figures and tables in your document.
While these lists are often not required, you may want to include one as a way to stay organized if your dissertation topic leads you to use several figures and tables over the course of your paper. Your educational institution may require one, so be sure to check their guidelines. Ultimately, if you do choose to add one, it should go directly after your table of contents.
You can download our Microsoft Word template below to help you get started.
How to create a list of figures and tables in Word
The first step to creating your list of figures and tables is to ensure that each of your figures and tables has a caption. This way, Microsoft Word will be able to find each one and compile them in your list automatically.
To do this, follow these steps:
Navigate to the References tab, and click "Insert Caption," which you can find in the Captions group.
Give your caption a name. In the Label list, you can select the label that best describes your figure or table, or make your own by selecting "New Label."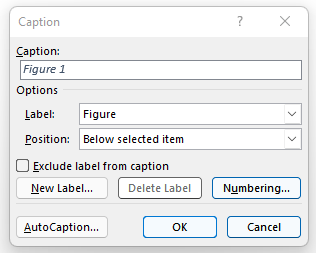 Next, you can insert the list of tables and figures directly by clicking "Insert Table of Figures," which can be found to the right of the "Insert Caption" button. Be careful here—the list will only include items that you have marked using the "Insert Caption" tool!
You can choose the formatting and layout within this menu as well, as you can see below.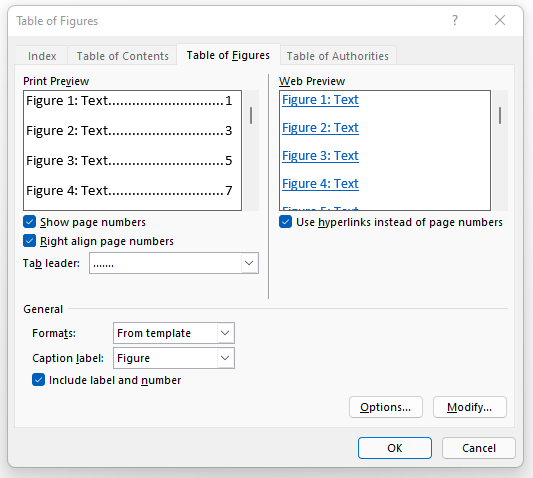 There are a few things to remember as you go:
Figures and tables always need to be numbered, with clear titles.
If a figure or table is taken from or based on another source, be sure to cite your sources.
Example of a list of tables and figures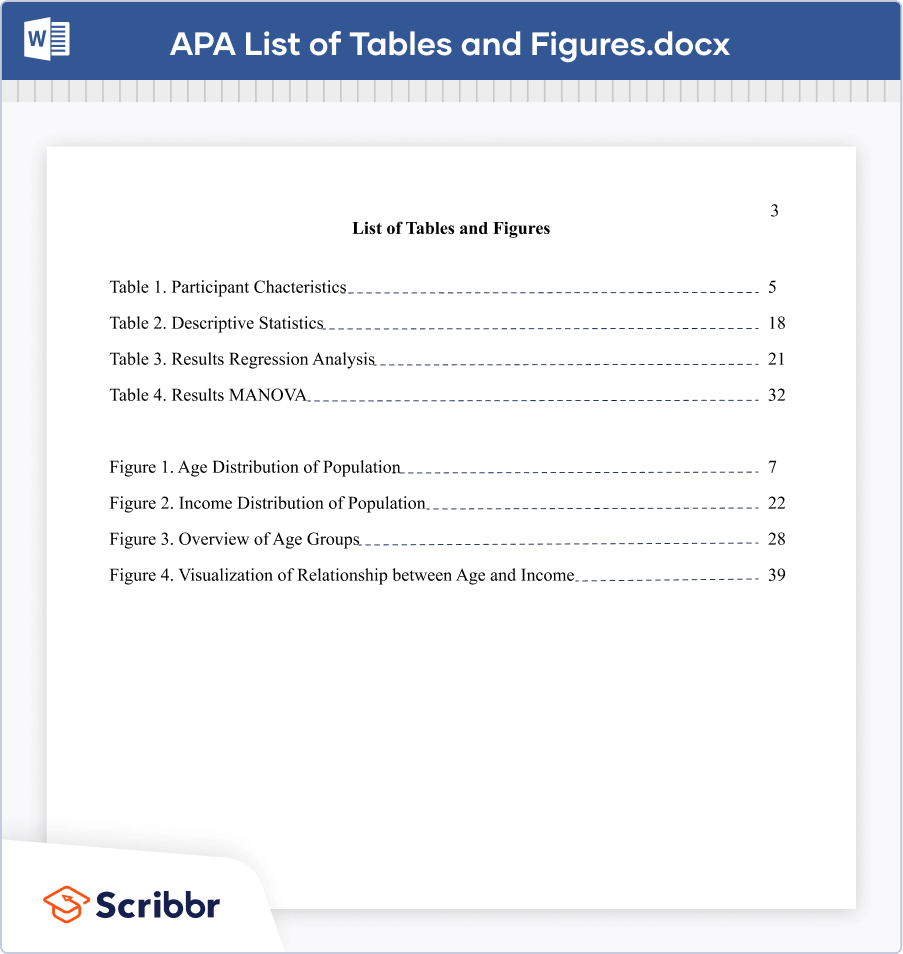 Additional lists to consider
In addition to your list of tables and figures, there are a few other lists to consider for your thesis or dissertation. They can be placed in the following order:
Other interesting articles
If you want to know more about AI for academic writing, AI tools, or research bias, make sure to check out some of our other articles with explanations and examples or go directly to our tools!
Frequently asked questions about the list of tables and figures
Cite this Scribbr article
If you want to cite this source, you can copy and paste the citation or click the "Cite this Scribbr article" button to automatically add the citation to our free Citation Generator.
You have already voted. Thanks :-)
Your vote is saved :-)
Processing your vote...