What Is Peer Review? | Types & Examples
Peer review, sometimes referred to as refereeing, is the process of evaluating submissions to an academic journal. Using strict criteria, a panel of reviewers in the same subject area decides whether to accept each submission for publication.
Peer-reviewed articles are considered a highly credible source due to the stringent process they go through before publication.
There are various types of peer review. The main difference between them is to what extent the authors, reviewers, and editors know each other's identities. The most common types are:
Relatedly, peer assessment is a process where your peers provide you with feedback on something you've written, based on a set of criteria or benchmarks from an instructor. They then give constructive feedback, compliments, or guidance to help you improve your draft.
What is the purpose of peer review?
Many academic fields use peer review, largely to determine whether a manuscript is suitable for publication. Peer review enhances the credibility of the manuscript. For this reason, academic journals are among the most credible sources you can refer to.
However, peer review is also common in non-academic settings. The United Nations, the European Union, and many individual nations use peer review to evaluate grant applications. It is also widely used in medical and health-related fields as a teaching or quality-of-care measure.
Peer assessment is often used in the classroom as a pedagogical tool. Both receiving feedback and providing it are thought to enhance the learning process, helping students think critically and collaboratively.
Types of peer review
Depending on the journal, there are several types of peer review.
Single-blind peer review
The most common type of peer review is single-blind (or single anonymized) review. Here, the names of the reviewers are not known by the author.
While this gives the reviewers the ability to give feedback without the possibility of interference from the author, there has been substantial criticism of this method in the last few years. Many argue that single-blind reviewing can lead to poaching or intellectual theft or that anonymized comments cause reviewers to be too harsh.
Double-blind peer review
In double-blind (or double anonymized) review, both the author and the reviewers are anonymous.
Arguments for double-blind review highlight that this mitigates any risk of prejudice on the side of the reviewer, while protecting the nature of the process. In theory, it also leads to manuscripts being published on merit rather than on the reputation of the author.
Triple-blind peer review
While triple-blind (or triple anonymized) review—where the identities of the author, reviewers, and editors are all anonymized—does exist, it is difficult to carry out in practice.
Proponents of adopting triple-blind review for journal submissions argue that it minimizes potential conflicts of interest and biases. However, ensuring anonymity is logistically challenging, and current editing software is not always able to fully anonymize everyone involved in the process.
Collaborative review
In collaborative review, authors and reviewers interact with each other directly throughout the process. However, the identity of the reviewer is not known to the author. This gives all parties the opportunity to resolve any inconsistencies or contradictions in real time, and provides them a rich forum for discussion. It can mitigate the need for multiple rounds of editing and minimize back-and-forth.
Collaborative review can be time- and resource-intensive for the journal, however. For these collaborations to occur, there has to be a set system in place, often a technological platform, with staff monitoring and fixing any bugs or glitches.
Open review
Lastly, in open review, all parties know each other's identities throughout the process. Often, open review can also include feedback from a larger audience, such as an online forum, or reviewer feedback included as part of the final published product.
While many argue that greater transparency prevents plagiarism or unnecessary harshness, there is also concern about the quality of future scholarship if reviewers feel they have to censor their comments.
The peer review process
In general, the peer review process includes the following steps:
First, the author submits the manuscript to the editor.
The editor can either:

Reject the manuscript and send it back to the author, or
Send it onward to the selected peer reviewer(s)

Next, the peer review process occurs. The reviewer provides feedback, addressing any major or minor issues with the manuscript, and gives their advice regarding what edits should be made.
Lastly, the edited manuscript is sent back to the author. They input the edits and resubmit it to the editor for publication.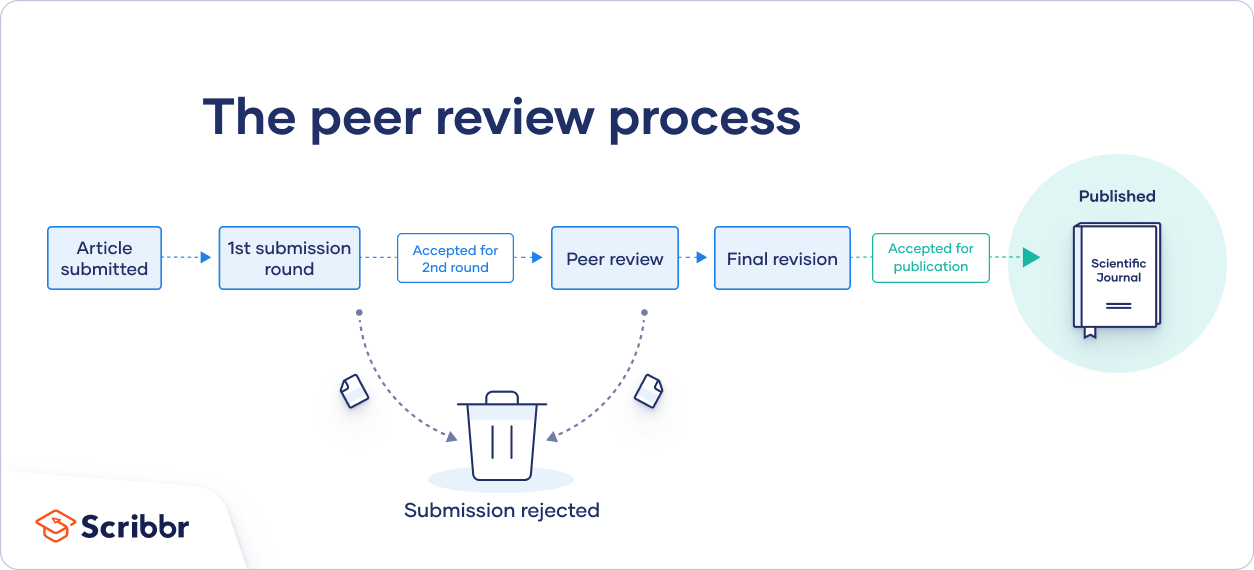 In an effort to be transparent, many journals are now disclosing who reviewed each article in the published product. There are also increasing opportunities for collaboration and feedback, with some journals allowing open communication between reviewers and authors.
Providing feedback to your peers
It can seem daunting at first to conduct a peer review or peer assessment. If you're not sure where to start, there are several best practices you can use.
Summarize the argument in your own words
Summarizing the main argument helps the author see how their argument is interpreted by readers, and gives you a jumping-off point for providing feedback. If you're having trouble doing this, it's a sign that the argument needs to be clearer, more concise, or worded differently.
If the author sees that you've interpreted their argument differently than they intended, they have an opportunity to address any misunderstandings when they get the manuscript back.
Separate your feedback into major and minor issues
It can be challenging to keep feedback organized. One strategy is to start out with any major issues and then flow into the more minor points. It's often helpful to keep your feedback in a numbered list, so the author has concrete points to refer back to.
Major issues typically consist of any problems with the style, flow, or key points of the manuscript. Minor issues include spelling errors, citation errors, or other smaller, easy-to-apply feedback.
Tip: Try not to focus too much on the minor issues. If the manuscript has a lot of typos, consider making a note that the author should address spelling and grammar issues, rather than going through and fixing each one.
The best feedback you can provide is anything that helps them strengthen their argument or resolve major stylistic issues.
Give the type of feedback that you would like to receive
No one likes being criticized, and it can be difficult to give honest feedback without sounding overly harsh or critical. One strategy you can use here is the "compliment sandwich," where you "sandwich" your constructive criticism between two compliments.
Be sure you are giving concrete, actionable feedback that will help the author submit a successful final draft. While you shouldn't tell them exactly what they should do, your feedback should help them resolve any issues they may have overlooked.
As a rule of thumb, your feedback should be:
Easy to understand
Thorough
Constructive
Peer review example
Below is a brief annotated research example. You can view examples of peer feedback by hovering over the highlighted sections.
Advantages of peer review
Peer review is an established and hallowed process in academia, dating back hundreds of years. It provides various fields of study with metrics, expectations, and guidance to ensure published work is consistent with predetermined standards.
Protects the quality of published research
Peer review can stop obviously problematic, falsified, or otherwise untrustworthy research from being published. Any content that raises red flags for reviewers can be closely examined in the review stage, preventing plagiarized or duplicated research from being published.
Gives you access to feedback from experts in your field
Peer review represents an excellent opportunity to get feedback from renowned experts in your field and to improve your writing through their feedback and guidance. Experts with knowledge about your subject matter can give you feedback on both style and content, and they may also suggest avenues for further research that you hadn't yet considered.
Helps you identify any weaknesses in your argument
Peer review acts as a first defense, helping you ensure your argument is clear and that there are no gaps, vague terms, or unanswered questions for readers who weren't involved in the research process. This way, you'll end up with a more robust, more cohesive article.
Criticisms of peer review
While peer review is a widely accepted metric for credibility, it's not without its drawbacks.
The more transparent double-blind system is not yet very common, which can lead to bias in reviewing. A common criticism is that an excellent paper by a new researcher may be declined, while an objectively lower-quality submission by an established researcher would be accepted.
The thoroughness of the peer review process can lead to significant delays in publishing time. Research that was current at the time of submission may not be as current by the time it's published. There is also high risk of publication bias, where journals are more likely to publish studies with positive findings than studies with negative findings.
By its very nature, peer review carries a risk of human error. In particular, falsification often cannot be detected, given that reviewers would have to replicate entire experiments to ensure the validity of results.
Other interesting articles
If you want to know more about statistics, methodology, or research bias, make sure to check out some of our other articles with explanations and examples.
Frequently asked questions about peer reviews
Cite this Scribbr article
If you want to cite this source, you can copy and paste the citation or click the "Cite this Scribbr article" button to automatically add the citation to our free Citation Generator.
You have already voted. Thanks :-)
Your vote is saved :-)
Processing your vote...