Extraneous Variables | Examples, Types & Controls
In an experiment, an extraneous variable is any variable that you're not investigating that can potentially affect the outcomes of your research study.
If left uncontrolled, extraneous variables can lead to inaccurate conclusions about the relationship between independent and dependent variables. They can also introduce a variety of research biases to your work, particularly selection bias
Research question
Extraneous variables
Is memory capacity related to test performance?

Test-taking time of day
Test anxiety
Level of stress

Does sleep deprivation affect driving ability?

Road conditions
Years of driving experience
Noise

Does light exposure improve learning ability in mice?

Type of mouse
Genetic background
Learning environment
Why do extraneous variables matter?
Extraneous variables can threaten the internal validity of your study by providing alternative explanations for your results.
When not accounted for, this type of variable can also introduce many biases to your research, particularly types of selection bias such as:
Survivorship bias : when researchers draw conclusions by only focusing on examples of successful individuals (the "survivors") rather than the group as a whole.
Nonresponse bias: when people who don't respond to a survey are different in significant ways from those who do.
Undercoverage bias: when some members of your population are not represented in the sample.
In an experiment, you manipulate an independent variable to study its effects on a dependent variable.
When extraneous variables are uncontrolled, it's hard to determine the exact effects of the independent variable on the dependent variable, because the effects of extraneous variables may mask them.
Uncontrolled extraneous variables can also make it seem as though there is a true effect of the independent variable in an experiment when there's actually none.
Controlling extraneous variables is an important aspect of experimental design. When you control an extraneous variable, you turn it into a control variable.
Extraneous vs. confounding variables
A confounding variable is a type of extraneous variable that is associated with both the independent and dependent variables.
An extraneous variable is anything that could influence the dependent variable.
A confounding variable influences the dependent variable, and also correlates with or causally affects the independent variable.
In a conceptual framework diagram, you can draw an arrow from a confounder to the independent variable as well as to the dependent variable. You can draw an arrow from extraneous variables to a dependent variable.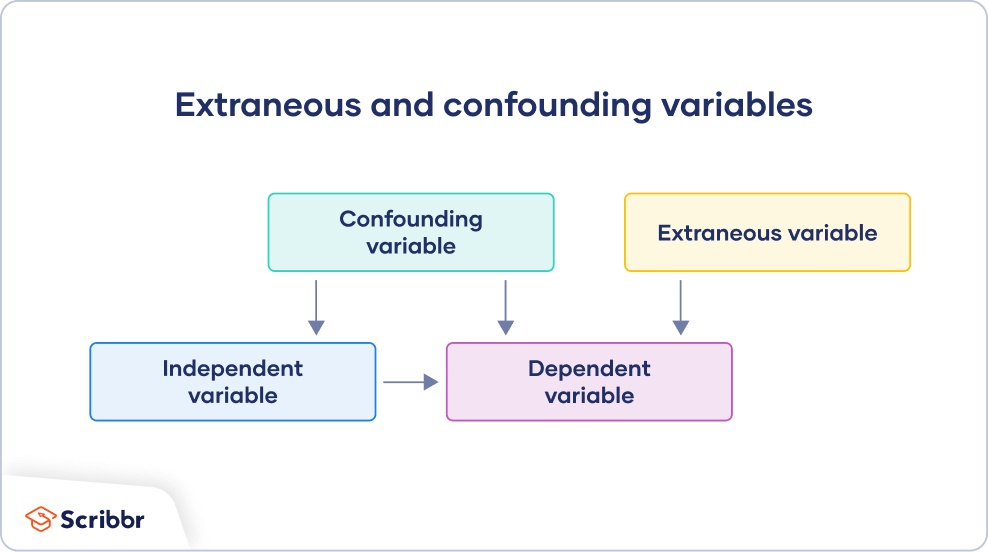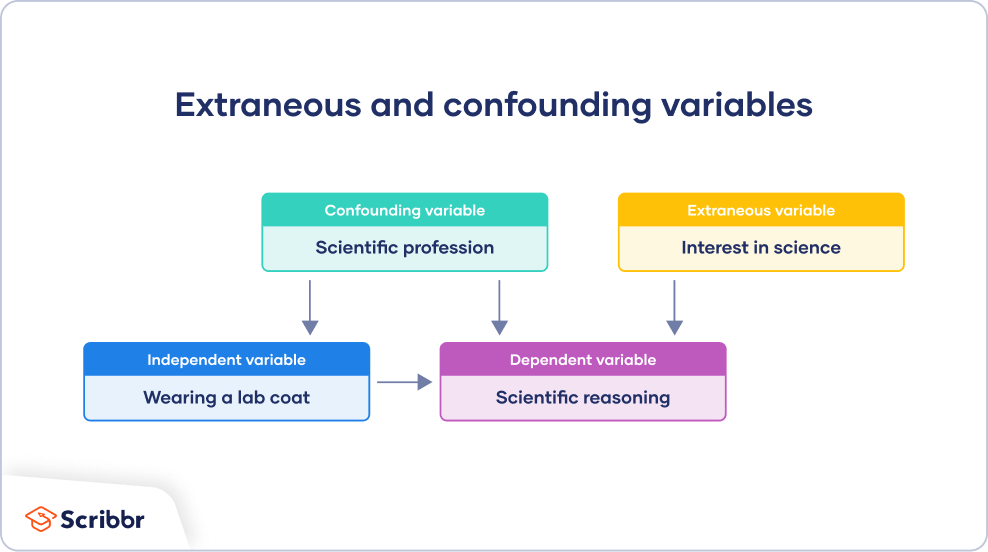 Types and controls of extraneous variables
Demand characteristics
Demand characteristics are cues that encourage participants to conform to researchers' behavioral expectations.
Sometimes, participants can infer the intentions behind a research study from the materials or experimental settings, and use these hints to act in ways that are consistent with study hypotheses. These demand characteristics can bias the study outcomes and reduce the external validity, or generalizability, of the results.
You can avoid demand characteristics by making it difficult for participants to guess the aim of your study. Ask participants to perform unrelated filler tasks or fill out plausibly relevant surveys to lead them away from the true nature of the study.
Experimenter effects
Experimenter effects are unintentional actions by researchers that can influence study outcomes.
There are two main types of experimenter effects:
Experimenters' interactions with participants can unintentionally affect their behaviours.
Errors in measurement, observation, analysis, or interpretation may change the study results.
To avoid experimenter effects, you can implement masking (blinding) to hide the condition assignment from participants and experimenters. In a double-blind study, researchers won't be able to bias participants towards acting in expected ways or selectively interpret results to suit their hypotheses.
Situational variables
Situational variables, such as lighting or temperature, can alter participants' behaviors in study environments. These factors are sources of random error or random variation in your measurements.
To understand the true relationship between independent and dependent variables, you'll need to reduce or eliminate the effect of situational factors on your study outcomes.
To avoid situational variables from influencing study outcomes, it's best to hold variables constant throughout the study or statistically account for them in your analyses.
Participant variables
A participant variable is any characteristic or aspect of a participant's background that could affect study results, even though it's not the focus of an experiment.
Participant variables can include sex, gender identity, age, educational attainment, marital status, religious affiliation, etc.
Since these individual differences between participants may lead to different outcomes, it's important to measure and analyze these variables.
To control participant variables, you should aim to use random assignment to divide your sample into control and experimental groups. Random assignment makes your groups comparable by evenly distributing participant characteristics between them.
Other interesting articles
If you want to know more about statistics, methodology, or research bias, make sure to check out some of our other articles with explanations and examples.
Frequently asked questions about extraneous variables
Cite this Scribbr article
If you want to cite this source, you can copy and paste the citation or click the "Cite this Scribbr article" button to automatically add the citation to our free Citation Generator.
You have already voted. Thanks :-)
Your vote is saved :-)
Processing your vote...