Choosing a topic for your dissertation in 8 steps
Selecting a topic for your dissertation is not easy and is often not the most fun task, but it is extremely important to choose a current and relevant topic. A well-chosen topic ensures that you can more easily write a qualitatively good dissertation. This also makes the writing process more pleasant for you.
Steps in choosing your dissertation topic
Step 1: Check what requirements your study places on the dissertation. Do you have to select from a list of topics or may you make your own choice? And do you have to meet any special terms or conditions?
Step 2: Decide what type of research you want to do. Do you just want to compare existing literature or do you want to carry out practical research yourself, for example, in the form of field research or experimental research? Do you want to make use of existing data or do you want to collect the data yourself?
Step 3: Select a global research discipline. Make sure you realize that for some research disciplines there is more information available than for others.
Step 4: Within your global research discipline, look for current articles and papers. Each field has a number of top journals and trade or professional journals. At the least, always make sure that a couple of articles from these top journals have common issues with your area of research.
For inspiration, you can also enter your research discipline at the website of the primary search engine for scholarly literature, http://scholar.google.com. For more databanks, see the following article: How do you perform desk research?.
Step 5: Select a minor detail or characteristic within your research discipline. Can you explain your topic in a few words?
Step 6: Make a Top 3 list of topics.
Step 7: Show your shortlist to your classmates. If they are enthusiastic about a topic, then you know that you have a good one.
Step 8: From the three topics, select the one that you have the best feeling about.
Learn the secrets of successful PhD writing
Scribbr recommends reading the The PhD Writing Handbook by Desmond Thomas.
This book will help you:
Developing the writing skills needed to succeed at every stage of postgraduate research.
Writing clearly and coherently.
Understanding topics such as exploring key concepts through writing, building a structured chapter framework and completing a first draft.
Tip:
Use discount code SCRIBBR25 for 25% discount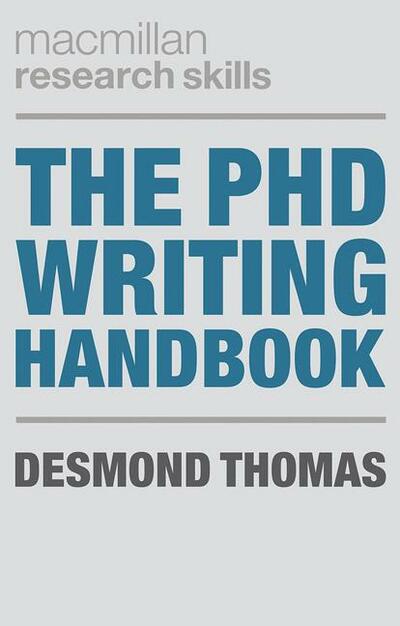 Tips
Pay attention to the requirements of your study. Sometimes you have to choose from a list of topics within your field.
Choose a current topic. It is often simpler to find a lot of information about a current topic than a dated topic, about which not much has been written recently. Search via Google (Scholar) for recent articles and web blogs. Or use LexisNexis: a database where you can quickly find all articles within your research discipline. Often you have access to LexisNexis via your higher educational institution or university.
Always make sure that there are enough scientific sources for your topic. For this, look at the best journals within your field. It's a good idea to review the last few editions of a number of professional journals.
Try to choose a commercial angle within your research discipline. This can be very handy later when you are trying to get a job in your field.
Practical research takes up a great deal of time. If you don't want to spend too much time on your dissertation, then try to avoid practical research. Instead of conducting research yourself, you could also choose to use existing databases. This saves a lot of time, but also makes your dissertation less unique.
Topic selection within a company
If you are going to write a research paper or dissertation for a company, you must ensure that your colleagues and advisor within the company support your choice of topic.
It is important that the topic is relevant to the company; in this way, you are sure that you can ask for assistance within the company when you need it.
You've chosen your topic. What's next?
As soon as you know your topic, it's time to write an action plan to outline the structure of your dissertation.
You have already voted. Thanks :-)
Your vote is saved :-)
Processing your vote...